Tournée promo pour "Love Happy"
"Love Happy" Tour Promo
---
C'est dans le contexte de sa tournée aux Etats-Unis pour promouvoir La pêche au trésor, que Marilyn Monroe arrive à New York, le 20 juin 1949. A sa descente de train à la gare de Grand Central, elle est vêtue d'un tailleur noir en laine (qu'elle a porté à la première du film à Rockford), et on lui fait tenir des (faux) cornets de glace et un petit ventilateur pour la mise en scène devant les photographes; les températures à New York étant plutôt élevées.
Marilyn racontera (via des entretiens accordés à Ben Hecht en 1954 qui seront publées dans "Confessions inachevées"):
"La veille de mon départ pour New York, afin de commencer ma tournée des États-Unis, j'ai réalisé que je n'avais presque pas de garde-robe.
"Je ne ferai pas vraiment une bonne publicité vêtue de vieux vêtements", ai-je dit à M. Cowan.
Il m'a donné 75 dollars pour que je puisse m'habiller pour la tournée. J'ai acheté trois tailleurs en laine pour 25 dollars chacun.
J'ai acheté des vêtements en laine parce que je me souvenais que New York et Chicago étaient dans le Nord. Et j'avais vu dans les films que ces villes étaient recouvertes de neige. J'avais oublié que c'était aussi l'été là-bas, comme à Los Angeles.
Quand le train s'est arrêté à New York, je pouvais à peine respirer, il faisait si chaud. Il faisait encore plus chaud que la chaleur que je connaissais à Hollywood. Mon tailleur de laine me donnait l'impression d'être dans un four.
L'attaché de presse qui supervisait mon voyage m'a fait poser sur les marches du train, la sueur dégoulinant sur mon visage et un cornet de glace dans chaque main. La légende des photos était la suivante : "Marilyn Monroe, la chose la plus sexy au cinéma, se rafraîchit."
Cette idée de "rafraîchissement" est devenue en quelque sorte la base de mon travail d'exploitation.
Une demi-heure après mon arrivée à New York, on m'a conduit dans une suite élégante du Sherry-Netherland Hotel et on m'a dit de mettre un maillot de bain. D'autres photographes sont arrivés et ont pris des photos de moi "en train de me rafraîchir"."
It is in the context of her promotionnal tour of the United States to promote Love Happy that Marilyn Monroe arrives in New York on June 20, 1949. When she gets off the train at Grand Central station, she is dressed in a black wool suit (which she wears to the film's premiere in Rockford), and she is made to hold (fake) ice cream cones and a small ventialtor for the setting in front of the photographers; as the temperatures in New York are rather high.

Marilyn will tell (via interviews granted to Ben Hecht in 1954 which will be published in "My Story"):
"The day before I left for New York to start the tour of the USA I realised I had almost no wardrobe.
"I won't be much of an advertisement in one old suit," I told Mr. Cowan.
He gave me 75 dollars to outfit myself for the tour. I bought three woollen suits for 25 dollars apiece.
I bought woollen suits because I remembered that New York and Chicago were in the North. I had seen them in the movies blanketed with snow. I forgot it was summertime there as well as in Los Angeles.
When the train stopped in New York I could hardly breathe, it was so hot. It was hotter than I had ever known it to be in Hollywood. The woollen suit made me feel as if I were wearing an oven.
The Press agent who was supervising my trip had me pose on the train steps with perspiration running down my face and icecream cone in each hand. The caption for the pictures read: "Marilyn Monroe, the hottest thing in pictures, cooling off."
That "cooling off" idea became sort of the basis for my exploitation work.
Half an hour after arriving in New York I was led into an elegant suite in the Sherry-Netherland Hotel and told to put on a bathing suit. More photographers arrived and took pictures of me "cooling off.""

---
- Dans la presse -
New York Daily News, 21/06/1949 - USA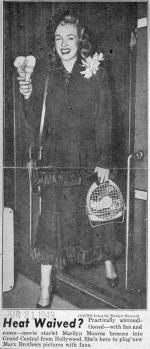 ---
- Blog: 19/01/1955, The Australian Women's Weekly: "This is my story" (part 3) -
---
© All images are copyright and protected by their respective owners, assignees or others.
copyright text by GinieLand.