15 juin 2010
En juin 1949, Marilyn Monroe est en voyage à travers les Etats-Unis pour promouvoir le film Love Happy. Elle se rend à New York, chargée par le magazine Photoplay de participer à la remise du concours "Dream Home" ("Maison de Rêve") organisé par le magazine. Marilyn est accompagnée des acteurs Don Defore et Lon McAllister qui la suivirent dans le train et lors de la remise du prix qui se déroule à Warrensburg, New York. Marilyn, ayant entendue dire qu'à New York il faisait toujours beaucoup plus froid qu'à Los Angeles, était vêtue d'une robe en laine noire, alors qu'il faisait une chaleur accablante et ce, dès le trajet en train. Sur place, Lester Cowan lui acheta une robe blanche en coton, achetée chez un grossiste à New York, qu'elle porta tout le reste du séjour. Elle remet les clés à la gagnante, Virginia McAllister, accompagnée de son petit garçon. Puis elle visite la maison qui contient tout l'équipement moderne de l'époque. Les photos de l'événement paraîtront dans l'édition de Novembre 1949 du magazine Photoplay.

>> Dans le train: direction Warrensburg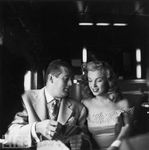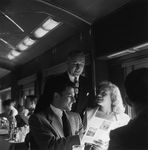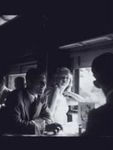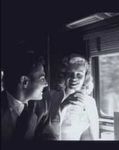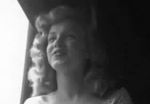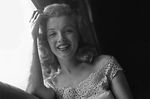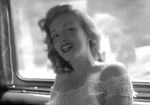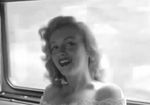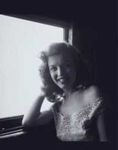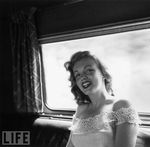 >> Remise des clés à la gagnante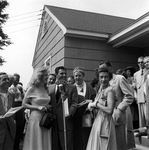 >> Visite de la maison et interview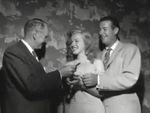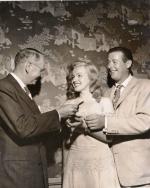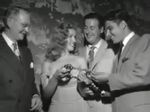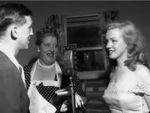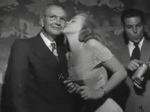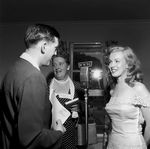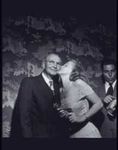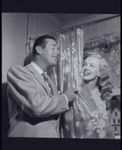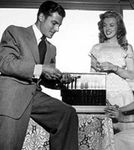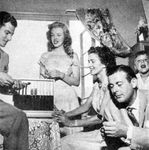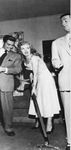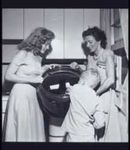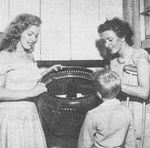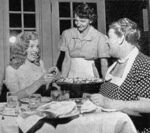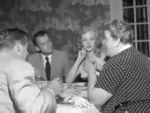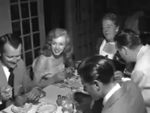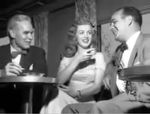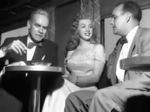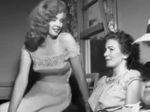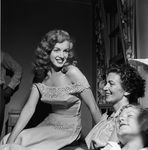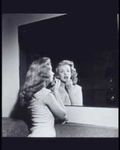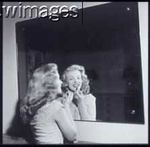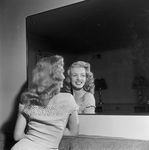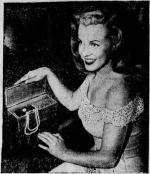 ---
> photographie de Charles Carbone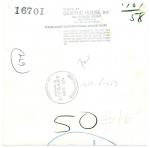 ---
---
>> Sur le web
l'article sur wikiMarilyn1949ContestDreamHome
Dans le magazine américain Photoplay en 1949 (avec Rita Hayworth en couverture) Marilyn Monroe joue les mannequins pour la rubrique mode du magazine, qui la présente en ces termes: "Marilyn Monroe, blonde and lovely fail for the Marx Brothers in United Artists 'Love Happy'". Marilyn présente un tailleur veste et jupe longue, et un long manteau d'hiver.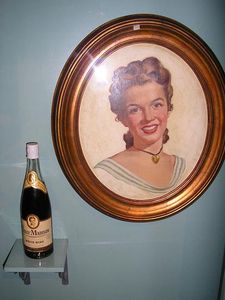 Marilyn Monroe pose pour des photos publicitaires
pour le vin Dolley Madison - vers 1947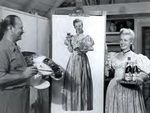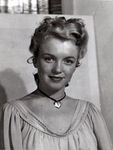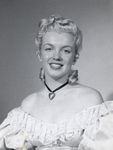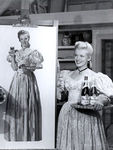 Photos de Norma Jeane, l'année de sa naissance
Photos of Norma Jeane, the year of her birth.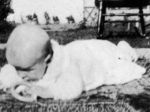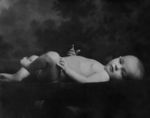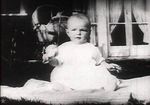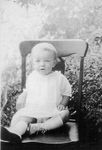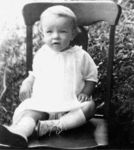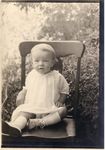 ---
© All images are copyright and protected by their respective owners, assignees or others.
copyright text by GinieLand.
Enregistrer
Marilyn Monroe en maillot de bain blanc en 1950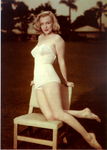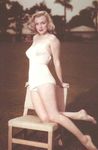 Certaines sources créditent la photographie sous le nom de Ed Clark, mais sans certitude.
Marilyn Monroe joue de la cornemuse
en participant à un show radiophonique
qui célèbre l'Ecosse en 1947