19 juin 2010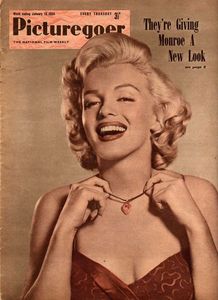 Le magazine britannique Picturegoer du 16 janvier 1954 consacrait sa couverture à Marilyn Monroe au titre "They're giving Monroe a new look", avec un article intérieur intitulé "They're making an actress of Monroe" et affirme que Marilyn n'est pas seulement une jolie fille à l'image du glamour, mais aussi une véritable actrice capable de fournir de véritable performance en citant "How to marry a millionaire" et "Gentlemen prefer blonds".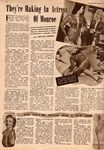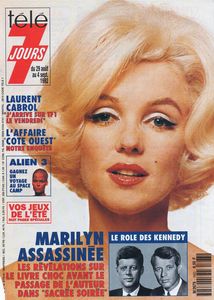 Le magazine Télé 7 Jours n°1683, de la semaine du 29 août au 4 septembre 1992, consacrait sa converture à Marilyn Monroe avec un article de quatre pages intitulé "Marilyn assassinée. Le livre choc".
Mis en ligne le 11 juin 2007, le blog a désormais 3 ans d'existence!
Vous êtes nombreux à visiter le blog et je remercie tous les internautes qui participent en laissant des commentaires, permettant de rendre le blog encore plus vivant, encore plus interactif.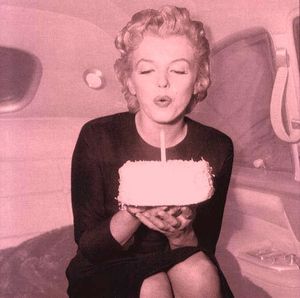 Voici en chiffres les statistiques du blog:
Total des visiteurs : 136322
Total des pages vues : 554027
Pages vues par visiteur : 4.06
Parmi les posts les plus populaires:
En 1ère position: l'année 1962
En 2ème : Album photos Marilyn par Sam Shaw
En 3ème: goodies
Vos pays d'origine:
Vous êtes 71 % français, 8 % espagnols, 8 % roumains, 2% polonais, 2% italiens, 2% du Burkina Faso, 2% de Nouvelle Zélande, 1% américain, 1% japonais, et 1% russe.
Enregistrer