En décembre 1945, on propose à Norma Jeane, mannequin à l'agence Blue Book, d'être modèle pour une publicité pour un shampoing. Elle rencontre le photographe Raphael Wolff, en charge de la campagne publicitaire, qui n'accepte qu'à la seule condition qu'elle se fasse décolorer les cheveux en blonds dorés. Norma Jeane n'est pas emballée par l'idée de se décolorer mais Emmeline Snively, directrice de l'agence Blue Book, lui explique qu'en tant que mannequin, elle aura plus de succès si elle devient blonde.

In December 1945, Norma Jeane, model at the Blue Book agency, was asked to be a model for an advertisement for a shampoo. She meets the photographer Raphael Wolff, in charge of the advertising campaign, who accepts only on the sole condition that her hair is bleached in golden blond. Norma Jeane is not thrilled by the idea of bleaching her hair but Emmeline Snively, director of the Blue Book Model agency, explains to her that as a model, she will be more successful if she becomes blonde.

Snively envoie Norma Jeane chez Frank et Joseph, un salon de coiffure et de beauté sur Wilshire Boulevard à Los Angeles, situé sur le trottoir d'en face de l'hôtel Ambassador où se trouve l'agence Blue Book; le salon est fréquenté par les plus grandes actrices (Rita Hayworth et Ingrid Berman sont des clientes régulières). Le lissage et la décoloration de ses cheveux sont supervisés par la coiffeuse et visagiste Sylvia Barnhart, qui décrit les cheveux de Norma Jeane comme "bruns et crépus". La décoloration totale en blonde cendrée sera progressive pendant l'année 1946 et se fera sur plus de huit mois par Sylvia Barnhart.
Snively sends Norma Jeane to Frank and Joseph's, a hair and beauty salon on Wilshire Boulevard in Los Angeles, located on the sidewalk opposite the model agency and the Ambassador Hotel where is located the Blue Book Model agency; the salon is frequented by the greatest actresses (Rita Hayworth and Ingrid Berman are regular customers). The straightening and bleaching of her hair is overseen by hairstylist and beautician Sylvia Barnhart, who describes Norma Jeane's hair as "brown and frizzy." The complete bleaching in ash blonde will be gradual during the year 1946 and will be done over more than eight months by Sylvia Barnhart.
---
Marilyn au salon Frank & Joseph
- avec Frank et une coiffeuse (peut être Sylvia Barnhart) -
Marilyn at Frank & Joseph's salon
- with Frank and a haridresser (maybe Sylvia Barnhart) -

---
Studio H.Maier
Publicité pour le shampoing Franck & Joseph
Advertising for Franck & Joseph shampoo
---
Publicité pour un shampoing
Advertising for a shampoo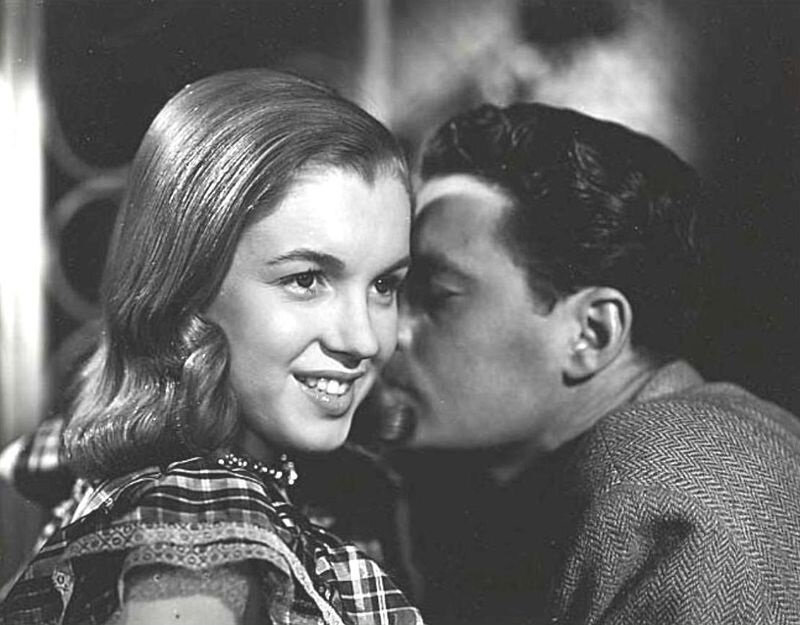 photographie créditée Joseph Jasgur
photo credit Joseph Jasgur
---
Concours de coiffures et défilé pour Frank & Joseph
avec une coiffeuse qui travaille aux studios de la Fox
Photo H Maier Studios

Hairstyle contest and Hair show for Frank & Joseph
with a hairdresser (the blond woman) who works at Fox studios

Dédicace de Frank pour Marilyn:
"To Marilyn, good luck in your career"
("A Marilyn, bonne chance dans ta carrière")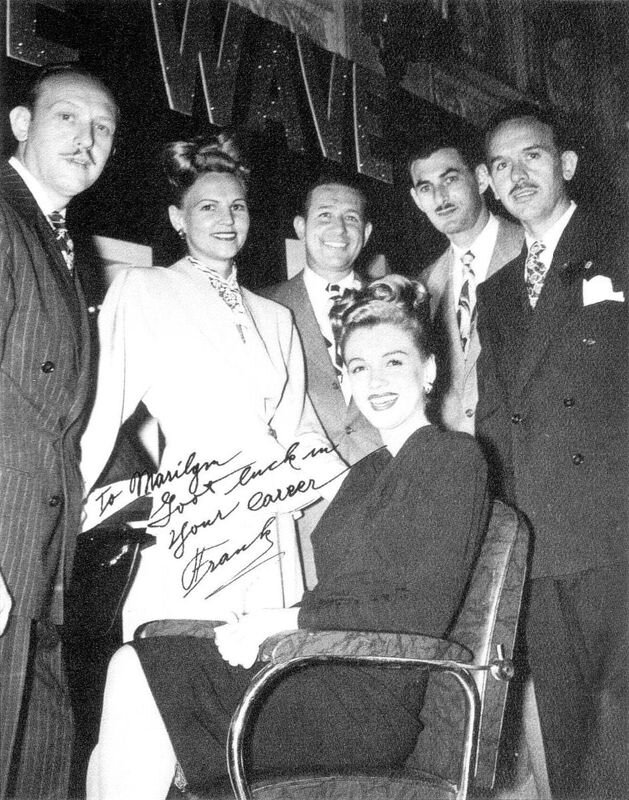 - Marilyn et Sylvia Barnhart -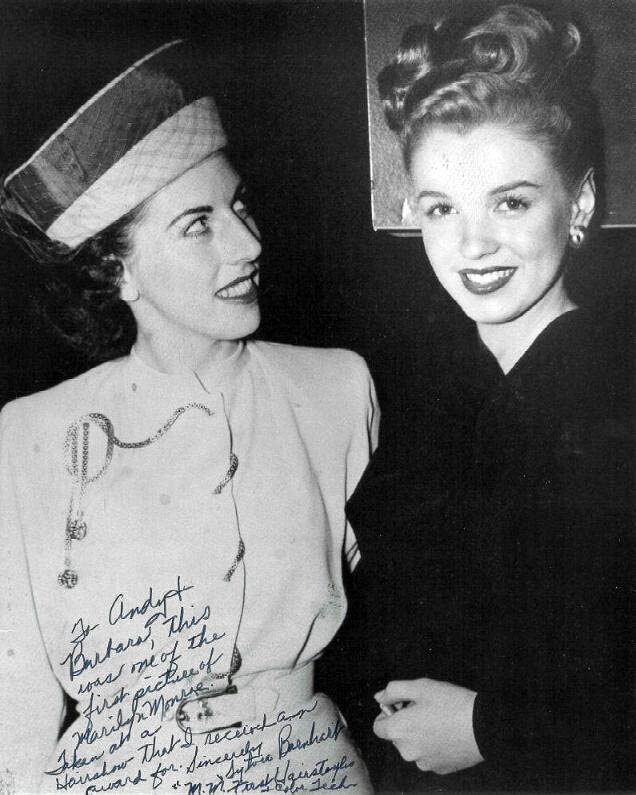 ---
Portraits en studio
de la coiffure de Sylvia Barnhart qui a remporté le prix au concours
Studio portraits
Sylvia Barnhart's hairstyle who won the contest
- Publicité magazine Estampa - 12/1947 -

---
Coiffures pobablement de Frank & Joseph - Portraits où Norma Jeane présente des chapeaux peut être déstinés au catalogue de vente par correspondance "Montgomery Ward Catalogue".

Hairstyles probably from Frank & Joseph - Portraits where Norma Jeane presents hats, maybe photos taken for the "Montgomery Ward Catalog" mail order catalog.

---
© All images are copyright and protected by their respective owners, assignees or others.
copyright text by GinieLand.