13 juillet 2010
Potter Hueth
(1907 - 1955)
photographe
Difficile de trouver des informations sur ce photographe !!
Potter Hueth était un photographe qui travaillait dans le milieu publicitaire; il s'intéressa à Norma Jeane (futur Marilyn Monroe) d'un point de vue professionnel après avoir vu des photos d'elle que lui montra son collègue David Conover. Hueth proposa à Norma Jeane si elle était prête à travailler en tant que modèle professionnelle. Il prit ainsi quelques photos d'elle dont certaines firent la couverture de magazines, mais Norma Jeane n'était pas payée tant que les photos n'étaient pas vendues.
Quelques-unes des photographies prises par Potter Hueth arrivèrent sur le bureau d'Emmeline Snively, qui dirigeait la Blue Book Model Agency de Los Angeles. Snively envoya à Norma Jeane une brochure et exprima son interêt de l'embaucher à la Blue Book pour un contrat de trois mois en tant que mannequin.
Potter Hueth fut le deuxième photographe professionnel -après David Conover- à photographier la jeune Norma Jeane en 1945, lors de diverses séances où la fraîcheur et la spontanéité se mêlent déjà à un certain professionnalisme. >> Voir les photos de Marilyn par Potter Hueth
>> sources web:
article Modelling Marilyn sur glamoursplash

Anthony Beauchamp
(1917 - 1957)
photographe anglais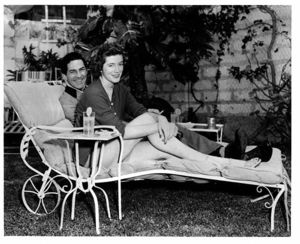 Anthony Beauchamp et sa femme Sarah Churchill
Né en 1917, Anthony Beauchamp, dit "Tony", a servit officiellement en tant qu'artiste durant la seconde guerre mondiale. Il rencontre en 1949 l'actrice et danseuse anglaise Sarah Churchill, fille de Winston et Clementine, mais il ne sera jamais accepté par les beaux-parents; le couple se mariera tout de même en octobre 1949. Après son mariage, il s'installe à Hollywood où il s'y établit en tant que photographe professionnel. Il décède en 1957, à l'âge de 40 ans.
Parmi ses sujets célèbres photographiés: Greta Garbo, Audrey Hepburn, Vivien Leigh, Marilyn Monroe, Leslie Caron...
A propos d'Audrey Hepburn, qu'il photographia pour le Vogue anglais, il dira: "J'avais dèjà photographié des beautés aussi célèbres que Vivien Leigh et Greta Garbo, mais j'ai eu la sensation d'avoir fait une véritable découverte quand j'ai trouvé Audrey. Elle était d'une telle fraîcheur, d'une beauté immatérielle."
Le livre Focus of Fame, The biography, Anthony Beauchamp chez Odhams Press Limited London, sorti en 1958, regroupe quelques photographies célèbres des stars qu'il prit en photos, avec des anecdotes.
---
Anthony Beauchamp photographia Marilyn Monroe à plusieurs reprises en 1950 et 1951: séance improvisée chez Ben Lyon, et séances en studios et en extérieurs (à la plage) qui insistent sur l'image sensuelle de la starlette.
C'est par l'intermédiaire de Johnny Hyde, agent artistique, qu'il rencontra Marilyn. A la fin de l'année 1950, Hyde lui avait dit qu'il souhaitait lui présenter quelqu'un. La première rencontre eut lieu à l'hotel où séjournait Beauchamp à Beverly Hills. Séduit, il demanda à Hyde d'organiser une séance photo à l'endroit où il vivait désormais avec son épouse Sarah chez Bebe Daniels et Ben Lyon. Marilyn y était arrivée avec un agent publicitaire et de nombreux vêtements et accessoires: robes de soirée, fourrures, bijoux... Beauchamp a décidé de la photographier sur la terrasse de la villa de Ben Lyon, dans l'une de ses robes de soirée. Suivit les autres séances comme celle du maillot de bain à deux pièces.
>> Voir les posts Marilyn par Anthony Beauchamp
---
>> sources web:
Sarah Chruchill sur sur imdb et extrait livre sur books google,
Greta Garbo sur garboforever
Audrey Hepburn sur audrey.hepburn.free.fr
Livre Focus of Fame, The biography, Anthony Beauchamp, Odhams Press Limited London, 1958.