The Bob Crane Show était une émission radiophonique sur KNX-CBS Radio de Los Angeles, animée par Bob Crane (qui deviendra par la suite connu pour son rôle dans la série 'Papa Schultz').
Bob Crane est dans les studios de la 20th Century Fox pour enregistrer une émission en direct. Marilyn Monroe arrive au micro, juste après avoir répété un numéro musical du film "Le Milliardaire" ("Let's Make Love").

The Bob Crane Show was a radio show on KNX-CBS Radio in Los Angeles, presented by Bob Crane (who will be celeb with the TV soap 'Hogan's Heroes').
Bob Crane is at Fox Studios doing a "live" broadcast and Marilyn Monroe comes in out of breath from rehearsing a number for "Let's Make Love".

---
> Marilyn Monroe et Bob Crane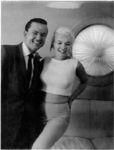 ---
> L'interview (non complète)

---
> retranscription de l'extrait de l'interview

Marilyn Monroe: I rehearse in it.

Bob Crane: Is it kind of a dancer's outfit thing that you're wearing?

MM: No, just a pair of slacks and sort of an old sweater.

BC: It's a nice old sweater... a nice old pair of slacks.
[Marilyn laughs]
MM: Are we on, Bob?

BC: Yes.

MM: Well, I've been rehearsing all day--

BC: Yeah.

MM: I'm still out of breath.

BC: I'll let you get your breath for just a minute there. Marilyn, I've often wondered, being the sex symbol of the movies, are you ever offended when they –when men pass by you and whistle and things like that?

MM: I'm honoured.

BC: Really?

MM: Of course.

BC: Do you think most women are?

MM: Of course.

BC: That's the high point—is that a big compliment?

MM: Yes. Well, how about when you whistle at a girl or you feel like whistling?

BC: How was Jack Lemon to work with?

MM: Wonderful. He's a wonderful actor.

BC: He's a very funny guy. You're working with a funny guy in the new picture—TonyRandall.

MM: Yes, very funny.

BC: You wanna know something? This'll knock you back on the couch. I was supposed to test for this picture.
MM: YOU?! [Marilyn giggles]

BC: Did you mean that? [Acts hurt] Did you mean that with all that was inferred by the "YOU?!" I read a lot into that line.
[They laugh]

BC: No, really, the part that they gave to Tony Randall—the press agent part.

MM: Oh yes, mmm, mmm.

BC: What do you think? [About me playing the part]

MM: Well, Bob, it's nice meeting you and er, I hope I see you again.
[They laugh]

---
© All images are copyright and protected by their respective owners, assignees or others.
copyright text by GinieLand.