1951, Los Angeles - Marilyn Monroe et le professeur de chant Phil Moore au piano, en répétition.
C'est Phil Moore qui fera répéter Marilyn pour la chanson "Kiss" que Marilyn interprétera dans "Niagara".
Phil Moore dit de Marilyn qu'elle a l'une des voix les plus sexys à l'écran: "Elle chante comme si elle venait de se réveiller. Vous seriez surpris de voir l'effet que cela donne sur les auditeurs masculins."
L'une des photographies est publiées dans le magazine Look du 23 octobre 1951, sous le crédit du photographe Earl Theisen.

1951, Los Angeles - Marilyn Monroe and voice teacher Phil Moore at the piano, in rehearsal.
It is Phil Moore who will have Marilyn rehearse for the song "Kiss" that Marilyn will perform in "Niagara".
Phil Moore says of Marilyn that she has one of the sexiest voices on screen: "She always sounds as if she's just waking. You'd be surprised what kind of effect that has on male listener."
One of the photographs is published in Look magazine of October 23, 1951, with the credit of photographer Earl Theisen.
---
---
- Dans la presse -
1- photographie de Look, 23/10/1951 - USA
- magazine Look 23/10/1951 -
2- photographie de Tempo, 27/10/1951 - ITALIE
3- photographie de Filmland, 04/1952 - USA
- magazine Filmland 04/1952 -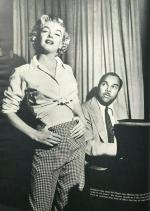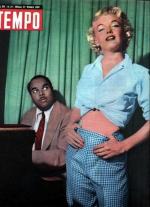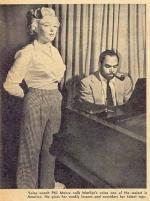 ---
© All images are copyright and protected by their respective owners, assignees or others.
copyright text by GinieLand.