11 octobre 2010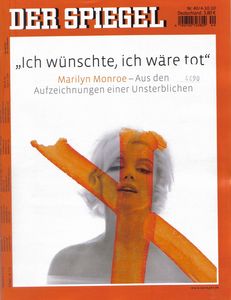 Le magazine allemand Der Spiegel n°1040, paru le 5 octobre 2010 consacre sa couverture à Marilyn Monroe et un dossier spécial Marilyn en pages intérieures (18 pages ?). Prix: 4,90 €
(scans de Chris).


Marilyn Monroe photographiée par Richard Avedon en 1957; le photographe a installé un photomaton dans son studio pour laisser libre cours à ses modèles, livrés à eux-mêmes une fois le rideau tiré.
Marilyn Monroe photographed by Richard Avedon in 1957; the photographer installed a photobooth in his studio to give free rein to his models, delivered to themselves once the curtain pulled.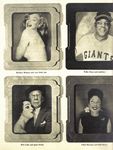 Le magazine Esquire publia en 1957 quelques portraits du photomaton: Marilyn Monroe la bouche ouverte avec les lèvres rouges à nu; Bert Lahr enlaçant un mannequin en bois; Willie Mays portant sa tenue de l'équipe de New York, saluant "Say Hey"; Audrey Hepburn en tête-à-tête avec Truman Capote et Mel Ferrer.
Richard Avedon expliquera: "Je voulais prouver que tout n'était pas dans l'objectif; que la bonne photographie était dans la conception (...) la partie métier de la photographie pourrait ressembler à de l'écriture. Pour moi, c'est la profondeur, la spontanéité».
The Esquire magazine published in 1957 some portraits of the photobooth: Marilyn Monroe mouth opened with red lips naked; Bert Lahr hugging a wooden mannequin; Willie Mays wearing his New York team outfit, greeting "Say Hey"; Audrey Hepburn in tete-a-tete with Truman Capote and Mel Ferrer.
Richard Avedon will explain: "I wanted to prove that everything was not in the lens, that good photography was in the design (...) the business part of photography could look like writing. To me, this is the depth, the spontaneity.

---
© All images are copyright and protected by their respective owners, assignees or others.
copyright text by GinieLand.