Michelle Williams en Marilyn Monroe :
un cliché bluffant !
Article publié le 08/10/10
en ligne sur purepeople.fr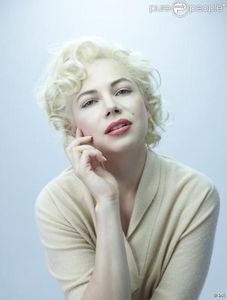 Michelle Williams en Marilyn Monroe, voilà un choix qui semble être une évidence. Ce sentiment est renforcé lorsque l'on découvre la première image de l'actrice dans la peau de l'icône : une mélange d'angélisme et de sensualité so Marilyn ! Ce superbe cliché vient de la production du film My Week with Marilyn de Simon Curtis. Le tournage a démarré dans les fameux studios de Pinewood en Angleterre et promet une oeuvre passionnante.

Ce long métrage nous emmène au début de l'été 1956. Colin Clark sort de l'université et est déterminé à se faire un nom dans le monde du cinéma. Il commence par travailler comme assistant sur le tournage du Prince et la danseuse, de et avec Laurence Olivier, durant lequel le cinéaste-acteur succombe aux charmes de son actrice, Marilyn Monroe. Cette dernière était à l'époque fraîchement mariée à l'auteur Arthur Miller.

Quarante ans plus tard, le journal de Colin Clark racontant ce tournage est publié mais une semaine manque. Elle sort dans les librairies quelques années plus tard sous le titre My Week with Marilyn. Durant cette semaine, Colin Clark initie la star à la vie britannique, elle qui veut tant échapper à la frénésie hollywoodienne.

La distribution de ce film est composée, outre Michelle Williams, nommée pour un Oscar pour sa performance dans Le Secret de Brokeback Mountain, d'Emma Watson (Hermione de Harry Potter dont le prochain volet va débarquer) qui joue sa costumière et Kenneth Branagh (Hamlet) qui est Laurence Olivier. Colin Clark est incarné quant à lui par Eddie Redmayne et Julia Ormond est Vivien Leigh.

Avant cette oeuvre, Michelle Williams, qui nous avait encore une fois bluffés à Venise, sera à l'affiche de Take This Waltz avec Seth Rogen. Quant aux admirateurs de l'actrice disparue en 1962, Fragments (poèmes, écrits intimes, lettres de Marilyn), aux éditions du Seuil, est dans les librairies depuis le 7 octobre.