Séance "Maquillage"
Make Up Sitting
---
Marilyn Monroe photographiée en pleine séance maquillage avec son maquilleur attitré, Allan 'Whitey' Snyder, par Milton H Greene dans une loge en 1954 à Los Angeles *
---
Marilyn Monroe photographed in a makeup session with her regular makeup artist, Allan 'Whitey' Snyder, by Milton H Greene in a dressing room in 1954 in Los Angeles *
---
- "Make Up" -
Un coup de brosse dans les cheveux
A brush in the hair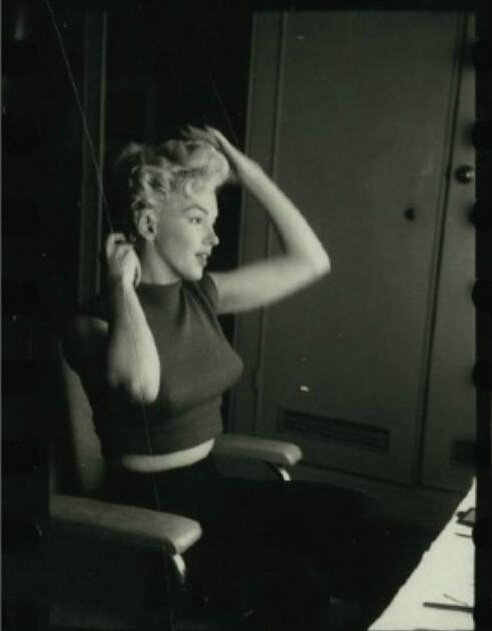 Le rouge à Lèvre au pinceau (Milton dans le reflet du miroir)
Lipstick with brush (Milton in the mirror reflect)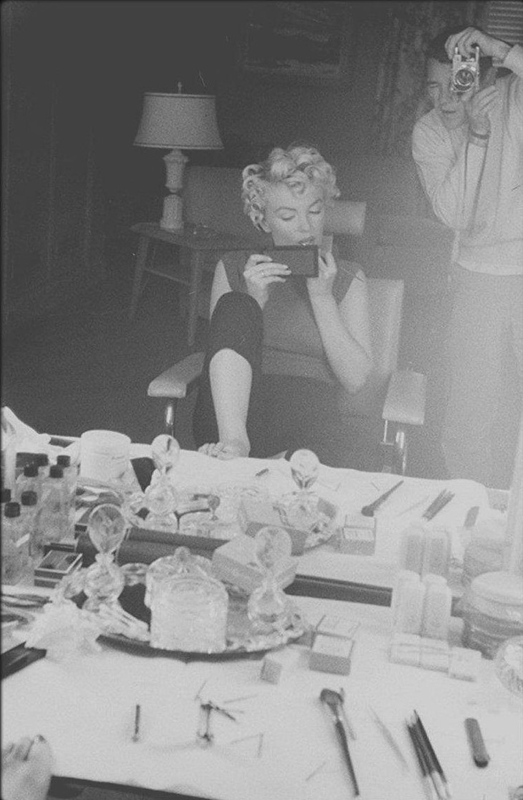 Snyder pose les faux-cils
Snyder sets the false eyelashes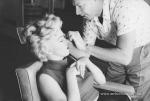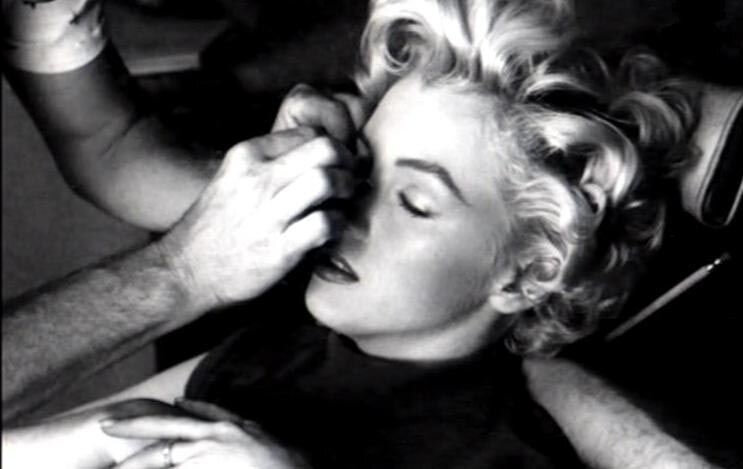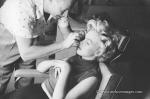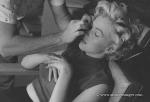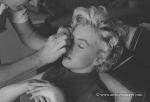 Pose de l'eye liner
Pose of the eyeliner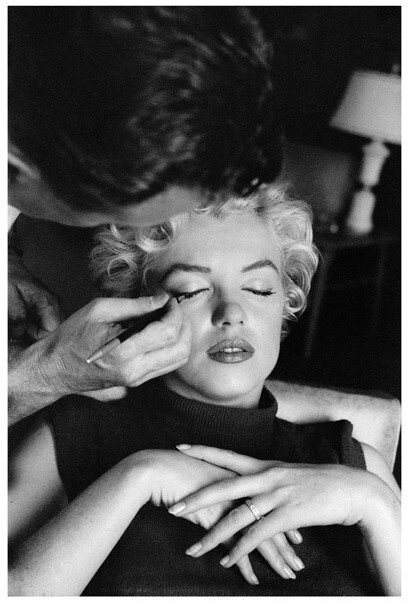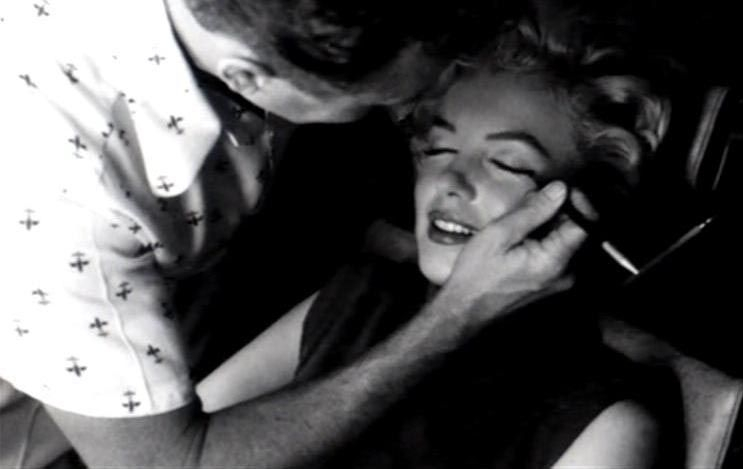 ---
- planches contact -
contact sheets
---
* Date et lieu confus dans les sources officielles:
- Photos datées à l'origine en 1954 à Los Angeles
(source: site ArchivesMHG à l'époque de la mise en ligne
des séances photos en format vignettes)
- Dans le livre "Marilyn inédite" de Milton Greene (2017)
et sur le site officiel de Milton Greene (en 2019):
session répertoriée dans l'album "Peasant"
et datée du 24 mai 1954, dans les décors des studios de la Fox.
On remarque d'ailleurs les 2 séances sur la même planche contact.
> Cependant, ces dates sont erronées:
- Les photographies de la séance "Paysanne" ne datent pas de 1954
mais du 15 avril 1956: elles ont été prises dans les décors extérieurs de la Fox,
en même temps que les séries "Fourrure Grise", "Prostituée" et "Gitane".
Il est certain qu'elles datent de 1956 car dans la série "Prostituée" ("Hooker"),
Marilyn porte la blouse du film "Bus Stop" tourné en 1956.
- Autre indice: la coiffure de Marilyn.
En 1954, ses cheveux sont courts, aux boucles fort travaillées.
En 1956, les cheveux sont un peu plus longs, les boucles plus légères.
- L'indice des vêtements: même style que pour la séance "Cadillac" prise en 1954
elle porte un haut court sur un legging noir court.
- Indice indiscutable: sur cette séance "Maquillage",
elle porte sa bague de mariage en diamant de Di Maggio,
alors qu'elle était divorcée en 1956 !
---
* Date and place confused in official sources:

- Photos originally dated in 1954 in Los Angeles
(source: ArchivesMHG website at the time of online publication
photo sessions in thumbnail format)

- In the book "The essential Marilyn Monroe by Milton Greene" (2017)
and on the actual official website of Milton Greene (in 2019):
session listed in the "Peasant" album
and dated May 24, 1954, in the backlots of Fox Studio.
We also note the 2 sessions on the same contact sheet.

> However, these dates are wrong:
- The photographs of the " Peasant" sitting don't date from 1954
but from April 15, 1956: they were taken in the in the backlots of Fox Studio,
together with the "Grey Fur", "Hooker" and "Gypsy" series.
It's certain that they date from 1956 because in the series "Hooker",
Marilyn wears the blouse from the film "Bus Stop" shot in 1956.
- Another clue: Marilyn's hairstyle.
In 1954, her hair was short, with very worked curls.
In 1956, the hair was a little longer, the curls lighter.
- The clothing index: same style as for the "Cadillac" sitting taken in 1954
she wears a cropped top over a short black leggings.
- Indisputable clue: on this "Makeup" session,
she wears her Di Maggio diamond wedding ring,
although she was divorced in 1956 !

---
All photos are copyright and protected by their respective owners.
copyright text by GinieLand.