07 décembre 2010
Dans de nombreuses compilations CD dédiées à Marilyn Monroe (surtout celles sorties depuis les années 1980s), ainsi que sur des sites ou même des vidéos en ligne (tels youtube, dailymotion), ainsi que sur des sites de ventes aux enchères, on y retrouve fréquemment le titre "When I fall in love" faisant parti de la discographie de Marilyn. Or, ce n'est pas Marilyn qui chante, et un fan averti qui connaît bien la voix de Marilyn (par ses films en VO mais aussi ses autres chansons) a vite fait la différence entre les intonations et le style de la voix de Marilyn, totalement différentes dans cette version !
Il s'agit en réalité de la chanteuse Sandra Dee qui interprète ce titre enregistré en 1960.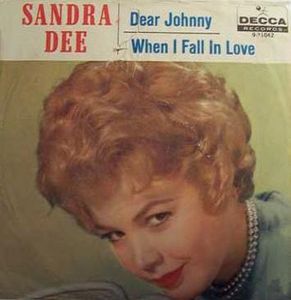 Qui est Sandra Dee ?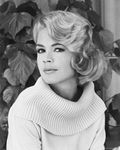 Sandra Dee, née Alexandra Cymboliak Zuck, est une actrice américaine, née le 23 avril 1942 à Bayonne (New Jersey) et décédée le 20 février 2005 à Thousand Oaks (Californie), à l'âge de 63 ans d'une insuffisance rénale. Elle a tourné dans une bonne trentaine de films.
Fille de parents divorcés, elle démarre une carrière de mannequin enfant, apparaissant dans des publicités. A 16 ans, elle se marrie avec Bobby Darin, un chanteur célèbre, âgé de 24 ans. Ils auront ensemble un fils, Dodd Mitchell Darin puis ils divorcent en 1967. Darin meurt en 1973. En 1994, leur fils publiera un livre sur ses parents "Dream Lovers: The Magnificent Shattered Lives of Bobby Darin and Sandra Dee", dans lequel il raconte les problèmes de santé de sa mère: anorexie, drogue, alcoolisme, et ses problèmes psychologiques suite à un abus sexuel dont elle fut victime enfant par son beau-père.
Sandra Dee tourne son premier film en 1957 (Until They Sail) et elle remporte un Golden Globe Award l'année suivante en tant que "Nouvelle star de l'année". Elle devient célèbre dans les années 1960 pour ses rôles d'ingénues. Mais dans les années 1970, elle tourne peu au cinéma, apparaissant occasionnellement dans des productions télévisées. En 2000, on lui diagnostique un cancer de la gorge mais c'est après avoir eut des complications aux reins qu'elle meurt d'une insuffisance rénale en 2005.
La chanson:
"When I Fall in Love" est une chanson très populaire aux Etats-Unis, dont la musique a été composée par Victor Young et les paroles écrites par Edward Heyman. La chanson apparaît pour la première fois dans un film: One Minute to Zero, qui comporte ainsi la version originale enregistrée par Doris Day en 1952. La chanson devient un standard, enregistrée par une foule d'artistes: Nat King Cole, The Carpenters, The Platters, Chet Baker, Miles Davis, Frank Sinatra, Tony Bennett, Julio Iglesias, Nana Mouskouri, Tom Jones, Boyz II Men, Céline Dion...
>> Vidéo montage la version de Sandra Dee confondue par Marilyn!


Paroles de la chanson When I fall in love:

When I fall in love
It will be forever
Or I'll never fall in love
In a restless world like this is
Love is ended before it's begun
And too many moonlight kisses
Seem to cool in the warmth of the sun

When I give my heart
It will be completely
Or I'll never
Give my heart

And the moment I can feel that you feel that way too
Is when I fall in love with you
And the moment I can feel that you feel that way too
Is when I fall in love with you
>> sources:
Biographie de Sandra Dee sur wikipedia
L'histoire de la chanson When I Fall in love sur wikipedia