Marilyn Monroe dans la peau de Jean Harlow,
photographiée par Richard Avedon le 27 mai 1958;
série pour le magazine LIFE
Marilyn Monroe posing as Jean Harlow,
photographed by Richard Avedon in May, 27, 1958;
photoshoot for LIFE magazine.
---
photographies signées par Avedon

---
- Dans les coulisses de la séance -
In the backstage of the photoshoot

- planches contact / contact sheet -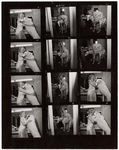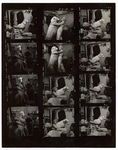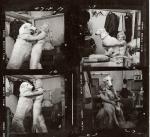 ---
- article du Chicago Daily Tribune du 12/02/1959
sur le chien 'Brother'
- article from the Chicago Daily Tribune in 1959, February, 12
about the dog 'Brother'


---
Jean Harlow . . . Marilyn Monroe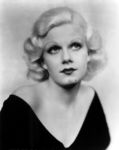 Il ne fut pas très difficile pour Marilyn Monroe de se mettre dans la peau de Jean Harlow (1911 - 1937), tant elle en était fan depuis son plus jeune âge. Marilyn a en effet toujours eu beaucoup d'admiration pour celle que surnommait la presse « Baby », ou « The Platinum Blonde », en référence au film homonyme sorti en 1931. Pour imiter son idôle, Marilyn arbore un look typiquement du Hollywood des années 1930s, tel qu'il fut popularisé par Jean Harlow: les fameux cheveux "blonds platines" (en fait, blancs), du fard à paupière sombre, des faux cils, des sourcils très fins et dessinés, du rouge à lèvres d'un rouge vif redessinant la bouche en forme de coeur, et bien sûr, le grain de beauté sur le menton! Portant une robe moulante blanche - de la même couleur que ses cheveux, du décor et du chien - Marilyn prend une pose glamour et sensuelle, en prenant appuie sur le canapé. Très aimée du public, les hommes étaient amoureux de Harlow et les femmes copiaient son look. Elle fut l'une des actrices les mieux payées de l'époque.

Jean Harlow suscita une mode des cheveux blond platine chez les jeunes américaines, qui décolorèrent leurs cheveux avec du peroxyde vendu dans les pharmacies. C'est surtout la première fois que le cinéma est à l'origine d'une mode chez les jeunes spectatrices. Sa notoriété rapide et spectaculaire lui vaut d'être la première actrice de cinéma à faire la couverture du magazine Life en mai 1937, un mois avant sa disparition.

> Sur le blog: article sur Jean Harlow

---
© All images are copyright and protected by their respective owners, assignees or others.
copyright text by GinieLand.