Novembre 1944*: Norma Jeane Dougherty à l'usine Radio Plane Munitions Factory, où elle travaille à l'inspection des parachutes.
Photographies de David Conover
November 1944*: Norma Jeane Dougherty at the Radio Plane Munitions Factory, where she works inspecting parachutes.
Photographs by David Conover
---
- Dans l'usine, à l'assemblage d'un drone RP-5 -

- In the factory, assembling an RP-5 drone -
---
- Focus sur son badge d'identité de sa carte professionnelle -
- Focus on his identity badge of her professional card -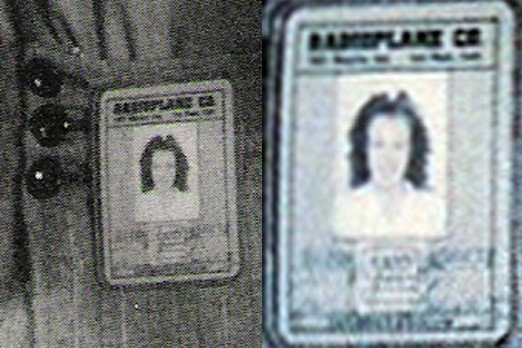 ---
- Pendant la pause déjeuner:
A l'extérieur de l'usine, à la lumière naturelle -

- During the lunch break:
Outside the factory, in natural light -
---
Conover lui demande si elle n'aurait pas autre chose à se mettre;
Norma Jeane retourne à son vestiaire et apparaît vêtue de son pull rouge.

Conover asks her if she has anything else to wear;
Norma Jeane returns to her locker room and appears wearing her red sweater.
---
Les photos de Norma-Jeane ont-elles vraiment été publiées dans Yank ?
Le reportage photographique de David Conover était destiné à illustrer un article sur le rôle jouée par les femmes pendant la seconde Guerre Mondiale, et leur participation à l'effort de guerre, en travaillant dans les usines, remplaçant la main d'oeuvre masculine partie faire la guerre. Un article "The Women in Industry" sera bien publié dans le Yank du 22 décembre 1944, mais sans aucune photo de Norma Jeane / Marilyn.
Une autre rumeur va aussi circuler: celle que Norma Jeane aurait fait la couverture du Yank du 2 août 1945, mais c'est totalement faux. D'autres dates de Yank seront ainsi communiquées, déclarant que Marilyn figure en photo dans le magazine: on peut notamment lire que le Yank, The Army Weekly du 26 juin 1945 aurait publié l'une des photographies où elle travaille à l'assemblage d'un drône. Bien que le magazine Yank existait sous diverses éditions selon le pays de destination, il n'y a jusqu'à présent aucune photographie de cette séance de Conover qui n'a été retrouvée publiée dans le magazine.
Does Norma-Jeane's photos were really published in Yank?
The photographic report by David Conover was intended to illustrate an article on the role played by women during the Second World War, and their participation in the war effort, by working in the factories, replacing the male workforce left to do the war. An article "The Women in Industry" will indeed be published in the Yank of December 22, 1944, but without any photo of Norma Jeane / Marilyn.
Another rumor will also circulate: the one that Norma Jeane would have made the cover of the Yank of August 2, 1945, but it is totally false. Other dates of Yank will thus be communicated, declaring that Marilyn appears in a photo in the magazine: one can in particular read that the Yank, The Army Weekly of June 26, 1945 would have published one of the photographs where she works on the assembly of a drone. Although Yank magazine existed in various editions depending on the country of destination, there are so far no photographs of this session of Conover which have not been found published in the magazine.
---
* C'est certainement en novembre 1944 que le photographe David Conover a pris ces premières photographies de Norma Jeane à l'usine Radioplane: en effet, elle est à Chicago chez Grace McKee Goddard à la fin du mois d'octobre, postant des cartes postales (tampon de la poste de Chicago) le 28 octobre 1944 écrites à sa demie-soeur Berniece Miracle et à ses amies de Los Angeles Cathy Staub et Jeanette Cox ; puis elle revient à Los Angeles et reprend son travail à l'usine. C'est dans une lettre datée du 04 juin 1945 écrite à Grace qu'elle détaille ses séances avec Conover, précisant "Le jour où je suis revenue travailler, après le retour de mon dernier voyage avec toi, il y avait quelques photographes de l'armée et ils prenaient des photos pour l'armée (...) Ils ont tous demandé dans quel service j'avais été cachée. Je leur ai répondu que j'étais de retour après une absence où j'étais avec les miens."

* It was certainly in November 1944 that photographer David Conover took these first photographs of Norma Jeane at the Radioplane factory: indeed, she was in Chicago at Grace McKee Goddard's at the end of October, posting postcards (Chicago postmark) on October 28, 1944 written to her half-sister Berniece Miracle and her friends from Los Angeles Cathy Staub and Jeanette Cox; then she returned to Los Angeles and resumed her work at the factory. It is in a letter dated June 04, 1945 written to Grace that she details her sessions with Conover, specifying "The day I went back to work, after my trip back with you, they had some army photographers there at work and they were taking moving pictures for army training (...) They all asked where I had been hiding. I told them I had been east on leave of absence with my folks. "

---
© All images are copyright and protected by their respective owners, assignees or others.
copyright text by GinieLand.