07 février 2011
Affiches
Photos
Fiche technique
Réalisateur: Larry Buchanan
Scénaristes: Larry Buchanan, Lynn Shubert
Producteur: Larry Buchanan
Producteur exécutif: Mark Josem
Musique: Joe Beck
Directeur photo: Robert A. Sherry
Montage: John Buchanan, John S. Curran
Son: Jim Bryan
Chef électricien: Tommy Estridge
Production: Austamerican Productions
Genre: Biographie - Drame
Pays: Australie / États-Unis
Format: Couleur
Durée: 95 minutes

Distribution

Misty Rowe: Norma Jean Baker
Terence Locke: Ralph Johnson
Patch Mackenzie: Ruth Latimer
Preston Hanson: Hal James
Marty Zagon: Irving Oblach
Andre Philippe: Sam Dunn
Adele Claire: Beverly
Sal Ponti: Randy Palmer
Paula Mitchell: Cynthia Palmer
Jean Sarah Frost: Ethel
Lilyan McBride: House Mother
Burr Middleton: Sleasy Photographer
Stuart Lancaster: George
Ivy Bethune: Ruby Kirshner
Robert Gribbon: Terry
Synopsis

Aspirant à devenir une star de cinéma, la jeune Norma Jean Baker travaille dans une usine d'armement dans les années 1940. Abusée enfant, elle manque de confiance en elle, mais le photographe Ralph Johnson la prend en photos et la convainc de réaliser son rêve, l'accompagnant aux castings et multipliant les séances photos. Elle rencontre le puissant producteur Hal James, qui la mène au firmanent, en changeant son nom en Marilyn Monroe.
Misty Rowe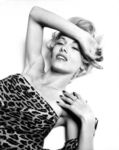 Misty Rowe est née le 4 juin 1952 à Glendora en Californie. Elle travaille comme serveuse et opératrice téléphonique, et loue une chambre au Hollywood Studio Club pendant un an et demie puis elle prend des cours de comédie. En 1969, elle participe à un concours de bikini ce qui lui permet de gagner sa vie dans divers concours en tant que Miss pendant quelques années. En 1972, elle devient connue en jouant dans une série "Hee Haw". En 1976, sa performance dans le biopic de Marilyn Monroe la fait connaître internationalement et elle pose dans Playboy la même année. Elle enchaîne les apparitions télé dans des séries et téléfilms mais aussi des show télé dans les années 1980. Mariée -puis divorcée- de James DePaiva, avec qui elle a eu une fille Dreama Marie DePaiva (née en 1992). Elle se remarrie en 2001 avec le producteur Joseph D. Liguier.

>> Sur le web:
- fiche du film sur imdb (en anglais)
- le site officiel de mistyrowe.com
- bio de Misty Rowe sur wikipedia
et sur glamourgirlsofthesilverscreen.com
- commandez le film sur amazon
Marilyn Monroe et Arthur Miller sont de retour à New York le 18 janvier 1957, après avoir passé leur lune de miel en Jamaïque. C'est une Marilyn souriante et sans maquillage, à la peau légèrement dorée, portant lunettes de soleil et manteau de fourrure et tenant son grand chapeau de paille blanc à la main, qui descend de l'avion à l'aéroport d'Idlewild, se pelotonnant contre Arthur Miller, les températures étant glaciales (moins de 10 degrés). Des rumeurs évoquent que Marilyn serait enceinte et les journalistes se précipitent sur le couple pour avoir plus de détails mais Marilyn leur répond "Je n'ai rien à dire" et Arthur Miller réplique par "Pas un mot".

Marilyn Monroe and Arthur Miller are back in New York on January 19, 1957, after spending their honeymoon in Jamaica. It is a smiling Marilyn with no make-up and slightly sun tanned skin, wearing sunglasses and a fur coat and holding her big white straw hat in her hand, who gets off the plane at Idlewild Airport, huddling up against Arthur Miller, the temperatures being freezing (less than 10 degrees). Rumors suggest that Marilyn would be pregnant and the journalists rush to the couple to have more details but Marilyn answers them "I have nothing to say" and Arthur Miller replies by "Not a word".
---
- A la descente de l'avion -
- Getting off the plane -
---
- photographie de presse -
---
- Dans le hall de l'aéroport -
- In the airport hall -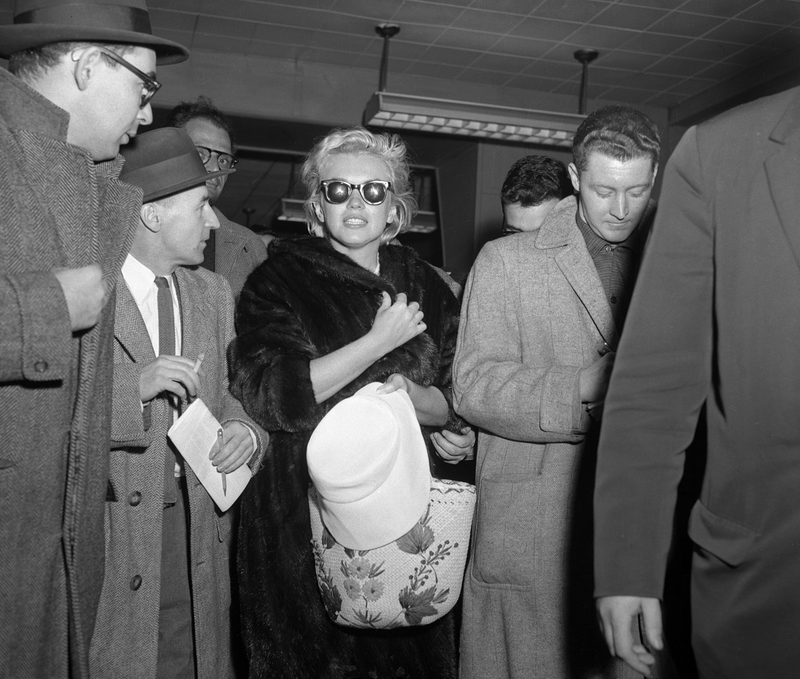 ---
- photographie de Sam Schulman -
---
---
- photographie de Jack Clarity -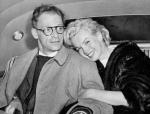 ---
- dans la presse -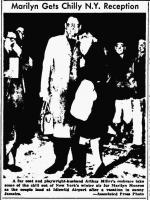 Stars and Stripes, 22/01/1957 - USA

---
source web: Corbis Images, coupure de presse du Forum Everlasting Star
source livre: Marilyn Monroe les Inédits (Marie Clayton)

---
© All images are copyright and protected by their respective owners, assignees or others.
copyright text by GinieLand.
Marilyn Monroe, nouvelle égérie de Dior ?!
article publié sur be.com
le 17/01/2011
Les Bees,
Faut-il ressusciter les morts ?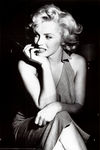 Après Steve McQueen et ses lunettes, va t-on assister à Marilyn et ses produits de beauté ?
Il se murmure depuis hier que la star disparue depuis presque 50 ans pourrait devenir la "nouvelle" égérie de Dior Beauté. En effet, Dior aurait racheté des images de la star pour cette occasion.
Bizarre quand on sait que Marilyn adorait plutôt le N°5 de chez Chanel...
Dior adore prendre les anciens beaux et les remettre au goût du jour...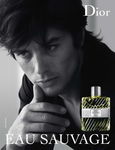 Avec Alain Delon (qui n'est pas mort évidemment) on a déjà assisté à cette technique. Le problème (pour moi) c'est que je me suis mise à fantasmer sur lui...alors qu'en réalité il a près de 70 ans, des poches sous les yeux et l'air absolument pas viril !
Alors les Bees, qu'en pensez vous ? Pour ou contre Marilyn en star de Dior ? Bizarre ou pas ?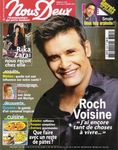 Le magazine français Nous Deux, de la semaine du 15 janvier 2008, consacrait un article d'une page sur "Mary, fan de Marilyn".