Marilyn Monroe et Arthur Miller sont de retour à New York le 18 janvier 1957, après avoir passé leur lune de miel en Jamaïque. C'est une Marilyn souriante et sans maquillage, à la peau légèrement dorée, portant lunettes de soleil et manteau de fourrure et tenant son grand chapeau de paille blanc à la main, qui descend de l'avion à l'aéroport d'Idlewild, se pelotonnant contre Arthur Miller, les températures étant glaciales (moins de 10 degrés). Des rumeurs évoquent que Marilyn serait enceinte et les journalistes se précipitent sur le couple pour avoir plus de détails mais Marilyn leur répond "Je n'ai rien à dire" et Arthur Miller réplique par "Pas un mot".

Marilyn Monroe and Arthur Miller are back in New York on January 19, 1957, after spending their honeymoon in Jamaica. It is a smiling Marilyn with no make-up and slightly sun tanned skin, wearing sunglasses and a fur coat and holding her big white straw hat in her hand, who gets off the plane at Idlewild Airport, huddling up against Arthur Miller, the temperatures being freezing (less than 10 degrees). Rumors suggest that Marilyn would be pregnant and the journalists rush to the couple to have more details but Marilyn answers them "I have nothing to say" and Arthur Miller replies by "Not a word".
---
- A la descente de l'avion -
- Getting off the plane -
---
- photographie de presse -
---
- Dans le hall de l'aéroport -
- In the airport hall -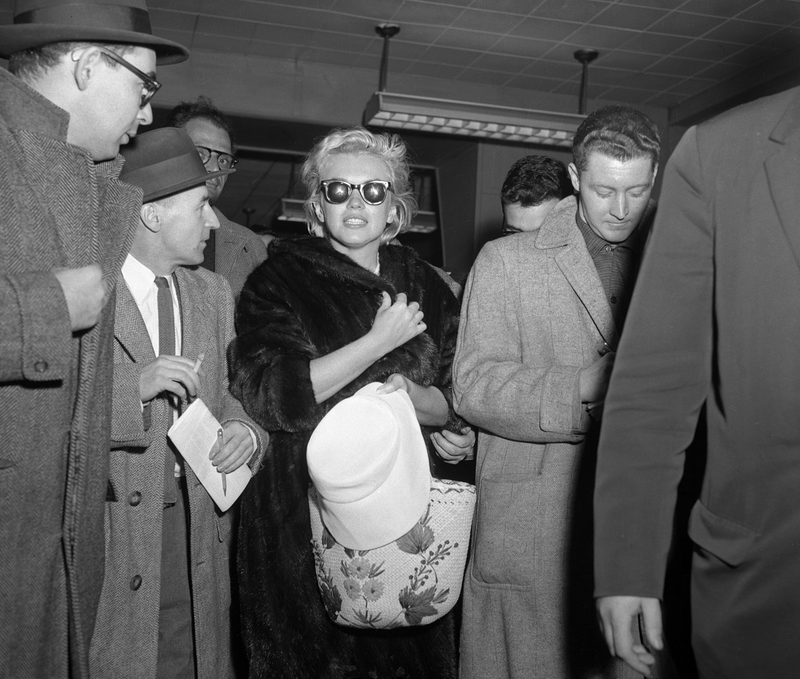 ---
- photographie de Sam Schulman -
---
---
- photographie de Jack Clarity -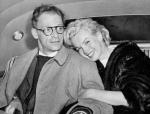 ---
- dans la presse -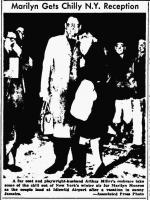 Stars and Stripes, 22/01/1957 - USA

---
source web: Corbis Images, coupure de presse du Forum Everlasting Star
source livre: Marilyn Monroe les Inédits (Marie Clayton)

---
© All images are copyright and protected by their respective owners, assignees or others.
copyright text by GinieLand.