13 février 2011
Le 3 janvier 1957, Marilyn Monroe et Arthur Miller quittent New York et s'envolent pour la Jamaïque par un avion de la Avancia Airlines pris à l'aéroport d'Idlewild (trajet New York - Montego Bay), pour y célébrer leur lune de miel qui avait été reportée à cause du tournage de Le prince et la danseuse. Lee Strasberg a accompagné le couple jusqu'à l'aéroport. Marilyn et Arthur partent avec Morton Miller (le cousin d'Arthur) et sa femme Florence.
Les reporters présents en profitent pour demander au couple s'ils comptent avoir un enfant, ce à quoi Arthur leur répond: "Nous avons décidé de ne faire aucun commentaire sur ce sujet."

On January 3, 1957, Marilyn Monroe and Arthur Miller left New York and flew to Jamaica by an Avancia Airlines plane taken at Idlewild airport (New York - Montego Bay), to celebrate their honeymoon which has been postponed due to the filming of The Prince and the Showgirl. Lee Strasberg accompanied the couple to the airport. Marilyn and Arthur leave with Morton Miller (Arthur's cousin) and his wife Florence.
The reporters present take the opportunity to ask the couple if they plan to have a child, to which Arthur replies: "We resolved to make no comment on that."
---
- Au départ de New York, aéroport d'Idlewild -
- Leaving from New York, Idlewild airport -

- Dans le salon d'attente: Marilyn et Morton Miller -
-In the airport lounge: Marilyn and Morton Miller -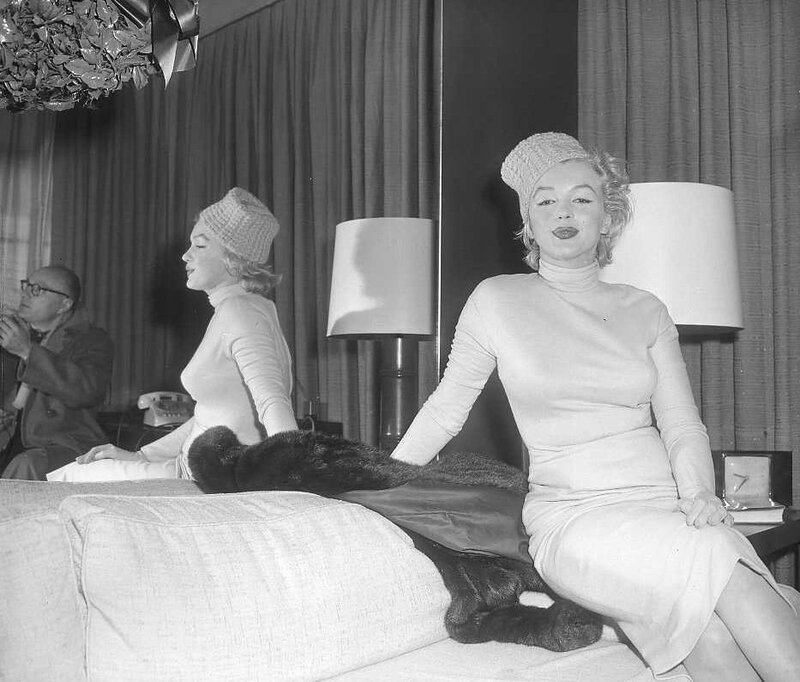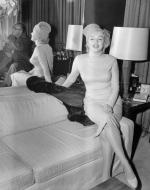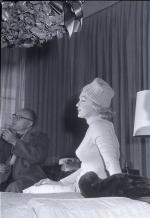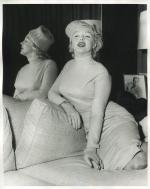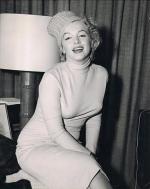 ---
- photographie de Bruce Hopkins
---
A leur arrivée à l'aéroport de Palisadoes de Kingston à 7 heures, un verre de bienvenue (un punch de rhum) leur est offert. Marilyn et Arthur prennent le temps de répondre aux journalistes présents, de saluer la foule et de signer quelques autographes, tout en se laissant prendre en photos.
Ils prennent ensuite une voiture et font la route pendant 2 heures et demie pour aller à Ocho Rios.

At their arrival at Kingston, Palisadoes Airport, at 7:00 am, they are offered a welcome drink (a rum punch). Marilyn and Arthur take the time to answer to the journalists who are present, to greet the crowd and to sign some autographs, while allowing themselves to be photographed.
They then take a car and drive for 2.5 hours to Ocho Rios.

---
---
- dans la presse -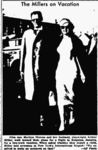 Stars and Stripes, 08/01/1957 - USA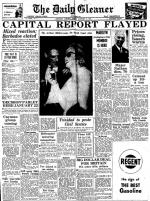 The Daily Gleaner , 04/01/1957
---
source: Coupures de presse du Forum Everlasting Star (thanks to the forum for the press clippings)

---
© All images are copyright and protected by their respective owners, assignees or others.
copyright text by GinieLand.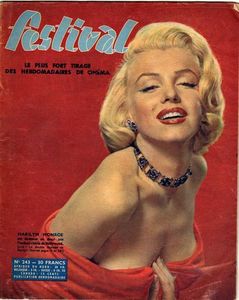 Le magazine Festival n°243, de 1954, consacrait sa couverture à Marilyn Monroe, intitulé "Marilyn Monroe est devenue en deux ans l'enfant chérie de Hollywood"; et publiait en page intérieur, unarticle d'une page sur Marilyn.