15 février 2011
Le photographe Philippe Halsman initie sa "Jumpologie" (en photographiant les personnalités en train de sauter en l'air) au début des années 1950s. Il photographie une première fois Marilyn en plein saut le 15 septembre 1954 dans son studio de New York (voir la première Jump sitting de Marilyn) et pour laquelle il ne fera qu'une seule prise de vue.
En 1959, Halsman prévoit de sortir un livre réunissant toutes les personnalités en plein saut (le "Jump Book"); et comme il est aussi l'un des photographes attitrés du magazine Life, la rédaction souhaite publier un article sur les sauts par Halsman et de mettre Marilyn en couverture. C'est probablement en octobre 1959, au studio de Philippe Halsman, sur la 67ème rue à New York, que Marilyn Monroe va réaliser cette séance de sauts. Comme l'exprimera Halsman, Marilyn avait exactement 3 jours de retard et 10 minutes d'avance, mais la séance est productive: elle dure plus de 3 heures et va nécessiter près de 200 sauts pour Marilyn, afin de sélectionner la photo qui sera en couverture de Life (voir Life 09 novembre 1959 ). Autant dire une photographie pas très spontanée (au contraire du premier saut de Marilyn pour Halsman en 1954 où elle n'avait sauté qu'une seule fois) et donc loin aussi de l'initiative d'Halsman pour qui la prise de vue pendant un saut est un révélateur de la personnalité du sujet photographié ! C'est aussi un moyen pour Marilyn de contrôler son image et de livrer ainsi une véritable performance.
Marilyn va poser vêtue de deux robes longues différentes: une robe à strass noire et une robe rouge. Son époux Arthur Miller assiste à la séance, tel qu'on le découvre en coulisses.
Photographer Philippe Halsman initiated his "Jumpology" (by photographing personalities jumping in the air) in the early 1950s. He photographs for the first time Marilyn in full jump in September 15, 1954 in his studio in New York (see the first Jump sitting of Marilyn) and for which he will only take one shot.
In 1959, Halsman plans to release a book bringing together all the personalities jumping (the "Jump Book"); and as he is also one of the regular photographers of Life magazine, the editorial staff wishes to publish an article on the jumps by Halsman and to put Marilyn on the cover. That's probably in October 1959, at Philippe Halsman's studio, on 67th Street in New York, that Marilyn Monroe will perform this jump session. As Halsman will express it, Marilyn was exactly 3 days late and 10 minutes early, but the session is productive: it lasts more than 3 hours and will require nearly 200 jumps for Marilyn, in order to select the photo that will be in cover of Life (see Life 09 novembre 1959 ). In other words, a photograph that was not very spontaneous (unlike Marilyn's first jump for Halsman in 1954 where she has made only one jump) and therefore also far from the initiative of Halsman for whom the shooting during a jump reveals the personality of the subject being photographed ! It is also a way for Marilyn to control her image and thus deliver a real performance.
Marilyn is going to pose wearing two different long dresses: a black rhinestone dress and a red dress. Her husband Arthur Miller attends the session, as we discover him behind the scenes.
---
- Robe Noire -
Black Dress
---
- Marilyn, Arthur Miller & Philippe Halsman -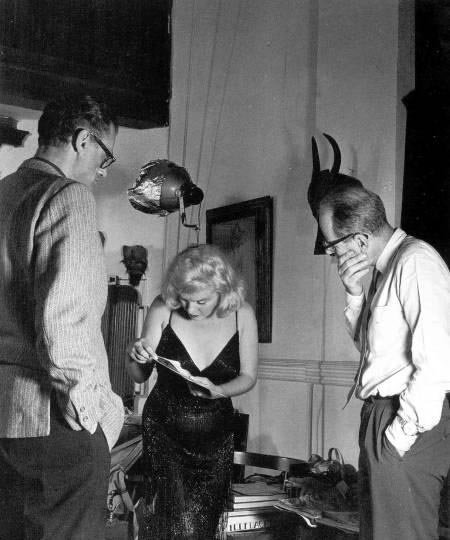 ---
- Magazines -
Life, 09/11/1959 - USA
Neue Illustrierte, 12/12/1959 - ALLEMAGNE
Le Ore, 06/04/1960 - ITALIE
Confessioni, 04/1962 - ITALIE
La Storia Del Cinema, 30/03/1966 - ITALIE
Week End, 28/12/1968 - ITALIE
Sirena, 31/10/1975 - BOSNIE
magazine Japonais, 1980's
Télérama, 31/07/1982 - FRANCE
Télé 7 Jours, 07/08/1991 - FRANCE
TV Magazine, 03/08/1992 - FRANCE
La Vie, 12/1994 - FRANCE
Studio, 03/1995 - FRANCE
ça m'intéresse, 12/1996 - FRANCE

Cinema , date ? pays ?
Arte, 08/2005 - ITALIE
---
- Robe Rouge -
Red Dress

---
- Planches Contact -
- Contact Sheet -
---
- Philippe Halsman & Marilyn Monroe
photographiés par Yvonne Halsman,
l'épouse du photographe -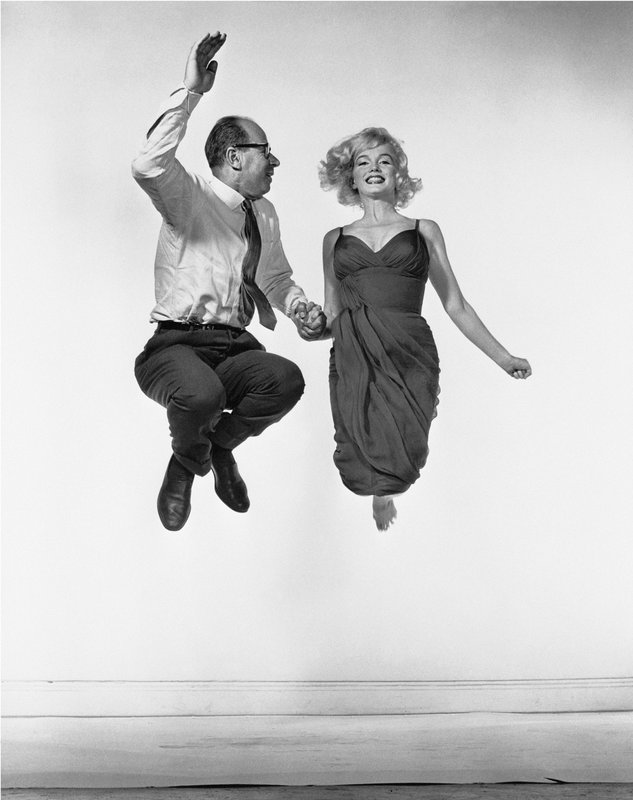 - Philippe Halsman & Marilyn Monroe
photographed by Yvonne Halsman,
the photographer's wife -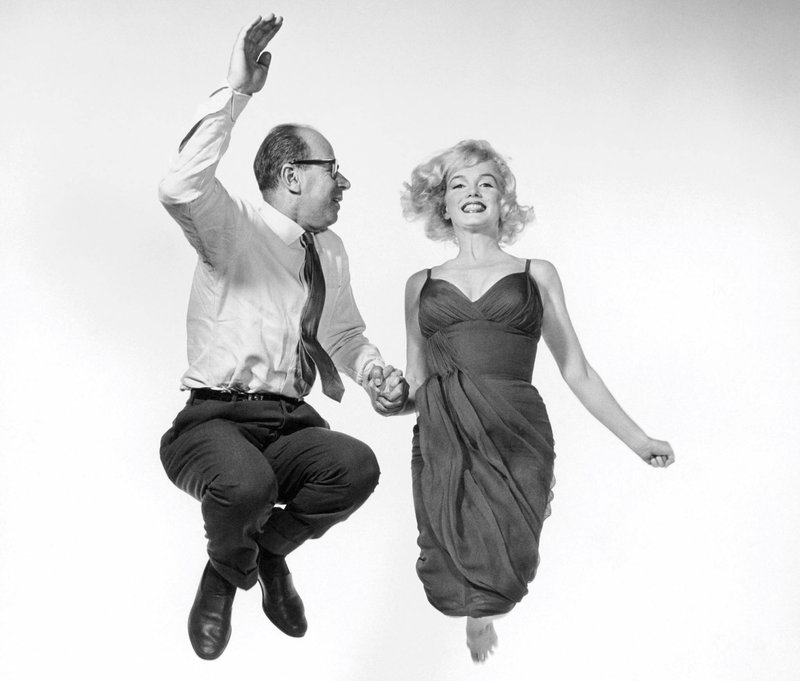 ---
- Magazines -
Se, 17/12/1959 - SUEDE
Pix, 26/12/1959 - ?
Zondagsvriend, 31/12/1959 - ALLEMAGNE
L'Europeo, 18/09/1960 - ITALIE
Télérama, 03/08/2002 - FRANCE
La collection Marilyn, coffret DVD par Télérama

---
© All images are copyright and protected by their respective owners, assignees or others.
copyright text by GinieLand.