Séance dans l'après-midi du 15 septembre 1954, jour où Marilyn Monroe a tourné la fameuse scène de sa robe blanche qui se soulève dans Sept ans de réflexion, au studio de Philippe Halsman, sur la 67ème rue à New York.
Halsman fait d'abord une première séance avec Marilyn où elle porte un top noir et une longue jupe (< click sur le lien pour voir la séance - jupe que le photographe a emprunté à sa femme). Mais avant que Marilyn ne parte, il lui demande qu'elle saute en l'air, car il adore photographier les personnalités en plein saut (cela donnera naissance plus tard à ses fameuses photos de "Jump Sitting"). Cette séance de saut est la première de Marilyn pour Halsman, et la moins connue, puisqu'elle fera une séance de saut en 1959 avec Halsman qui reste encore aujourd'hui l'une de ses séances des plus célèbres.
Mais Halsman n'est pas satisfait du saut de Marilyn: on ne voit pas ses jambes ! L'ironie du sort veut que le jour même, la nuit du 14 au 15 septembre, elle a montré ses jambes à tout New York pour le tournage de la scène de sa robe qui se soulève au-dessus d'une grille de métro. Halsman lui demande de sauter à nouveau, mais le résultat est toujours le même. Il insiste: "Marilyn, ne peux-tu pas sauter en exprimant totalement ta personnalité ?" Mais désoeuvrée, Marilyn lui répond: "je ne sais pas comment faire." Le photographe lui explique sa démarche à travers l'approche psychologique du saut. Marilyn refuse de recommencer, sans doute effrayée à l'idée de révéler sa vraie personnalité. Au final, Halsman se rend compte que l'unique photo du saut ne montrant alors que le torse de Marilyn décrit alors le mieux sa personnalité.
Séances pour le magazine Life.

Session of the afternoon of September 15, 1954, the day when Marilyn Monroe shoots the famous scene of her white dress rising up in The Seven Year Itch, at Philippe Halsman's studio, on 67th Street in New York.
Halsman first does a first session with Marilyn where she wears a black top and a long skirt (skirt that the photographer borrowed from his wife). But before Marilyn leaves, he asks her to jump in the air, because he loves to photograph personalities in the mid-air (this will later give birth to his famous "Jump Sitting" photos). This jump session is Marilyn's first for Halsman, and the least known, as she will do a jump session in 1959 with Halsman which remains one of her most famous sessions today.
But Halsman is not satisfied with Marilyn's jump: we can't see her legs ! Ironically, that same day, the night of September 14-15, she showed her legs all over New York City for the filming of the scene of her dress lifting above a subway gate. Halsman asks her to jump again, but the result is still the same. He insists: "Marilyn, can't you jump and express your whole personality ?" But idle, Marilyn replies: "I don't know how to do it."

The photographer explains his approach through the psychological approach of the jump.

Marilyn refuses to start over, no doubt afraid at the idea of revealing her true personality.

In the end, he realizes that the single photo of the jump only showing the Marilyn's torso then best describes her personality.
The sittings are for the Life magazine.
---
---
- Planche Contact -
- Contact Sheet -
---
- En backstage -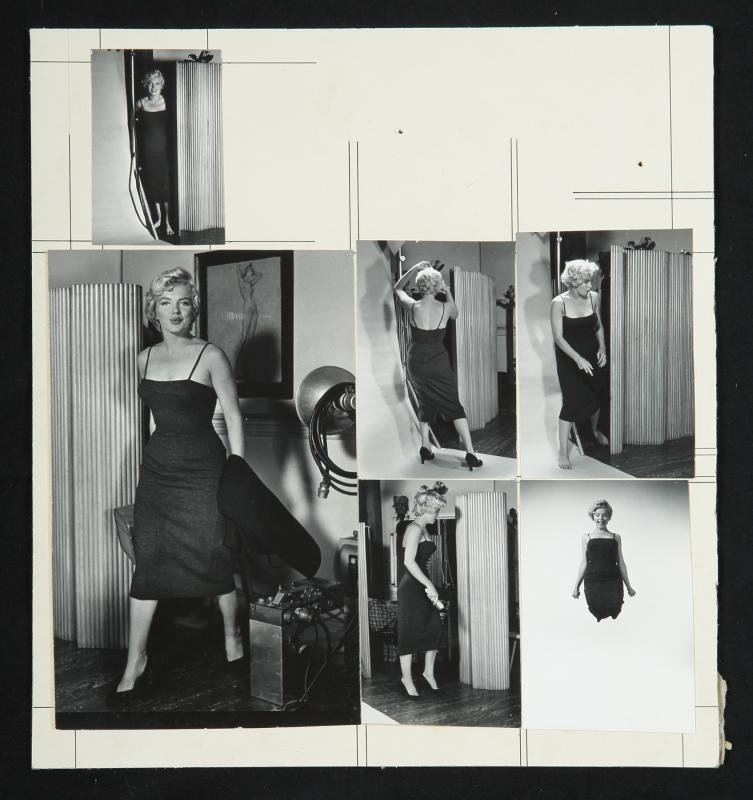 ---
- Dans la presse -
article de Life, 1955 - USA
---
© All images are copyright and protected by their respective owners, assignees or others.
copyright text by GinieLand.