C'est le 15 septembre 1954, le même jour où Marilyn Monroe a tourné la fameuse scène de sa robe blanche qui se soulève dans Sept ans de réflexion, qu'elle se rend dans la journée au studio de Philippe Halsman, sur la 67ème rue à New York. Il souhaite d'abord, lors d'une première séance, faire une étude des émotions. Marilyn a apporté un top noir, disant au photographe: "J'ai mis de côté ce haut spécialement pour toi. Personne ne m'a jamais photographié avec." Abasourdi, Halsman farfouine dans les vêtements de sa femme, pour prêter à Marilyn une jupe qui s'accorde avec son top.
Juste avant que Marilyn ne parte de son studio, Halsman va faire une autre séance: la première Jump sitting (< click sur le lien pour voir la séance de saut) de Marilyn avec Halsman. Séances pour le magazine Life.

It is in September 15, 1954, the same day that Marilyn Monroe shoots the famous scene of her lifting white dress in The Seven Year Itch, that she goes on the afternoon to Philippe Halsman's studio, on 67th Street in New York. He first wishes, for a first session, to do an emotion study. Marilyn brings a black top, telling to the photographer: "I have saved this blouse especially for you. No one has ever photographed me in it." Bewildered, Halsman rummages through his wife's clothes, to lend Marilyn a skirt that matches with her top.
Just before Marilyn leaves the studio, Halsman will do another sitting: Marilyn's first "Jump sitting" with Halsman. The sittings are for the Life magazine.

- Marilyn & Halsman -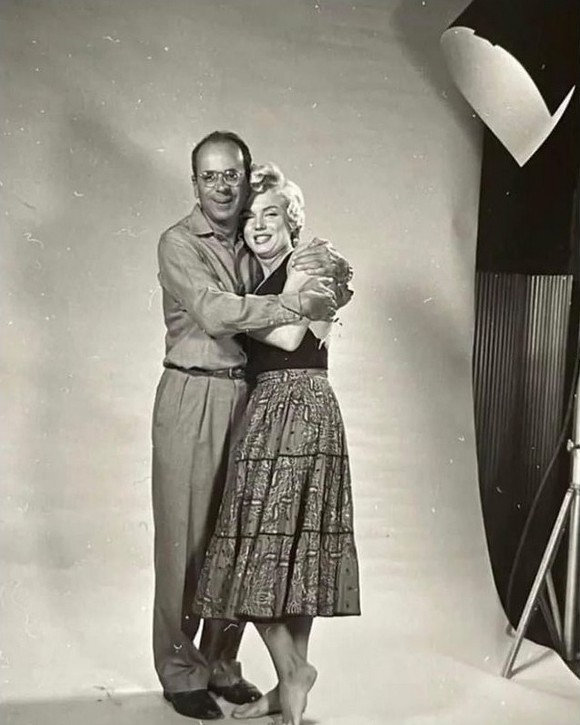 ---
- Montages / Divers -
---
- Planches Contact -
- Contact Sheet -
---
- Dans la presse -
Picture Post, 23/12/1954 - USA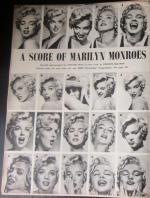 ---
- Magazines -
Epoca, 24/07/1955 - ITALIE
Seura, 11/1955 - FINLANDE
Ciné Révélation, 05/12/1955 - FRANCE

---
>> Sur le tournage de Sept ans de réflexion
Marilyn sélectionne les photos "Marilyn's Expressions"- par Sam Shaw

---
© All images are copyright and protected by their respective owners, assignees or others.
copyright text by GinieLand.