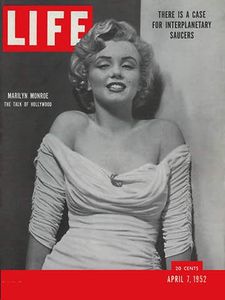 Il s'agit de la première couverture de Marilyn Monroe pour le magazine américain Life du 7 avril 1952, qui lui consacrait un article de 5 pages, dont le reportage photographique est de Philippe Halsman (excepté une photographie d'André De Dienes).
Cette couverture va avoir un retentissement dans la carrière de Marilyn, Life étant l'un des magazines les plus vendus aux Etats-Unis; elle va ainsi accéder au statut de star.

This is the first cover of Marilyn Monroe for the American magazine Life on April 7, 1952, which devoted an article of 5 pages to her - the photographic report is by Philippe Halsman (except a photograph by Andre De Dienes).
This cover will have an impact on Marilyn's career, Life being one of the best-selling magazines in the United States; she will thus reach the status of star.
---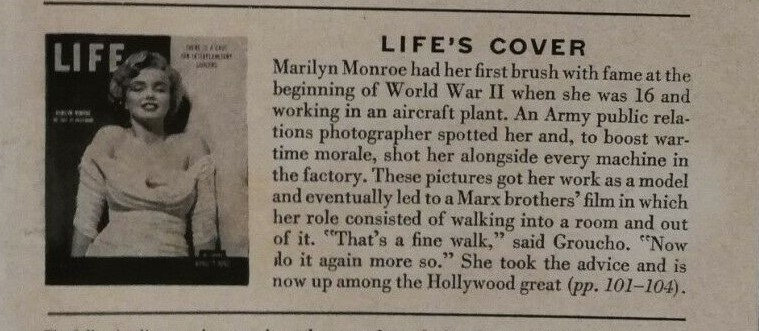 summary: LIFE'S COVER
Marilyn Monroe had her first brush with frame at the beginning of Wolrd War II when she was 16 and working in an aircraft plant. An Army public relations photographer spotted her and, to boost wartime morale, shot her alongside every machine in the factory. These pictures got her work as a model and eventually led to a Marx Brothers' film in which her role consisted of walking into a room and out of it. "That's a fine walk," said Groucho. "Now do it again more so." She took the advice and is now among the Hollywood great.
sommaire: EN COUVERTURE DE LIFE
Marilyn Monroe a eu son premier contact avec l'image au début de la Seconde Guerre mondiale alors qu'elle avait 16 ans et travaillait dans une usine d'avions. Un photographe de relations publiques de l'armée l'a repérée et, pour remonter le moral en temps de guerre, l'a photographiée à côté de chaque machine de l'usine. Ces images lui ont permis de travailler comme modèle et l'ont finalement conduite à faire un film des Marx Brothers dans lequel son rôle consistait à entrer dans une pièce et à en sortir. "C'est une belle démarche", a déclaré Groucho. « Maintenant, recommencez encore plus. » Elle a suivi les conseils et fait désormais partie des grands d'Hollywood.
---
Article: "Hollywood Topic A-Plus"
Whole Town's taling about Marilyn Monroe
Every so often, more in hope than conviction, Hollywood announces the advent of a sensationnal glamour girl, guaranteed to entice people from all lands to the box office. Usually the sensation fizzles. But today the most respected studio seers, in a crescendo of talk unparalleled since the debut of Rita Hayworth, are saying that the genuine article is here at last: a sturdy blonde named Marilyn Monroe (see cover).
Three years ago, Marilyn was trying to get a start like any other starlet: a low-salary contract with 20th Century-Fox, small parts in movies, choice as Miss Flamethrower by an Army unit. She even posed for calendar art for a few badly needed extra pennies. Somewhere between her ingenuous mind and voluptuous body came a spark of the kind that makes movie personalities. Her bit part stood out in big films (All About Eve, Asphalt Jungle). Today she is topic A-plus in Hollywood. She gets 5,000 fan letters a week and is beeing costarred simultaneously in films with Cary Grant, Richard Widmark, Charles Laughton.
Marilyn was beign driven down a California scenic route recently by an admirer when she volunteered the information "I was born under the sign of Gemini. That stands for the intellect." "Yes ?" said the admirer. "Everybody else I've told that to," said Marilyn, "laughed".
Because her movie role is always that of a dumb blonde, Hollywood generally supposes she is pretty dumb herself. This is a delusion. Marilyn is naive and guileless. But she is smart enough to have known how to make a success in the cutthroat world of glamour. She does it by being as wholly natural as the world will allow. Physically she has many of the attributes of Jean Harlow. But there is no suggestion of hardness or tartness in Marilyn. She is relaxed, warm, apparently absorbed by whatever man she has her big blue eyes fixed on at any particular moment. "I've given pure sex appeal very little thought" she says. "If I had to think about it I'm sure it would frighten me."
What she does think about she expresses in aphorisms. On clothes: "I dress for men. A woman looks at your clothes critically. A man appreciates them." On eating with a man: "I don't give the food much thought." On walking: "I use walking to just get me around." On resting: "I sit down the way I feel." On men: "They seem to understand me." On herself: "I am very definitely a woman and I enjoy it."
Marilyn never finished high school but she is devoted to the intellectual life. She sprinkles her conversation with lines from Thomas Wolfe and Browning, with the same candid simplicity she uses in describing her dumbbell exercices: "I'm fighting gravity. If you don't fight gravity, you sag." Her candor sometimes disconcerts interviewers. "One this fellow says 'Marilyn, what do wear to bed ?' So I said I only wear Chanel No. 5 and he groans, 'Oh no, I can't use that.'"
Marilyn's real name is Norma Jeane Mortenson, though she generally gives it as Baker, apparently because her father was a baker. She was brought up at municipal expense in 12 different foster homes in Los Angeles. The first family was intensely religious . "To go to a movie was a sin", recalls Marilyn. "Every night I was told to pray that I would not wake up in hell." The next family was comprised of movie bit players: "They drank and danced and played cards. Oh, how I prayed for them." Another one gave her empty whisky bottles as her only toys. She was a skinny child, something of an ugly duckling. At 16, to avoid being sent to an orphenage, she married an aircraft worker and was divorced two years later. Marilyn looks back on the hard knocks of her youth with no particular self-pity and only hopes they may have taught her a few things about people which will help her in her career. For, with all Hollywood at her feet, she is obsessed by an irrationnal childhood ambition: she wants very much to become an actress.

Traduction "Le sujet extra d'Hollywood"
Toute la ville parle de Marilyn Monroe
De temps en temps, plus par espoir que par conviction, Hollywood annonce l'avènement d'une fille glamour sensationnelle, garantie d'attirer les gens de tous les pays au box-office. Habituellement, la sensation s'envole. Mais aujourd'hui, les voyants de studio les plus respectés, dans un crescendo de discours sans précédent depuis les débuts de Rita Hayworth, disent que la véritable article est enfin là : une blonde robuste nommée Marilyn Monroe (voir couverture).
Il y a trois ans, Marilyn essayait de se lancer comme n'importe quelle autre starlette : un contrat à bas salaire avec la 20th Century-Fox, des petits rôles dans des films, choisie comme Miss Lance-flammes par une unité de l'armée. Elle a même posé pour un calendrier artistique pour quelques centimes supplémentaires dont elle avait grandement besoin. Quelque part, entre son esprit naïf et son corps voluptueux, est venue une étincelle du genre de celles qui font les personnalités du cinéma. Ses petits rôles l'ont mené dans les grands films (All About Eve, Asphalt Jungle). Aujourd'hui, elle est le sujet extra à Hollywood. Elle reçoit 5 000 lettres de fans par semaine et est co-vedette simultanément dans des films avec Cary Grant, Richard Widmark, Charles Laughton.
Marilyn a été récemment conduite sur une route panoramique californienne par un admirateur lorsqu'elle a déclaré volontairement "Je suis née sous le signe des Gémeaux. Cela représente l'intellect." "Oui ?" dit l'admirateur. "Tout le monde à qui j'ai dit ça", a déclaré Marilyn, "a ri". Parce que son rôle au cinéma est toujours celui d'une blonde stupide, Hollywood suppose généralement qu'elle est elle-même plutôt stupide. C'est une illusion. Marilyn est naïve et innocente. Mais elle est assez intelligente pour avoir su réussir dans le monde féroce du glamour. Elle le fait en étant aussi totalement naturelle que le monde le permet. Physiquement, elle a beaucoup des attributs de Jean Harlow. Mais il n'y a aucune suggestion de dureté ou d'acidité dans Marilyn. Elle est détendue, chaleureuse, apparemment absorbée par n'importe quel homme sur lequel ses grands yeux bleus sont fixés à un moment donné. "J'ai très peu pensé au sex-appeal pur", dit-elle. "Si je devais y penser, je suis sûr que cela me ferait peur."
Ce qu'elle pense, elle l'exprime par des aphorismes. Sur les vêtements : « Je m'habille pour les hommes. Une femme regarde vos vêtements d'un œil critique. Un homme les apprécie.» Sue le fait de manger avec un homme : «Je ne pense pas beaucoup à la nourriture.» Sur la démarche : «J'utilise la marche pour me déplacer. » Sur le repos : «Je m'assieds comme je me sens. » Sur les hommes : «Ils semblent me comprendre.» Sur elle-même : «Je suis définitivement une femme et j'aime ça. »
Marilyn n'a jamais terminé ses études secondaires mais elle se consacre à la vie intellectuelle. Elle saupoudre sa conversation de répliques de Thomas Wolfe et Browning, avec la même simplicité candide qu'elle utilise pour décrire ses exercices d'haltères : «Je combats la gravité. Si tu ne combats pas la gravité, tu t'affaisses. » Sa franchise déconcerte parfois les intervieweurs. "L'un de ces gars me dit 'Marilyn, que portez-vous au lit ?' Alors j'ai dit que je ne portais que du Chanel n°5 et il gémit : 'Oh non, je ne peux pas utiliser ça.'"
Le vrai nom de Marilyn est Norma Jeane Mortenson, bien qu'elle le donne généralement comme Baker, apparemment parce que son père était boulanger. Elle a été élevée aux frais de la municipalité dans 12 foyers d'accueil différents à Los Angeles. La première famille était intensément religieuse. "Aller au cinéma était un péché", se souvient Marilyn. "Tous les soirs, on me disait de prier pour ne pas me réveiller en enfer." La famille suivante était composée de gens de cinéma : "Ils buvaient, dansaient et jouaient aux cartes. Oh, comme j'ai prié pour eux". Dans une autre, on lui a donné des bouteilles de whisky vides comme seuls jouets. C'était une enfant maigre, une sorte de vilain petit canard. A 16 ans, pour éviter d'être envoyée dans un orphelinat, elle a épousé un ouvrier aéronautique et a divorcé deux ans plus tard. Marilyn revient sur les coups durs de sa jeunesse sans s'apitoyer sur elle-même et espère seulement qu'ils lui ont appris quelque choses sur les gens qui l'aideront dans sa carrière. Car, avec tout Hollywood à ses pieds, elle est obsédée par une ambition d'enfance irrationnelle : elle a très envie de devenir actrice.
---
© All images are copyright and protected by their respective owners, assignees or others.