Deuxième jour de la séance photos de Marilyn Monroe avec le photographe Philippe Halsman en janvier 1952 chez elle, dans son appartement au Beverly Carlton Hotel pour Life Magazine (voir Life 7 avril 1952 ).

Second day of Marilyn Monroe's photoshoot with photographer Philippe Halsman in January 1952 at her home, in her apartment at the Beverly Carlton Hotel for Life Magazine (see Life 7 avril 1952 ).
---
- Séance de l'Entretien -
Interview Sitting
Philippe Halsman photographie l'approche de Marilyn face à un entretien de travail; il a cette fois-ci scénarisé la séance photos, tel qu'on le découvre par ses annotations sur chacun d'entre elles, découpées ainsi en différentes phases: 1- Approche , 2- Plongée du bassin vers l'ennemi, 3/4- Prise de positions de combat, 5- Plastron, 6- Attaque, 7- Assaut final.
Le conseil de Marilyn paru dans l'article de Life: "Il n'est pas nécessaire d'utiliser votre voix d'une manière particulière. Si vous pensez à quelque chose de sexy, la voix va naturellement de pair."
Philippe Halsman photographs Marilyn's approach to a job interview; this time he scripted the photoshoot, as we can see from his annotations on each of them, divided into different phases: 1- Approach , 2- Pelvis thrust at the enemy, 3/4- Taking battle positions, 5- Breastwork, 6- Attack, 7- Final assault.
The Marilyn's advice published in Life article: "It isn't necessary to use your voice in any special way. if you think something sexy, the voice just naturally goes along."

---
Une pile de magazine est posée derrière Marilyn:
on y voit le magazine TIME du 28 janvier 1952
livrant ainsi une indication sur la date de cette séance
A stack of magazines is placed behind Marilyn:
we see the TIME magazine from January 28, 1952
thus providing an indication of the date of this session
---
- Dans la presse -
Le Life du 07/04/1952, reprend la mise en scène de
"Marilyn démontre son approche du travail"
The Life from 04/07/1952, takes the scenrio of
"Marilyn demonstrates her approach to a job"

Autre article décrivant "L'approche de Marilyn aux hommes"
pour postuler à un travail. Elle utilise son corps et sa voix.
Other article describing "MM's approach to men"
to apply a job. She uses her body and her voice.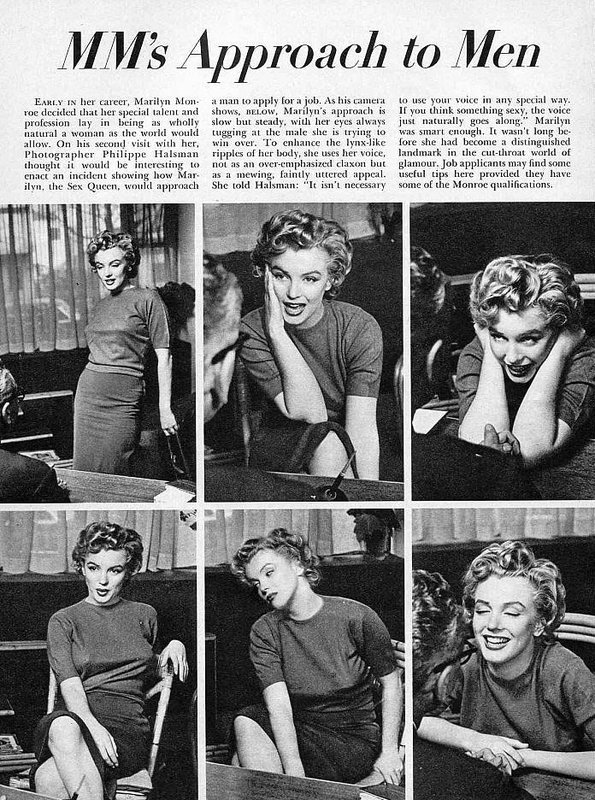 ---
- Séance des Escaliers -
Stairs Sitting

Ayant terminé ses séances photos avec Marilyn, le photographe (accompagné de son assistant John Baird et de Stanley Flink, éditeur de Life) s'en vont. En partant, Marilyn se penche dans les escaliers pour le saluer; Halsman racontera (dans le magazine Photography de juin 1953 ): "Nous avons remballé notre équipement et l'avons transporté dans les escaliers. Levant les yeux, j'ai vu Marilyn se pencher par-dessus la balustrade pour nous voir partir. Cela ressemblait à une photographie bien composée. J'ai interpellé: "Attends !" et j'ai ouvert mon Rollei pour prendre encore deux douzaines de photos d'elle là."
Having finished his photoshoots with Marilyn, the photographer (accompanied by his assistant John Baird and editor of Life Stanley Flink) leave. When leaving, Marilyn leans down the stairs to say goodbye; Halsman will relate (in magazine Photography from June 1953 ): "We packed our equipment and carried it down the stairs. Looking up, I saw Marilyn leaning over the railing to see us off. It looked like a well-composed photograph. I called "hold it !" and opened my Rollei to take another two dozen shots of her there."
---
- Planche Contact -
- Contact Sheet -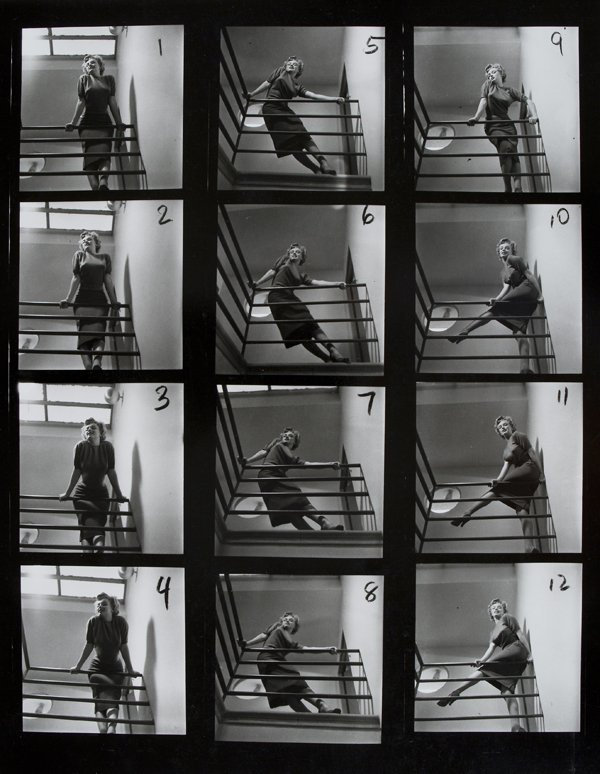 ---
© All images are copyright and protected by their respective owners, assignees or others.
copyright text by GinieLand.