Marilyn Monroe dans son studio au Beverly Carlton Hotel en 1952 pour Life Magazine (voir Life 7 avril 1952 ).
Marilyn Monroe in her appartment at the Beverly Carlton Hotel in 1952 for 'Life' Magazine (see Life April 7, 1952).
Le photographe Philippe Halsman s'étonna de l'aménagement: "Ce qui m'a frappé dans ce minable petit salon, c'étaient les efforts évidents que faisait cette petite blonde réputée sotte pour son évolution personnelle. J'ai vu une photo d'Eleonora Duse et une multitude de livres auxquels je ne m'attendais vraiment pas: Dostoïevski, Freud et L'histoire du socialisme fabien."
Pour cette séance photos, Philippe Halsman était accompagné de son assistant et d'Harold Lloyd, qu'Halsman avait vu la veille chez Lloyd, ce dernier lui ayant montré ses photos en 3D. Pour cette séance avec Marilyn, Halsman a proposé à Lloyd de venir: les photos qu"il prend (en couleur) seront toutes en 3D.

---
En déshabillé transparent noir
Marilyn prend des poses lascives devant sa bibliothèque,
écoutant de la musique (elle tient un disque dans sa main)
>> Planches contact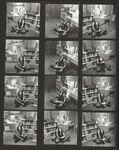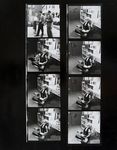 >> Photos de Harold Lloyd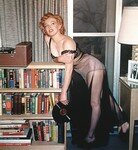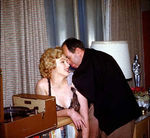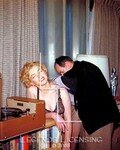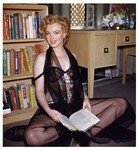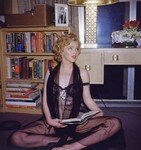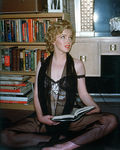 ---
En déshabillé transparent rose
Marilyn est assise à terre devant la baie vitrée
Le photographe Philippe Halsman raconte: "Plus tard, entre deux interminables changements vestimentaires, elle apparut dans un négligé à demi transparant. Je la complimentai de ne pas avoir besoin de soutien-gorge. 'Mais, Phlippe', m'expliqua-t-elle, 'je vous ai déjà dit que je me bats contre la pesanteur'."
---
© All images are copyright and protected by their respective owners, assignees or others.
copyright text by GinieLand.
Enregistrer
Enregistrer