23 février 2011
Marilyn Monroe dans les studios de la 20th Century Fox
à Los Angeles, probablement vers septembre 1952.
Marilyn Monroe in the studios of 20th Century Fox
in Los Angeles, probably circa September 1952.
---
Dans la loge Coiffure / Maquillage de la FOX
In the Hair Dress / Make Up Department of FOX

Marilyn se fait coiffer par Esperanza, une coiffeuse des studios.
Assise à côté de Marilyn, l'actrice Jean Peters, sa partenaire dans "Niagara",
film dont elles viennent de terminer le tournage.

Marilyn gets her hair dressed by Esperanza, a hairdresser from the studios.
Sitting next to Marilyn, actress Jean Peters, her partner in "Niagara",
the movie they have just finished filming.
Marilyn se maquille.
Marilyn is putting on makeup.
---
A la cantine des studios
In the Studios' Commissary

Marilyn mange une pastèque
Marilyn eats watermelon

Dans l'article de Movie World (voir en fin de post)
il est indiqué que Marilyn mange ici :
du fromage blanc, du babeurre et du melon
In the article of Movie World (see at the end of this post)
it is indicate that Marilyn eats here:
cottage cheese, buttermilk and melon
---
En Coulisse
In Backstage
Marilyn fait une sieste et un peu d'exercice physique pour se détendre
Marilyn takes a nap and does some physical exercise to relax

---
A l'extérieur des studios
Outside the Studios

Marilyn lit le "Saturday Pictorial Los Angeles Evening Herald Express"
en titre: l'expulsion de Charlie Chaplin du territoire américain
(Charlie Chaplin est parti des USA le 18 septembre 1952)
et le discours de Richard Nixon du 23 septembre 1952
Marilyn reads the "Saturday Pictorial Los Angeles Evening Herald Express"
the titles: Charlie Chaplin's expulsion from American territory
(Charlie Chaplin left the USA on September 18, 1952)
and the Richard Nixon's speech of September 23, 1952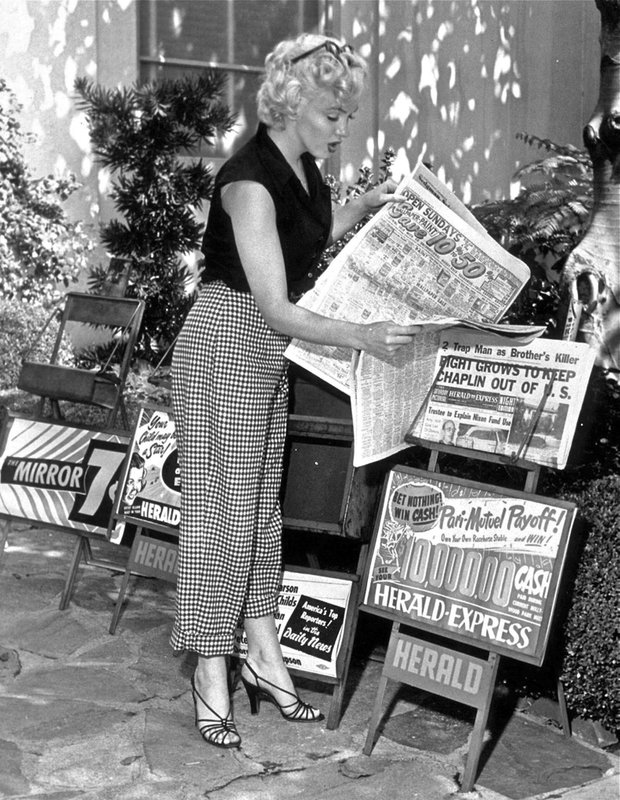 ---
Marilyn quitte les studios en tenant plusieurs vêtements dans ses bras,
dont sa robe blanche de Ceil Chapman,
qu'elle a porté pour la séance photos pour le magazine Life
en janvier 1952 avec le photographe Philippe Halsman

Marilyn leaves the studios holding several clothes in her arms,
including her white Ceil Chapman dress,
that she wore for the photoshoot for Life magazine
in January 1952 with photographer Philippe Halsman
---
Il semble que Marilyn est devant sa Pontiac
It seems that Marilyn is in front of her Pontiac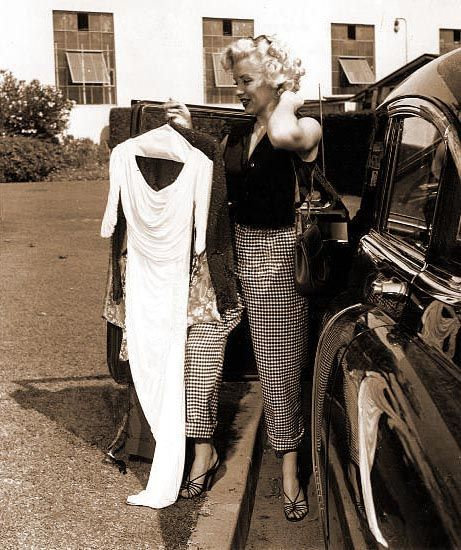 ---
Dans une loge des studios
In the Studios' Dressing-Room

Marilyn s'habille avec une habilleuse, costumière de la Fox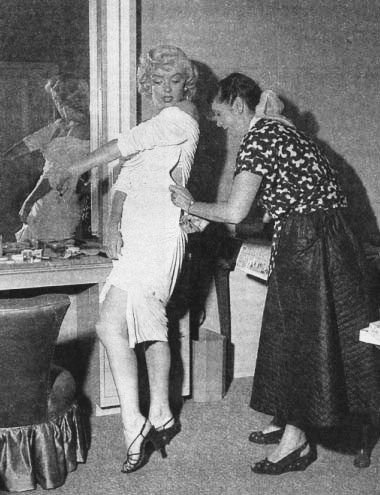 Marilyn get dress with a dresser, a costume designer from the Fox Studios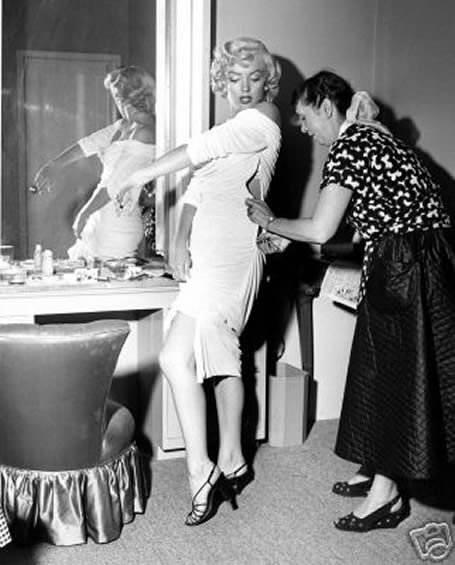 ---
La séance photos
The Photoshoot

Marilyn porte sa robe blanche Ceil Chapman
- Photographies de Frank Powolny -
Marilyn wears her Ceil Chapman's white dress
- photographs by Frank Powolny -

---
Reportage photographique datant certainement du même jour que ceux des séances de portraits en studio de la Fox par Frank Powolny:
Photographic report dating certainly from the same day as those of the Fox studio portrait sessions by Frank Powolny:
- La séance où Marilyn porte la robe noire au col à bijoux: on y voit la même habilleuse (vêtue des mêmes vêtements et même foulard dans les cheveux);
- The session where Marilyn wears the black dress with the jeweled collar: we see the same dresser (dressed in the same clothes and the same scarf in her hair);
- 09/1952 - Portraits Studio de la Fox par Powolny - Robe noire col bijoux
- La séance où Marilyn porte une robe décolleté avec un collier noeud: on y retrouve le même décor et la même coiffeuse (Esperanza).
- The session where Marilyn wears a neckline dress with a bow necklace: we find the same decor there and the same hairdresser (Esperanza).
- 09/1952 - Portraits Studio de la Fox par Powolny - Robe noire et collier noeud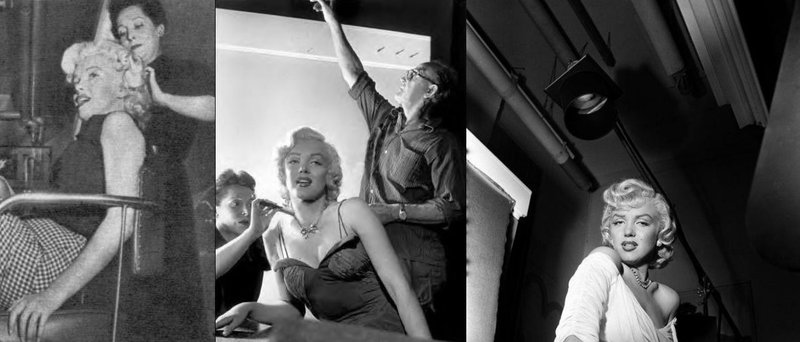 ---
- Dans la presse -
Movie World, 03/1953 - USA
Pas de crédit photographique précis pour cette série de photos
Les photographes attitrés du magazine sont les frères Weissman (Art et Len)
No specific photo credit for this series of photos
The magazine's regular photographers are the Weissman brothers (Art and Len)
---
- Bonus sur le blog -
> La robe blanche de Ceil Chapman immortalisée lors de la séance pour LIFE de Philippe Halsman
> Ceil Chapman's white dress immortalized during the shooting for LIFE by Philippe Halsman

article Les Robes Moulantes à fronces de Ceil Chapman
---
© All images are copyright and protected by their respective owners, assignees or others.
copyright text by GinieLand.