Le 4 novembre 1953, a lieu la première du film How to marry a millionaire (Comment épouser un milionnaire?) au Fox-Wilshire Theater à Hollywood. Le film est tourné en cinémascope couleur et l'événement est fortement médiatisé par la présence de nombreux journalistes, reporters et photographes; ainsi qu'une foule de badaux qui sont sur place. De nombreuses personnalités assistent à la première: Debbie Reynolds, Mitzi Gaynor, Rock Hudson, Shelley Winters. Les participants au film arrivent en voiture seul ou par deux: le réalisateur Jean Negulesco est accompagné de sa femme; Lauren Bacall est aux bras d'Humphrey Boggart; puis le scénariste Nunnally Johnson avec Marilyn Monroe. Ils posent avec plaisir pour les photographes et Marilyn se montre plus que jamais disponible autant envers les journalistes, répondant aux micros des reporters, mais aussi des photographes en posant longuement, que du public composé d'anonymes, en signant des autographes. Très en beauté, Marilyn porte la même robe en dentelle blanche que lors de son show tv en septembre au Jack Benny Show.
Nunnally Johnson se souvient d'une soirée plutôt désopilante: "Dès son arrivée chez nous (chez Johnson et sa femme), Marilyn demande un bourbon-soda. Puis, alors que pourtant nous devions dîner tôt et légèrement, elle en demande un autre. Elle était à la fois surexcitée et très angoissée à la perspective de cette soirée. Je ne la savais pas à ce point naïve et spontanée; et je fus stupéfait de voir l'importance qu'elle accordait à cette première: pour elle, c'en était presque insupportable. Nous nous préparons à monter dans la voiture -une limousine louée, avec chauffeur- et elle demande un troisième verre, sans soda cette fois. Gentlemen jusqu'au bout, Boggart et moi bûmes avec elle pendant le trajet. Il n'y avait pas trio plus aimable que nous dans tout l'Etat de Californie quand nous fîmes notre entrée dans le théâtre (...). Pour tout dire, elle était complètement paf. Au moment même où le film commençait, il a fallu qu'elle aille aux toilettes. Ma femme l'a accompagnée car il était clair que Marilyn avait besoin d'aide. Ronde comme elle était dans une robe ultra étroite, qu'elle s'était faite coudre sur elle. Ce n'a pas été rien, je vous assure (ma femme m'a raconté la scène après), de lui faire faire pipi, puis de la remettre dans un état convenable pour qu'elle retourne à sa place. Quand on se fait coudre dans sa robe, on ne devrait jamais trop boire."

>> Marilyn se prépare,
avec sa coiffeuse Gladys Rasmussen
et son maquilleur Whitey Snyder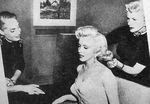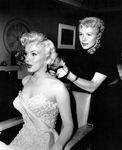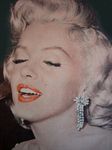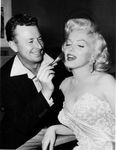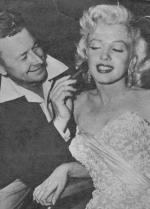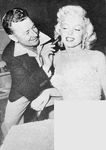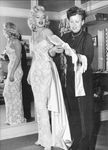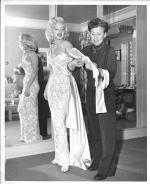 >> Marilyn avec Nunnally Johnson et Lauren Bacall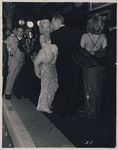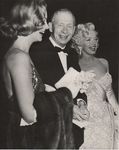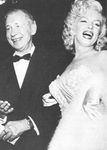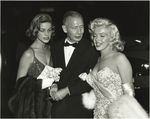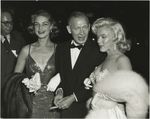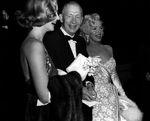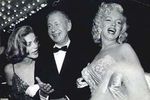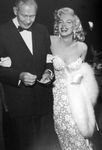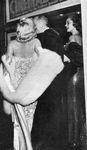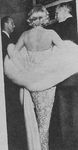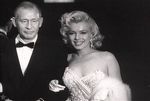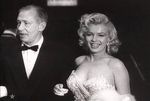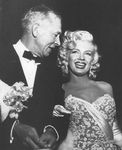 >> Marilyn avec NunnallyJohson, Lauren Bacall et Humphrey Bogart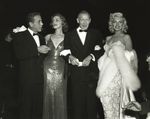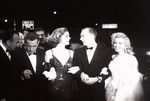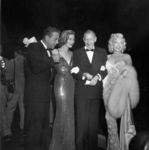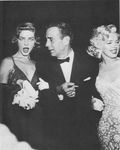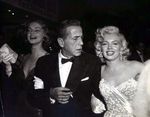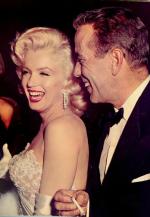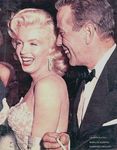 >> videos

>> Photocall et interview de Marilyn et Lauren Bacall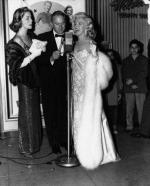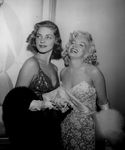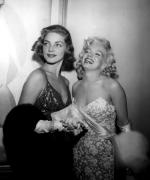 ... rejointes par Humphrey Bogart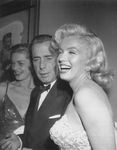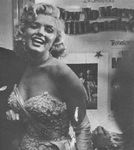 >> Marilyn dans le théâtre
avec Nunnally Johnson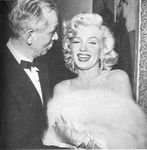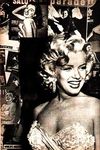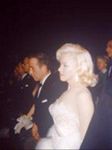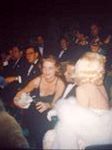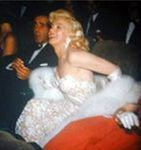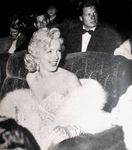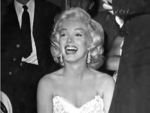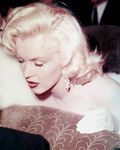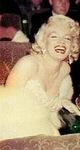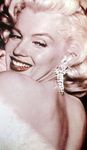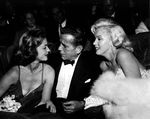 ---
---
Après la première au théâtre, une grande soirée est organisée chez le réalisateur Jean Negulesco, où participent entre autres, Mitzi Gaynor et Robert Mitchum. Marilyn confiera alors que "c'est la plus belle soirée de ma vie. C'est comme lorsque j'étais petite et que je rêvais qu'il m'arrivait des choses merveilleuses. Maintenant, elles sont arrivées."

>> Rock Hudson, Terry Moore, Robert Mitchum et Marilyn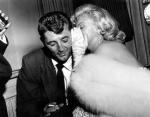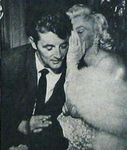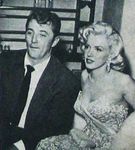 >> Marilyn avec Rock Hudson et Robert Mitchum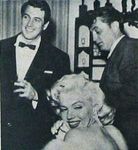 - Photo de Jean Howard -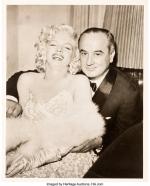 >> Marilyn avec Clifton Webb et Lauren Bacall

---
>> dans la presse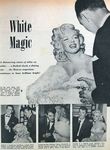 ---
> Sur le web:
> voir l'article sur wiki
---
© All images are copyright and protected by their respective owners, assignees or others.
copyright text by GinieLand.
Enregistrer