29 mars 2011
The Birth of Marilyn:
The Lost Photographs of
Norma Jean by Joseph Jasgur
Auteurs: Joseph Jasgur, Jeannie Sakol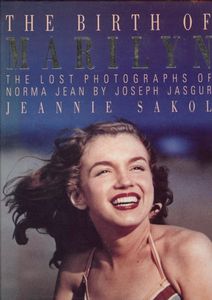 Date de sortie: 1991
Relié 132 pages
Langue: anglais
Éditeur: Sidgwick & Jackson Ltd.
ISBN-10:0283998520
ISBN-13: 978-0283998522
Prix éditeur: on le trouve à 7 euros d'occasion sur amazon
Ou le commander ? sur amazon.fr

Description:
Joseph Jasgur a photographié Marilyn en mars 1946 à Zuma Beach, une plage de Californie. Photos et souvenirs du photographe.
Vous avez le livre ?
Apportez votre critique, votre avis ou votre note (/10)
Une rumeur complètement fausse court depuis les années 1990s: Marilyn aurait eu 6 doigts de pieds à l'un de ses pieds! En fait, cette information fut lancée par la publication de photographies prises en Mars 1946 par le photographe Joseph Jasgur, qui les publia dans un livre "The Birth of Marilyn: The Lost Photographs of Norma Jeane" en 1991 (Voir la séance sur le blog Norma Jeane en bikini rayé ).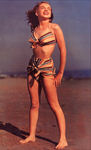 Une de ces photos (ci-contre) montrent 6 doigts de pieds au pied gauche de Marilyn, mais il s'agit en fait d'un défaut de la lumière, qui crée des ombres; d'autant plus que ces photos montrent Marilyn à la plage, donc ses pieds sont plein de sable, ce qui crée aussi des ombres.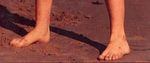 De plus, cette information a vite été démentie (même si Joseph Jasgur a toujours soutenu lui-même le contraire), car en observant d'autres photos de Marilyn où elle pose pieds nus (voir photos ci-dessous: une photographie prise à la même période en 1946, puis la séance Rock Sitting en 1953 et Ballerina Sitting en 1954 de Milton Greene, ainsi qu'une photographie d'Eve Arnold en 1955), ou même dans ses films, on voit bien que ses pieds sont normaux avec 5 doigts de pieds! Marilyn est née le 1er juin 1926 avec cinq doigts de pieds à chacun de ses pieds et elle est morte le 4 août 1962 avec les mêmes cinq doigts de pieds à chacun de ses pieds.
Cette rumeur fut cependant reprise dans bon nombres d'articles de presse et de livres consacrés à Marilyn, ainsi que sur certains sites webs, encore de nos jours. Ils serait judicieux que ces mêmes journalistes ou auteurs de sites webs qui reprennent ce genre d'informations, prennent la peine de vérifier autant leur sources, que de comparer avec d'autres clichés de Marilyn. C'est maintenant chose faite...