Look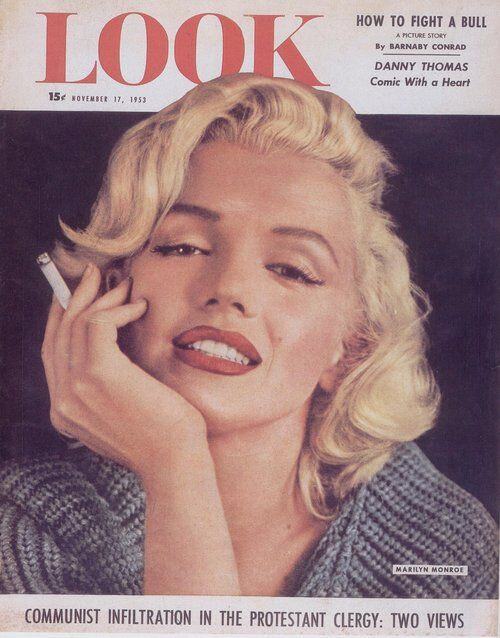 pays magazine: USA
paru le 17 novembre 1953
article: "Marilyn Monroe"
photographies de Milton Greene
Miss Monroe's well-known and distracting qualities are suggested even when she sits in repose for a portrait. Her disturbing walk and talk made her a screen star. Then her songs in Gentlemen Prefer Blondes and the popular record album from it sound track added something new to her reputation. A photographer ordinarily is pleased to get one fine portrait from a sitting by a subject. Any one of these ten pictures of a type preferred by gentlemen is good enough for a cover. One appears on the cover of this issue.
---
Traduction
Les qualités bien connues et distrayantes de Mlle Monroe sont suggérées même quand elle est assise au repos pour un portrait. Sa démarche déroutante et sa voix en ont fait une star de l'écran. Ensuite, ses chansons dans Les hommes préfèrent les blondes et le célèbre album de sa bande originale ont ajouté quelque chose de nouveau à sa réputation. Un photographe est généralement heureux d'obtenir un beau portrait d'une séance avec un sujet. Chacune de ces dix images d'un genre préféré par les messieurs est assez bonne pour une couverture. L'une d'elle apparaît sur la couverture de ce numéro.
---
© All images are copyright and protected by their respective owners, assignees or others.