Après un exil d'une année loin d'Hollywood, Marilyn s'est installée à New York et s'est engagée dans une bataille contre la 20th Century Fox, refusant les rôles que les studios lui proposent. Le 7 janvier 1955, Marilyn Monroe organise avec désormais son associé, le photographe Milton H. Greene, une conférence de presse où sont conviés près de 80 journalistes, ainsi que quelques amis. La réunion a lieu dans la maison de leur avocat Frank Delaney, sur la 64ème Avenue à New York.
Marilyn porte une robe de satin blanc et un manteau de fourrure d'hermine, des créations du couturier Norman Norell. Elle porte des boucles d'oreilles en diamants de chez Van Cleef & Arpels.
After a year of an exil far from Hollywood, Marilyn is settled in New York and is battling against the 20th Century Fox Studios, refusing the roles that the studios propose to her. In January 7, 1955, Marilyn Monroe organizes with his partner, photographer Milton H. Greene, a press conference where are invited nearly 80 journalists and some friends. The meeting takes place in the home of their lawyer Frank Delaney, on 64th Avenue in New York.
Marilyn wears a white satin dress and an ermine fur coat, creations of designer Norman Norell. She wears earrings in diamonds from Van Cleef & Arpels.
Elle annonce elle-même officiellement la création de la maison de production "Marilyn Monroe Productions" (MMP), dont elle en est la présidente (elle détient 51% des parts), et Milton Greene le vice-président (il en détient 49%). Frank Delaney répond à quelques questions des journalistes, déclarant notamment qu'elle n'est plus sous contrat avec la Fox et qu'elle envisage de travailler pour la télévision. De leur côté, la Fox tient aussi une conférence de presse pour affirmer que Marilyn est encore sous contrat pour quatre ans.
She announces officially the creation of the production company the "Marilyn Monroe Productions" (MMP) on which she is the president (she helds 51% of shares), and Milton Greene is the vice president (he owns 49%). Frank Delaney answers questions of journalists, by stating that she is no longer under contract with Fox and she plans to work for television. For their part, the 20th Century Fox also helds a press conference to say that Marilyn is still under contract for four years.
- Avec le photographe Sam Shaw (à droite) -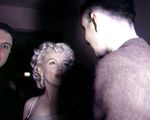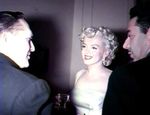 >> Marilyn signe des autographes à ses fans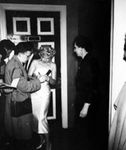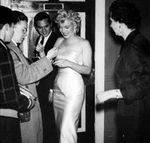 >> Photos prises par ses fans (James Haspiel ?)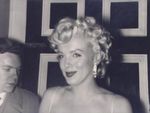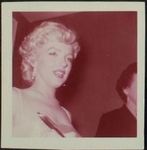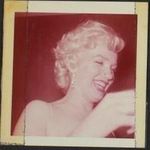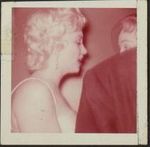 > photographies de James Collins, fan des 'Monroe Six'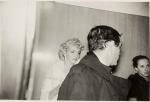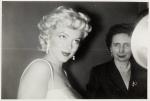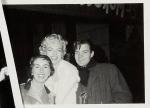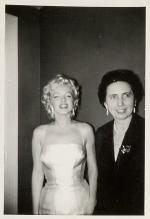 > photographies collection de Frieda Hull, fan des 'Monroe Six'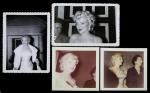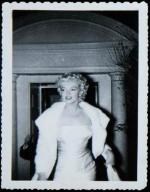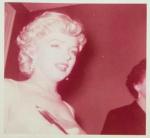 >> Photographie de Michael Rouger
Autographe pour James Collins, un des 'Monroe Six'
("To Jim / Love & Kisses / Marilyn Monroe")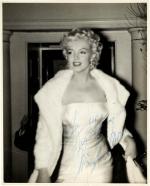 ---
Marilyn ne s'est pas montrée en public depuis près d'un mois, ce qui attise la curiosité des journalistes mais aussi de ses fans, dont certains sont conviés. Parmi les convives célèbres, figure la journaliste à potins Elsa Maxwell, le dramaturge Sidney Kingsley, le compositeur Richard Rodgers (ami de Milton Greene), le photographe Sam Shaw, ainsi que Marlène Dietrich.
Marilyn was not shown in public apperance for almost a month, which arouses the curiosity of journalists but also her fans, some of whom are invited. From the famous guests, are included the gossip columnist Elsa Maxwell, playwright Sidney Kingsley, composer Richard Rodgers (friend of Milton Greene), the photographer Sam Shaw and Marlene Dietrich.
Marilyn Monroe & Marlene Dietrich
Après la conférence de presse, Marilyn, Milton et Marlene fêtent l'événement au Copacabana Club, où se produit Frank Sinatra. Ils vont ensuite dîner avec Sinatra au Club 21 et finissent la soirée chez Marlene Dietrich.
After the press conference, Marilyn, Marlene and Milton celebrate the event at the Copacabana Club, where Frank Sinatra produces on stage. Then, they go to dinner with Sinatra at the Club 21 and they end the evening on Marlene Dietrich's home.
---
Séance "Soirée Cocktail"
Cocktail Party Sitting
- Milton H Greene -
---
- planche contact -
contact sheet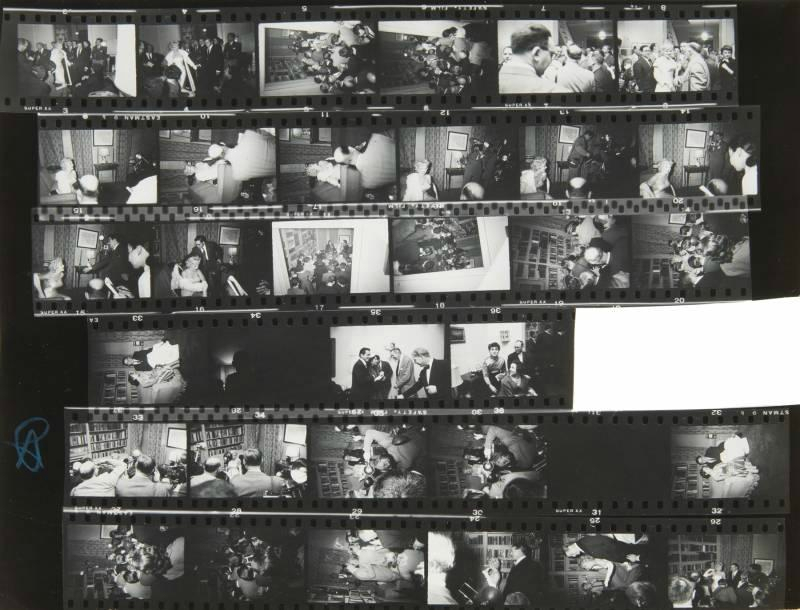 ---
- photo de presse -
---
dans la presse
---
All photos are copyright and protected by their respective owners.
copyright text by GinieLand.

Enregistrer
Enregistrer