Laurette Luez
(1928 - 1999)
actrice américaine
amie avec Marilyn 1946-1949
Laurette Luez est née sous le nom de Loretta Mary Luiz, le 19 août 1928 à Honolulu, Hawai. Elle est la deuxième des trois enfants de Frank et Francesca Luiz, des chanteurs et danseurs traditionnels de la musique hawaïenne et espagnole. Le père de Loretta était hawaïen d'origine portugaise et sa mère était australienne et fille d'un acteur. La première fois que Laurette se produisit sur scène, elle n'avait que trois ans. En juillet 1935, la famille quitte Honolulu pour s'installer à Los Angeles. Cette même année, Loretta, âgée de six ans, se produisit sur scène pour le sultan Ibrahim de Johor, qui était alors l'un des hommes les plus riches du monde.
A la fin des années 1930, alors qu'elle se promène sur Hollywood Boulevard, un publicitaire conseilla la jeune artiste, qui n'avait que dix ans, de changer son nom en Laurette Luez. Elle travailla alors comme mannequin pour des campagnes publicitaires. En 1944, Cecil B. DeMille voit sa photographie et la convoque pour passer le casting du film The Story of Dr. Wassell. En octobre de la même année, sa photo est publiée dans le magazine populaire Esquire. En 1945, elle signe un contrat d'une durée de cinq ans avec la Fox.
Avec ses faux airs d'Ava Gardner, elle devient, à la fin des années 1940, une mannequin célèbre, posant pour les photographes célèbres (comme Bruno Bernard) et travaillant pour de grandes marques comme le savon Lux.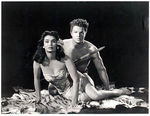 A l'âge de 21 ans, en 1949, elle joue dans D.O.A. qui reste son rôle le plus célèbre. En 1950, sa popularité grimpe, partageant l'affiche avec des acteurs comme Roddy McDowell (dans Killer Shark) et Errol Flynn (dans Kim tourné en Inde). Certaines vipères d'Hollywood (comme le journaliste à potins Jimmy Fidler) ont déclaré que Luez avait certes la beauté, le charisme et l'ambition, mais qu'elle manquait cruellement d'expérience en tant qu'actrice, allant jusqu'a prendre des cours de diction après ses journées de tournage. C'est à partir de ce moment qu'on offra à Laurette que des rôles de personnages ethniques et exotiques au cinéma et à la télévision. N'obtenant que de maigres participations et n'obtenant pas le succés tant espéré, elle stoppe sa carrière cinématographique en 1965.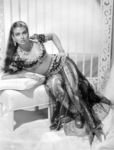 Durant les années 1950s, sa vie privée était plus connue que ses interprétations d'actrices. Laurette a en effet été mariée quatre fois: avec l'acteur Philip Sudano (en 1947-1948), avec qui elle a eu son premier fils, Alexander Eden. Ensuite, avec le réalisateur grec Gregg Tallas (1950: le mariage ne dura que trois mois). Puis, avec l'investisseur Ed Harrison (1951: mariage annulé en 1952, car il n'était pas divorcé de sa précédente femme!). Enfin, avec Robert Creel (1956 à 1983), avec qui elle a eu deux enfants (un garçon et une fille).
Dans les années 1990, Laurette vivait avec sa soeur Lei, et un de ses neveux à Los Angeles. Elle décède le 12 septembre 1999 à Milton, en Floride, à l'âge de 71 ans.
---
Laurette a croisé Marilyn à diverses reprises à la fin des années 1940s. Que ce soit pour des castings ou des tournages de film, comme sur le plateau de Sitting Pretty en 1948; ou pour poser pour des photographes, comme pour la commande faite par le magazine Life, sous l'objectif de Philippe Halsman en 1949, pour illustrer un article sur les starlettes.
Laurette Luez déclara qu'elle fut l'instigatrice du changement de nom de Norma Jeane en Marilyn Monroe; ce qui porte à croire qu'elles se connaissaient alors dès 1946. Elles se seraient rencontrées dans une classe d'art dramatique et Laurette aurait alors suggéré à Norma Jeane de changer son nom, en choisissant un prénom et un nom d'un personnage célèbre: l'une aurait opté pour le nom de Monroe, en référence au President James Monroe, et l'autre aurait choisi le prénom de Marilyn, en référence à Marilyn Miller.
> les photos de Marilyn et Laurette Luez
---
>> sources:
Biographie sur wikipedia et sur glamourgirlsofthesilverscreen
Filmographie sur imdb
Photos sur fanpix
---
© All images are copyright and protected by their respective owners, assignees or others.
copyright text by GinieLand.

Enregistrer