La rivière sans retour
Sur le tournage
Marilyn Monroe joue au golf avec son pied plâtré,
dans le grand parc national de Banff, à Devil's Cauddron,
à Alberta, au Canada; avec Malcom Tapp.
Marilyn Monroe playing golf at the Devil's Cauddron,
with Malcom Tapp, August 1953.

>> Photographie de John Vachon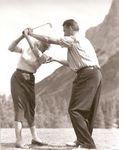 ---
© All images are copyright and protected by their respective owners, assignees or others.
copyright text by GinieLand.