12 mai 2011
video hommage pour Marilyn -
sur la chanson The More I See You
Le vendredi 2 mars 1962, Marilyn Monroe est de retour à Los Angeles, après avoir passé une dizaine de jours au Mexique. Pat Newcomb, Eunice Murray et Jose Bolanos l'accompagnent.
Photographies de George Fry.
On Friday, March 2, 1962, Marilyn Monroe is back in Los Angeles after having spent ten days in Mexico City. Pat Newcomb, Eunice Murray and Jose Bolanos are with her.
Photographs by George Fry.
> Sur le tarmac de l'aéroport international de Los Angeles (LAX)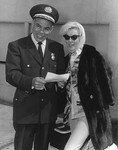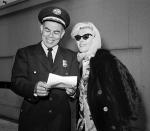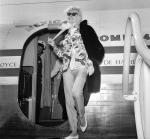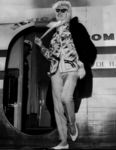 ---
Articles de presse du 3 Mars 1961
Voice of Broadway by Dorothy Kilgallen.
Robert Goulet says he's been asked to play the lead opposite Marilyn Monroe in her next film, " Something's Got to Give'' — but something will have to give before he can say "yes." He's tied to "Camelot" until October. Meanwhile Marilyn has slimmed down to the point where her chassis never looked better, and anyone who thinks she is unhappy about Arthur Miller's recent wedding just doesn't know her. She was alerted well in advance of the nuptials, and couldn't care less.
La Voix de Broadway par Dorothy Kilgallen.
Robert Goulet raconte qu'il a été invité à jouer le rôle principal face à Marilyn Monroe dans son prochain film "Quelque chose va craquer" - mais quelque chose devra donner avant qu'il puisse dire «oui». Il est lié à "Camelot" jusqu'à octobre. Pendant ce temps, Marilyn a maigri au point où son corps n'a jamais été aussi mieux, et quiconque pense qu'elle est malheureuse au sujet du récent (re)mariage d'Arthur Miller, ne la connait pas. Elle a été bien averti bien à l'avance des noces, et ne pouvait pas s'en soucier.
MM Returns to Hollywood - HOLLYWOOD (AP)
Actress Marilyn Monroe is back in Hollywood. She arrived at International airport Friday in typical Monroe fashion—late. Her plane from Mexico was an hour behind schedule.
Marilyn retourne à Hollywood.
L'actrice Marilyn Monroe est de retour à Hollywood. Elle est arrivée à l'aéroport international vendredi à la mode typique de Monroe -en retard. Son avion en provenance du Mexique avait une heure de retard.

Marilyn Ends Mexico Vacation -HOLLYWOOD (AP)
Marilyn Monroe ended a Mexico City vacation yesterday returning to Hollywood in dark glasses, mink coat, tan slacks and a gaily coloured blouse. The movie queen wore little or no makeup when she stepped from the plane at Los Angeles International Airport. It wasn't established immediately how long she'll remain in the film capital or whether she'll be working. She told newsmen she may make a movie, "Something's Got to Give," but she wasn't sure. "It's supposed to be a comedy," she added. Asked about boy friends, she was especially vague.
She said she didn't know whether ex-husband Joe Dimaggio planned to visit her. She denied knowledge, in fact, of the baseball celebrity's whereabouts.
Fin des vacances de Marilyn au Mexique.
Marilyn Monroe a terminé ses vacances dans la ville de Mexico hier, revenant à Hollywood en lunettes noires, manteau de vison, un pantalon beige et un chemisier gaiement coloré. La reine du cinéma portait peu ou pas de maquillage quand elle sortit de l'avion à l'aéroport international de Los Angeles. Il n'a pas été établi immédiatement combien de temps elle va rester dans la capitale du cinéma ou si elle va travailler. Elle a dit à des journalistes qu'elle allait peut être faire un film "Quelque chose va craquer", mais elle n'en était pas sûre. "C'est censé être une comédie, a-t-elle ajouté. Interrogée sur ses petits amis, elle était particulièrement vague.
Elle a dit qu'elle ne savait pas si son ex-mari Joe DiMaggio avait prévu de lui rendre visite. Elle a nié avoir connaissance, en fait, de la localisation de la star de baseball.
Los Angeles Times.
Marilyn Monroe arrives in Los Angeles after jet trip from vacation in Mexico, and refuses to comment on rumors that she will be rewed to first husband Joe DiMaggio.
Marilyn Monroe arrive à Los Angeles après après un voyage éclair de repos Mexique, et refuse de commenter les rumeurs qu'elle aurait renoué avec son premier mari Joe DiMaggio.
---
---
> Video

---
© All images are copyright and protected by their respective owners, assignees or others.
copyright text by GinieLand.
Enregistrer