18 juillet 2011
Marilyn Monroe photographiée par André De Dienes
été 1946 - une journée en fin d'après-midi -
Au sommet d'une falaise d'une plage de Malibu
Souvenirs d' André De Dienes*:
André De Dienes acheta un livre à 15 $ chez un bouquiniste en Californie, le journal d'une femme en Ecosse commencé en 1830 et compilant ses pensées et poèmes, et ceux d'auteurs célèbres. Le photographe voulut partager sa trouvaille avec Marilyn.
Sur une plage déserte de Malibu, ils ont lu ensemble quelques passages dont certains ont beaucoup émus Marilyn, qui avait les larmes aux yeux; et plus particulièrement, un poème intitulé "Lines on the death of Mary" ("Quelques vers sur la mort de Mary") pour lequel Marilyn s'identifia. Après la lecture, André la photographia, capturant différentes émotions que lui demandait le photographe: le bonheur, la mélancolie, l'introspection, la sérénité, la tristesse, le tourment, le désarroi.
Quand De Dienes lui demanda d'interpréter la mort, elle se mit la couverture sur la tête.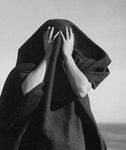 Puis Marilyn montra à André à quoi ressemblerait sa propre mort. D'une expression lugubre, elle donna un titre "The end of everything" ("La fin de tout").
André lui demanda ensuite de s'allonger sur le sol, pour qu'elle lui montre à quoi elle ressemblerait morte.
De Dienes voulait poursuivre la séance, mais Marilyn se leva d'un bond et cria :"Va au diable! Regarde dans quel état sont mes cheveux à cause de toi! J'ai un rendez-vous ce soir!"
Pour la calmer, André lui fit la promesse qu'il réaliserait un album avec les photos, accompagnées des poèmes qu'ils avaient lu ensemble. Mais Marilyn lui rétorqua: "André, ne publie pas ces photos tout de suite, attend que je sois morte". Il lui fit la remarque qu'étant âgé de 12 ans de plus qu'elle, comment pouvait-elle savoir qu'elle mourrait avant lui; et elle lui réondit qu'elle le sentait. L'instant d'après, elle redevint gaie et joyeuse.
André De Dienes confie alors: "Je n'oublierai jamais la tristesse qui m'envahit ce soir là en rentrant à Hollywood pour être à l'heure à son rendez-vous avec un autre homme (...). Elle sortait dîner au célèbre resturant Romanoff's de Beverly Hills. Je me sentais affreusement humilié, délaissé. (...) Cette nuit-là, je faisais mes bagages pour rentrer à New York quand le téléphone sonna. C'était elle. Elle me déclrara qu'elle avait passé une soirée épouvantable avec un tocard, un escroc, un type qui s'attendait à ce qu'elle paye le dîner! (...) Nous convîmes que dans la mesure où elle avait décidé de faire carrière à Hollywwod, elle devait être suffisamment forte pour affronter toutes sortes de situations. (...) Elle me proposa qu'on sorte ensemble, le soir suivant, pour que je prenne des photos d'elle de nuit. Sur un ton vengeur, je lui annonçai que je rentrai le lendemain à New York et qu'elle ne m'intéressai plus".

*(source: coffret André De Dienes, Marilyn, publié chez Taschen en 2002)