29 juillet 2011
Red scarlet gown with a purple sash
robe rouge avec une écharpe ceinturée violette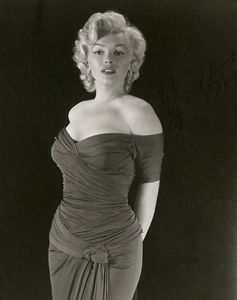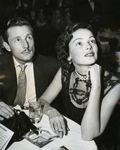 Cette robe a été conçue par le créateur et couturier Oleg Cassini, qui fut marié à l'actrice Gene Tierney (de 1941 à 1952). Il semblerait que le styliste ait aussi eu plus tard une aventure avec Marilyn Monroe.
Cette robe fut ainsi portée initialement par Gene Tierney dans le film On the Riviera (Sur la Riviera) en 1951, produit par la Twentieth-Century Fox.
La robe se retrouvant dans les placards des costumes de la Fox, Marilyn Monroe l'emprunte pour se rendre à La première de Monkey Business (Chérie, je me sens rajeunir) le 2 septembre 1952. Ce qui était alors chose courante à l'époque: les actrices avaient l'habitude d'emprunter certaines tenues portées par d'autres dans des films, pour se rendre à des premières ou de grandes soirées.
Marilyn devait sans doute beaucoup aimer cette tenue, puisqu'elle la porte pour une séance photos par le photographe Frank Powolny, mais aussi pour pour une séance photos par le photographe Frank Livia, des séries de clichés classiques prises en studio.
La robe est aujourd'hui la propriété du fan et collectionneur de Marilyn, Greg Shreiner, qui la prête occasionnellement à des organisateurs d'expositions, comme celle du Hollywood Museum en 2007,
ou encore à l'expo Marilyn Remembered de 2010.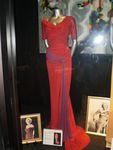 ---
Inspirations
L'actrice

Julia Roberts

porte dans le film "Pretty Woman" en 1990, une longue robe de soirée rouge moulante au décolleté audacieux, créée par la designer Marilyn Vance-Straker:

---
>> sources:
Le site de Greg Shreiner sur The Marilyn Monroe Site
Le film On the Riviera sur doctormacro.com
---
© All images are copyright and protected by their respective owners, assignees or others.
copyright text by GinieLand.
Enregistrer
La journaliste d'investigation Aline Mosby, qui travaillait au bureau de Los Angeles d'UPI -United Press International- est la première à avoir découvert que Marilyn Monroe avait posé nue pour un calendrier en 1949 (les photos de Tom Kelley). La journaliste serait parvenue à retrouver le calendrier en février 1952. On raconte que c'est Jerry Wald, le producteur du film Clash by night (Le démon s'éveille la nuit) dans lequel jouait Marilyn et produit par la RKO, qui aurait soufflé l'affaire à la journaliste. Sans doute y voyait-il le moyen de faire du tapage autour de l'actrice et ainsi une bonne publicité pour le film. Marilyn étant sous contrat avec la Fox (qui l'avait juste prêtée à la RKO pour qu'elle tourne Clash by night), elle fut convoquée immédiatement dans les bureaux où les dirigeants lui demandèrent de nier en bloc. Mais Marilyn ne voulait pas mentir et les persuada de livrer sa version des faits. Ainsi, Marilyn, alors en plein tournage de Don't Bother to Knock (Troublez-moi ce soir), fut interviewée par Aline Mosby qui publia l'entretien le 13 mars 1952 dans la presse américaine. Marilyn y raconta simplement qu'elle était sans le sou et perdue. Les médias ont plutôt majoritairement bien acceuillis la nouvelle et Marilyn gagna la compassion du public.
> Avec le photographe George Long