17 octobre 2011
C'est sous le pseudonyme Gloria Lavell, que Marilyn Monroe passe une journée à Miami Beach, le 19 février 1962, en compagnie d'Isadore Miller, le père de son ex-époux Arthur. Elle y reste une nuit, à l'hôtel Fontainebleau Swank. Elle passe la soirée avec Isadore: dîner au club Gigi de l'hôtel Fontainebleau, spectacle de l'hôtel Sea Isle et promenade sur Collins Avenue.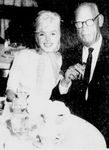 ---
> Article d'un journal local de la presse de Miami,
paru le 20/02/1962
Marilyn a dormi ici
Elle est juste venu voir « Papa » et elle est repartie
Gloria Lavell a abandonné Miami Beach pour Mexico City.
Mais qui est au juste Gloria Lavell ?
Les invités saisonniers de l'Hôtel Fontainebleau Swank avaient besoin de donner un seul coup d'oeil à la blonde aux mensurations 37-23-37 et ils ont su tout de suite.
C'était Marilyn Monroe, la "Déesse de l'Amour" d'Hollywood qui était là.
Elle n'a tout simplement pas utilisé son nom d'actrice.
Marilyn Monroe, âgée de 35 ans, a réservé une suite à 125 $ la nuit à l'hôtel, dimanche soir, signant le registre sous le nom de "Gloria Lavell".
Une visite d'une journée
Elle demanda particulièrement aucune publicité ni d' interview pendant sa visite d'une journée - et sa demande a été accordée.
Marilyn, dont le troisième mari, gagnant du Prix Pulitzer, le dramaturge Arthur Miller, était uniquement ici pour rendre visite à son ex-beau-père Isadore Miller, qui séjourne à l'Hôtel Sea Isle, 14 blocs vers le sud sur Collins Avenue.
Un Secret
Miller refusa de révéler la conversation qu'il a eu avec Marilyn.
Elle a gagné son divorce mexicain d'avec Miller le 24 janvier 1961 pour cause d'incompatibilité.
« Elle n'était jamais venue à Miami Beach auparavant » dit Miller père.
« Nous avons dîné au Club Gigi du Fontainebleau et avons assisté au spectacle à mon hôtel. De là, nous avons marché sur Collins Avenue, en discutant. Beaucoup de gens l'ont reconnue, même sans maquillage, et elle leur a donné des autographes ainsi qu'aux employés de l'hôtel ».
Miss Monroe, qui a déclaré une fois aux journalistes qu'elle ne portait jamais de soutien-gorge, ni de gaines, ou toute autre forme de sous-vêtements, et faisait l'exception pour dormir avec un peu de parfum, a quitté hier après-midi Miami pour Mexico City pour de courtes vacances.
Mais avant d'embarquer, elle s'est rendue à Fort Lauderdale où son autre ex-mari, Joe DiMaggio, etait occupé avec les New York Yankees rookies à leur camp d'entraînement printanier.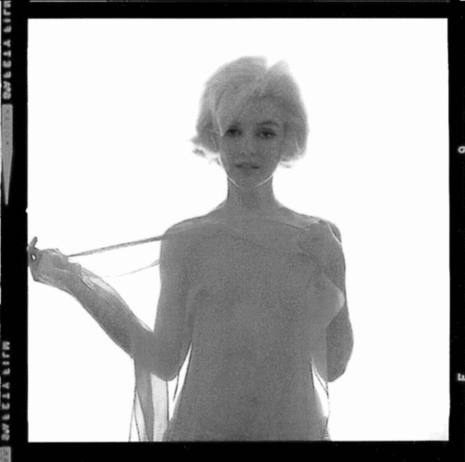 > du site golem13.fr
When you speak of the American way of life, everybody thinks of chewing gum, Coca-Cola and Marilyn Monroe.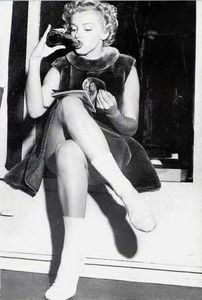 Lorsque vous évoquez le style de vie américain, tout le monde pense au chewing-gum, au coca-cola et à Marilyn Monroe.