26 octobre 2011
Les hommes préfèrent les blondes
Les Affiches
---
Les Affiches Ciné dans le monde
---
- Allemagne / Autriche -
---
- Argentine / Mexique / Espagne -
---
- France -
---
---
- Suède / Finlande -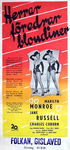 ---
- USA / Angleterre -
---
- La Bande Originale -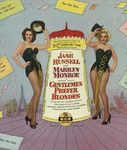 ---
---
---
© All images are copyright and protected by their respective owners, assignees or others.
copyright text by GinieLand.

Funeral for a Hollywood legend: The death of Marilyn Monroe.
le 8 août 2011
en ligne sur framework.latimes.com
Aug. 8, 1962: Days after actress Marilyn Monroe's death at 36, family and close friends held an intimate funeral with only 31 mourners, the Los Angeles Times reported.

The actress died of an apparent sleeping pill overdose in her Brentwood home on Aug. 5, 1962. Monroe had a meteoric rise to stardom, particularly in the 1950s with her roles in "Gentlemen Prefer Blondes," "The Seven-Year Itch" and "Some Like it Hot."

But the star was as famous as she was notorious. Married and divorced three times, Monroe's troubled private life was often thrust into the public eye. In 1954, she had a short marriage to New York Yankees star Joe DiMaggio.

DiMaggio was among the attendees at Monroe's funeral, wrote Times writer Frank Laro, though Monroe's first and second husbands, Jim Doherty and playwright Arthur Miller, did not show.

"I love you, I love you," DiMaggio said over Monroe's casket. In the years after Monroe's death, the Times reported, DiMaggio sent a bouquet of roses to Monroe's crypt three times a week.

See the photo gallery above for more images of Monroe over the years.

On the day Monroe's death was announced, a crowd gathered near her handprints outside Grauman's Chinese Theater in Hollywood.
PHOTOGRAPH BY: Al Monteverde / Los Angeles Times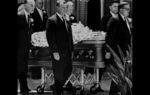 Monroe's casket leaves the Weswood Memorial Park hapel after the actress' funeral.
PHOTOGRAPH BY: John Malmin / Los Angeles Times

Mourners visit Monroe's grave at Westwood Village Memorial Park Cemetery on June 1, 1963, on what would have been her 37th birthday.
PHOTOGRAPH BY: George Fry / Los Angeles Times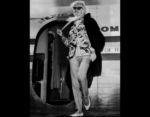 Monroe returns to Los Angeles from a vacation in Mexico just a few months before her death.
PHOTOGRAPH BY: George Fry / Los Angeles Times

Monroe in 1952.
PHOTOGRAPH BY: Nelson Tiffany / Los Angeles Mirror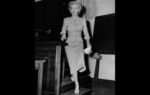 Monroe leaves the witness stand in 1952 after testifying in a case against two men accused of distributing nude photos of her.
PHOTOGRAPH BY: Nelson Tiffany / Los Angeles Mirror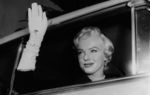 Monroe in 1954 after a court hearing in her divorce from Joe DiMaggio.
PHOTOGRAPH BY: George Lacks / Los Angeles Mirror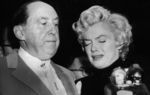 Monroe with attorney Jerry Geisler. The original caption noted the actress appeared on the verge of collapse. "I'm sorry," she whispered. "I can't say anything, I'm sorry." At the time, she was going through divorce proceedings with baseball player Joe DiMaggio.
PHOTOGRAPH BY: Bill Murphy / Los Angeles Times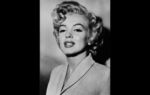 Monroe in 1952.
PHOTOGRAPH BY: Ray Graham / Los Angeles Times