07 novembre 2011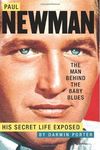 A 83 ans, le 26 septembre 2008, Paul Newman s'en est allé en laissant un vide immense dans le monde du showbizz.
L'an passé,

Darwin Porter

sortait une biographie sur Paul Newman qui a fait scandale: Paul Newman, The man behind the baby blues: his secret life exposed (des extraits du livre sur

amazon.com

). L'écrivain parlait des prétentues liaisons de la star avec des stars hollywoodiennees comme

Grace Kelly

,

Judy Garland

,

Natalie Wood

et de

Marilyn Monroe

.
L'auteur a une conversation avec Marlon Brando dans son livre dans lequel ce dernier révèle la bisexualité de Paul et de sa relation avec

James Dean

.
Cette année, on revient à la charge avec les histoires d'amour de Paul Newman avec Nathalie Wood et Marilyn Monroe et on ajoute

Jackie Kennedy

à la liste.
Paul Newman et Marilyn Monroe font la couverture du journal américain National Examiner du 7 au 14 novembre 2011.
Extrait

(en ligne sur

vanityfair.com

):
The first time I saw Paul Newman he was dancing with Marilyn Monroe. It was the summer of 1959 at a noisy Actors Studio party in New York's Greenwich Village. I had just passed my audition and was being introduced to everyone as a new member by the Broadway producer Cheryl Crawford, one of the Studio's heads.
Nobody was paying me much attention—understandably, since they were all watching a barefoot Marilyn, in a skintight black dress, undulate around the living room with Newman, lithe and sinewy in chinos and T-shirt.
They seemed to be dancing with such rapture; they both kept changing rhythms and sometimes they walk-stepped to the beat. They didn't dance for very long—maybe three minutes—but what a hot, pulsing three minutes it was! They broke apart, Marilyn gave a giggle and a curtsy, and Newman bowed and moved directly past me through the crowd to get a beer.
Merci à Daniel pour les scans du National Examiner.