06 décembre 2011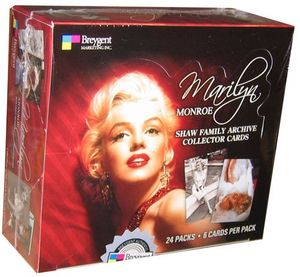 Une boîte éditée par la société "Marilyn Monroe Shaw Family", protégeant les droits du photographe Sam Shaw, est sortie en 2008. Elle contient plusieurs éditions de cartes postales, à ranger dans un classeur. Vendu par Breygent, où le coffret est désormais indisponible car tout y a été vendu, on peut le retrouver néanmoins pour pas moins de 80 Dollars sur le site astore d'amazon ou encore vendu en pièces détachées (par série de cartes ou les cartes à l'unité) sur des sites d'enchères comme ebay.
Contenu de la collection:

---
Album Promo Cards:
composé de 72 cartes
---
Costume Cards:
comprend 4 cartes, avec un certificat d'authenticité
chaque carte contient un bout de tissu d'un vêtement de Marilyn
(robe, gant, mouchoir, chapeau)
---
Autograph Card:
carte signée par l'acteur Kevin MacCarthy,
partenaire de Marilyn dans The Misfits
---
Chase Cards - Swim Suit Fun:
comprend 6 cartes de Marilyn en maillot de bain
---
Chase Cards - The Shot Seen 'Round the World:
comprend 9 cartes du tournage de la scène de la robe
dans "Seven Year Itch"
---
Chase Cards - Marilyn behind the Scenes:
comprend 9 cartes sur le tournage de "Seven Year Itch"
---
Sketch Art Card:
cartes de Marilyn croquée par 16 artistes;
chaque verso de carte est signée par l'artiste.
Collection de cartes postales américaines
Story Card, numérotées et éditées en 1993
Photographies d'André De Dienes
n°1
The Very Beginning

n°2
Snow Angel

n°3
Metamorphosis




n°4
?

n°5
?

n°6
That Face




n°7
Wet




n°8
Cat Dancing




n°9




?

n°10
Rehearsing




n°11
Flirting Stardom




n°12
Seduction




n°13
Bubbles

n°14




?




n°15
Darkness