14 décembre 2011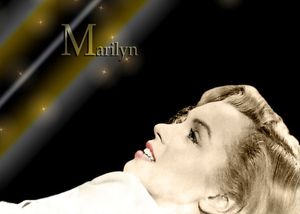 > du site hdwallpapersdesktop
Marilyn by Magnum
Auteur: Agence Magnum Photos

Date de sortie: avril 2012
Relié160 pages
Langue: anglais
Éditeur: Prestel Verlag
ISBN-10: 3791346652
ISBN-13: 978-3791346656
Prix éditeur: 24,60 Euros
Ou le commander ? sur amazon.fr

Présentation de l'éditeur: On the 50th anniversary of Marilyn's death, this beautiful book is an elegant pictorial celebration of the beloved star by the Magnum photographers who immortalized her. It's been half a century since we lost Marilyn Monroe, but her presence in popular culture has never faded—due in part to the incredible abundance of photographs that were taken of her. Many of those pictures were taken by members of the Magnum photographic cooperative, and appear in this stunning collection that expresses every aspect of Marilyn's multifaceted persona. Henri Cartier-Bresson, Elliott Erwitt, Eve Arnold, Inge Morath, Philippe Halsman, Bruce Davidson, Dennis Stock, Bob Henriques, Erich Hartmann, and others capture Marilyn on and off the set. The images range from glamorous portraits to candid scenes of delicate intimacy. Marilyn is pictured filming movies such as Some Like It Hot and Gentlemen Prefer Blondes; also included in the book are Elliot Erwitt's renowned shots of Marilyn wrangling horses on the set of The Misfits, her last film. In richly toned black and white as well as lustrous color, these photographs reveal Marilyn's uncanny ease in front of the camera. Whether acting or exercising, putting on makeup or gracefully posing, Marilyn was a photographer's dream. This celebration of her life will be a treasured keepsake for her millions of fans. (source:randomhouse )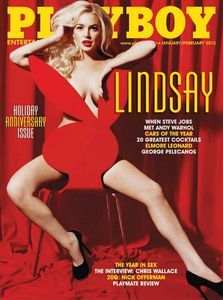 Dans le dernier numéro de Playboy américain de janvier 2012 (sorti en kiosque en décembre 2011), Lindsay Lohan pose entièrement nue, copiant l'une des séances des plus célèbres de Marilyn Monroe: celle de Tom Kelley où la jeune Marilyn prenait la pose nue en 1949, sur des draps de satin rouge.
Il y a eu une fuite où les photos circulent sur le web, bien avant la sortie du magazine, faisant ainsi un buzz sur la toile. Lindsay a ainsi déclaré: "Sex and sexuality are a part of nature, and I go along with nature. I think Marilyn Monroe once said that. I certainly agree with her… Knowing yourself and your body is so important because it gives you confidence, and in life, women need confidence. It's a very male-dominated world to begin with, so knowing yourself and being comfortable with your body is an important thing for me as a woman. Everyone is entitled to their opinion, but that's mine."
La starlette aurait été payée près d'un million de Dollars pour faire cette séance photos.
> Lindsay en backstage

>> Source article & photos:
article sur lci.tf1.fr
article sur actustar
photos sur tetu.com
Enregistrer