Cinq choses à savoir sur les tenues de Michelle Williams dans My Week with Marilyn
Publié le 13/12/2011,
en ligne sur puretrend.com
C'est l'un des évènements cinéma du début de l'année 2012, la sortie sur les écrans en mars prochain de "My Week with Marilyn". Basé sur deux livres autobiographiques de Colin Clark, "The Prince, The Showgirl and Me" et "My Week with Marilyn", le film retrace une partie du tournage du film "The Prince and The Showgirl" avec Marilyn Monroe et Laurence Olivier qui a eu lieu durant l'été 1956.

Colin Clark, assistant de Laurence Olivier à l'époque, raconte sa folle semaine passée avec Marilyn, alors tout juste mariée avec Arthur Miller. C'est Michelle Williams qui incarne l'actrice mythique, et les premières images du film révèlent une ressemblance frappante. Michelle a été habillée par la costumière Jill Taylor, qui s'est inspirée de photos d'archives et de pièces vintage, afin de réaliser une garde-robe digne de l'icone blonde du cinéma hollywoodien.

Découvrez cinq anecdotes à connaître sur les tenues de Michelle Williams dans le film "My Week with Marilyn" !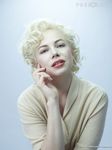 La garde-robe de Marilyn ressucitée
La costumière du film, Jill Taylor, a déclaré dans le magazine InStyle , qu'elle a étroitement collaboré avec Michelle Williams pour élaborer la parfaite garde-robe de Marilyn Monroe.
Michelle apportait des photos d'inspiration, et Jill en faisait des croquis.
---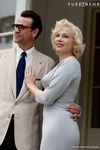 Une ôde à la mode vintage
Dans une interview pour le Vogue UK ,
Jill Taylor explique qu'elle s'est aussi inspirée de vêtements des années 50 chinés dans des boutiques vintage, ou repérés lors de ventes aux enchères. La costumière a également parcouru les archives photos de l'actrice pour reproduire des pièces que Marilyn portait, notamment lors de sa lune de miel avec Arthur Miller.
---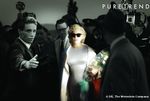 "The Prince and the Showgirl"
Lors de la scène qui fait référence au tournage du film "The Prince and the Showgirl", Michelle Williams porte une parfaite réplique de la robe blanche que portait Marilyn Monroe. Jill Taylor s'est inspiré d'une photo prise à l'époque durant le tournage. Il n'y avait qu'un seul exemplaire, si bien que Michelle a dû la porter durant les 11 jours de tournage de cette scène. L'équipe des costumes tremblait à l'idée que l'actrice ne la tache.
---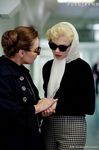 Icône casual made in USA
Si Marilyn est célèbre pour ses robes du soir et ses tenues sexy, Jill Taylor a découvert en fouillant dans les archives, que la star cherchait avant tout le confort dans sa vie privée. Des pièces simples et faciles à vivre, qui pourraient faire penser que Marilyn était "casual" avant l'heure.
---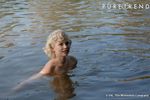 La petite robe noire
Même si Michelle Williams a aimé porter tous les costumes du film, elle avoue une préférences pour deux tenues : une robe noire, et un ensemble jupe crayon et chemise d'homme, particulièrement modernes et avant gardistes pour l'époque.