07 janvier 2012

Un biopic pour devenir mythique
Article publié le 6 janvier 2012
en ligne sur madame.lefigaro.fr
Meryl Streep en Margaret, Leonardo DiCaprio en J. Edgar… Du film biographique à l'Oscar, il n'y a qu'une star.
Leonardo DiCaprio pour J. Edgar, Brad Pitt pour Le Stratège, Meryl Streep pour La Dame de fer, Michelle Williams pour My Week with Marilyn et Viggo Mortensen pour A Dangerous Method… Tous sont nominés cette année aux Golden Globes - parions qu'il en sera de même pour les Oscars - grâce à un rôle biographique. L'occasion de revenir sur ceux qui ont construit leur carrière sur des biopics, et raflé au passage le sacro-saint Oscar.
---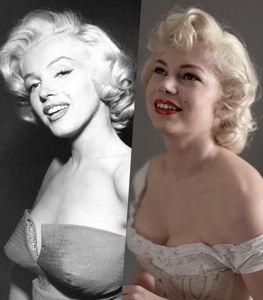 1/ Parce qu'elle est déjà nommée aux SAG Awards et aux Golden Globes de la meilleure actrice, on parie que Michelle Williams en Marilyn Monroe (My Week With Marilyn, de Simon Curtis) sera aussi en lice pour l'Oscar.
---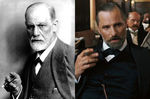 2/ Si Leonardo DiCaprio a déjà été nommé aux Oscars pour Aviator de Martin Scorsese, en 2005, la critique croit très fort à son couronnement dans la peau du premier patron du FBI dans J. Edgar, de Clint Eastwood.
3/ Meryl rutile. Son interprétation de Margaret Thatcher dans La Dame de fer (Phyllida Lloyd) vaudrait juste à Mme Streep sa 17e nomination aux Oscars
4/ Pour David Cronenberg, Viggo Mortensen reprend le chemin des studios et le rôle de Sigmund Freud dans A Dangerous Method. Oscar du meilleur second rôle à l'horizon ?
---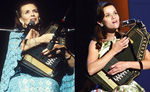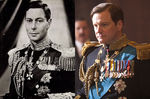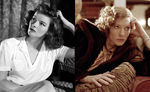 5/ Pour Reese Witherspoon, le rôle biographique a déjà payé. En 2006, elle reçoit l'Oscar de la meilleure actrice pour Walk the Line, le film de James Mangold sur Johnny Cash, dans lequel elle incarne la chanteuse June Carter.
6/ En 2011, Colin Firth remporte l'Oscar du meilleur acteur, mais aussi le Golden Globe et le BAFTA pour Le Discours d'un roi, de Tom Hooper
7/ En 2007, Cate Blanchett est Katharine Hepburn dans Aviator. Elle rafle l'Oscar de la meilleure actrice dans un second rôle.
---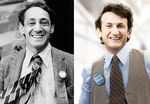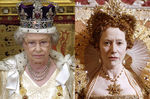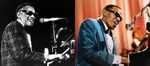 8/ En 2009, l'Académie du cinéma américain couronne Sean Penn pour son rôle de leader des droits civiques des homosexuels dans Harvey Milk, de Gus Van Sant.
9/ À 62 ans, Helen Mirren atteint le sommet de la gloire en gagnant l'Oscar de la meilleure actrice pour The Queen, de Stephen Frears (2007). Dans le rôle de la reine d'Angleterre, of course.
10/ En 2005, Jamie Foxx fait de l'ombre à Johnny Depp (Neverland), Leonardo DiCaprio (Aviator) et Clint Eastwood (Million Dollar Baby) en raflant l'Oscar du meilleur acteur pour sa performance en Ray Charles dans Ray, de Taylor Hackford.
---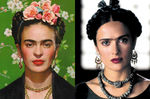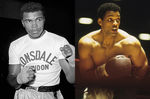 11/ Pour avoir joué le rôle principal dans Frida Kahlo, Salma Hayek obtient sa première (et dernière à ce jour) nomination à l'Oscar de la meilleure actrice, en 2003.
12/ En 2002, Will Smith boxe si bien qu'il décroche une nomination pour l'Oscar du meilleur acteur dans Ali, le film de Michael Mann sur la vie du poids lourd Cassius Clay.
13/ Après deux nominations pour Potins de femmes (1990) et Pretty Woman (1991), Julia Roberts obtient enfin l'Oscar de la meilleure actrice en 2001, pour son interprétation d'Erin Brockovich, la self-made woman militante pour l'environnement dans le film de Steven Soderbergh.
---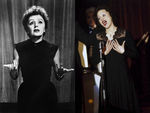 14/ Parce que les boxeurs ont la cote à l'Academy, Robert De Niro reçoit le trophée de meilleur acteur en 1981, pour avoir campé le king des rings, Jake LaMotta, dans Raging Bull, réalisé par Martin Scorsese.
15/ Édith Piaf : grâce à ce rôle dans La Môme, réalisé par Olivier Dahan, Marion Cotillard décroche en 2008 l'Oscar de la meilleure actrice et la reconnaissance des Américains. Non, ils n'avaient pas vu Taxi.
16/ Son interprétation de Gandhi, héros éponyme du film de Richard Attenborough, permet à Ben Kingsley de se faire connaître du grand public et de la critique. En 1985, du jour au lendemain, il devient une star munie d'un Oscar.