On the set New York -
How to Marry a Millionaire Film Locations
en ligne sur onthesetofnewyork.com
How to Marry a Millionaire (1953)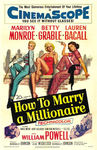 Three New York models, Shatze (Lauren Bacall), Pola (Marilyn Monroe) and Loco (Betty Grable) set-up in an exclusive appartment with a plan: tired of cheap men and a lack of money they intend to use all their talents to trap and marry three millionaires. The trouble is that's it's not so easy to tell the rich men from the huxters and even when they can, is the money really worth it?
---
LOCATION: Pola Debevoise's Apartment, 36 Sutton Place South and East 55th Street, Manhattan.
---
Sutton Place

Sutton Place is the name given to an affluent street and surrounding enclave of the borough of Manhattan in New York City, New York, United States. In the narrowest sense, Sutton Place is the wide (north/south) avenue located on the cusp of the Midtown and Upper East Side neighborhoods, running from 57th Street to 59th Street, along the East River, south of the Queensboro Bridge; and the stretch that continues below 57th Street down to 53rd Street is called Sutton Place South. North of 59th Street, the road continues as York Avenue. Sutton Square is the cul-de-sac at the end of East 58th Street, just off of Sutton Place; and Riverview Terrace is a row of townhouses on a short private driveway that runs north from Sutton Square. The greater "Sutton Place area" is bounded on the east by the East River and on the west by Second Avenue, and is coextensive with Sutton Place and Sutton Place South. Sutton Place is a small neighborhood where some of Manhattan's wealthiest people live.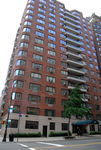 Former residents include Freddie Mercury, Michael Jackson, Bill Blass, C. Z. Guest, Bobby Short, Irene Hayes, Elsie de Wolfe, Joan Crawford, Marilyn Monroe and her then husband Arthur Miller. One Sutton Place (North), an imposing townhouse at the northeast corner of Sutton Place and East 57th Street, was built as a residence for Anne Harriman Vanderbilt, widow of William K. Vanderbilt.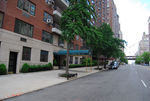 ---
LOCATION:George Washington Bridge.
---
George Washington Bridge

The George Washington Bridge is a suspension bridge spanning the Hudson River, connecting the Washington Heights neighborhood in the borough of Manhattan in New York City to Fort Lee in New Jersey by means of Interstate 95, U.S. Route 1/9, U.S. Route 46, which is entirely in New Jersey, ends halfway across the bridge at the state border. The GWB is considered one of the world's busiest bridges in terms of vehicle traffic.