Le 18 septembre 1959, Marilyn Monroe s'envole pour Los Angeles. Spyros Skouras, le président de la Twentieth Century Fox, l'a invitée pour qu'elle participe au grand gala donné en l'honneur de Nikita Khrouchtchevh, le dirigeant de l'Union Soviétique. Arthur Miller accompagne Marilyn à l'aéroport, mais il reste à New York: ayant été sur la Black List des partisans communistes, il n'aurait pas été judicieux pour Miller de s'afficher médiatiquement avec l'un des dirigeants communistes.
On September 18, 1959, Marilyn Monroe leaves New York for Los Angeles where she has been invited by Spyros Skouras to participate to the reception given for Nikita Khrouchtchev, leader of USSR. Arthur Miller accompanied Marilyn at the airport, but he stays in New York as he was on the Black List of the communist partisans, so he would not have been wise for Miller to appear with a media-communist leaders.
> photographie de Irving Haberman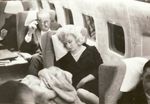 C'est durant la soirée qu'Haberman raconta avoir "couché" avec Marilyn.
This was the evening Haberman said he "slept" with Marilyn Monroe.
A son arrivée à Los Angeles, un reporter demande à Marilyn si elle est venue uniquement pour voir Khrouchtchev:
-"Oui" répond-t-elle. "Je pense que c'est une chose merveilleuse, et je suis contente d'être ici."
Ce qui provoqua l'inévitable question: "Pensez-vous que Khrouchtchev veut vous voir ?"
-"Je l'éspère" répond-t-elle.
At her arrival in Los Angeles, a journalist asks to Marilyn if she comes in the town just to see Khrushchev.
- "Yes," she said. "I think it's a wonderful thing, and I'm happy to be here."
That provoked the inevitable follow-up question: "Do you think Khrushchev wants to see you ?"
-"I hope he does," she replied.
---
>> vidéo

---
© All images are copyright and protected by their respective owners, assignees or others.
copyright text by GinieLand.