13 février 2012

Marilyn Monroe : Un étrange biopic avec Uma Thurman, Lindsay Lohan et d'autres
Publié le 12/02/2012,
en ligne sur purepeople.com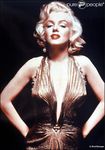 Fabuleux disque rayé, Hollywood n'en finit plus de réarranger sa propre histoire. Alors que Michelle Williams est nommée aux Oscars pour sa prestation en Marilyn Monroe dans My Week with Marilyn, l'icône sera à nouveau le sujet d'un film, à cheval entre le documentaire et la fiction.

Le site américain Screendaily révèle que la réalisatrice Liz Garbus travaille actuellement sur Fragments : Marilyn Monroe, un documentaire né des nombreux journaux intimes, lettres et poèmes écrits par l'actrice et retrouvés parmi les biens d'Arthur Miller, dernier mari de la star décédé en 2005.

Mais au-delà du sujet, c'est le parti pris de la réalisatrice qui intrigue. À la manière de Todd Haynes dans I'm not there, où Richard Gere, Christian Bale et Cate Blanchett incarnaient les différentes facettes de Bob Dylan, Liz Garbus a réuni un casting extraordinaire pour incarner Marilyn Monroe au cours de sa vie.

Uma Thurman, Lindsay Lohan (obsédée par Marilyn Monroe), Evan Rachel Wood, Viola Davis (La Couleur des sentiments), Zoe Saldana (Avatar), Ellen Burstyn (Requiem for a dream), Gretchen Mol (Boardwalk Empire), Lili Taylor , Vinessa Shaw (Two Lovers) et Jennifer Ehle (Contagion) devraient ainsi apparaître dans le rôle de l'icône. Paul Giamatti incarnera le réalisateur George Cukor, qui a dirigé Marilyn Monroe dans Le Milliardaire et Something's gotta give, tandis que F. Murray Abraham sera son psychanalyste.
La réalisatrice explique : "J'irai au coeur de Marilyn pour exprimer certains aspects de la femme qui n'ont pas été touchés auparavant. Les acteurs incarneront les peurs et l'anxiété de Marilyn, les hommes de sa vie, à la fois bons et méchants, et le contexte du monde dans lequel elle vivait. Marilyn et sa sexualité ont été mises au premier plan dans un monde qui n'était pas tout à fait prêt pour ça, et sa lutte était palpable dans ses mots. Nous découvrons également à quel point elle travaillait dur comme actrice".

Le producteur Stanley Buchthal continue : "Nous pensions à un nom très connu pour le rôle de Marilyn mais nous voulions la célébrer de plusieurs manières. Les poèmes et les lettres ont révélés une Marilyn très différente de celle que nous connaissons. Par exemple, elle écrivait très bien, très loin de cette blonde frivole qui avait été créer. C'est ce qui m'a attiré. Trop peu de gens l'ont priser au sérieux. Le film révélera à quel point elle était profonde, poétique et intéressante".

Fragments : Marilyn Monroe sortira probablement à la rentrée, afin de coïncider avec les cinquante ans de la mort de l'actrice, retrouvée sans vie le 5 août 1962 dans sa maison à Los Angeles.
My Week with Marilyn sort le 4 avril.