Marilyn Monroe: Private and Confidential
Auteur: Michelle Morgan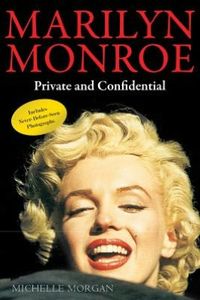 Date de sortie: juin 2012
Relié 416 pages
Langue: anglais
Éditeur: Skyhorse Publishing
Prix éditeur: 15 Dollars
ISBN-10: 1616087196
ISBN-13: 978-1616087197
Ou le commander ? sur barnesandnoble.comet sur amazon.com
Description de l'éditeur:
Marilyn Monroe as you've never seen her— new photographs, interviews, and revelations.
For the first time in paperback, this valuable biography by the president of Marilyn Monroe's UK fan club contains the most comprehensive collection of primary source material on Marilyn Monroe, covering all stages of her life. It includes seventy rare and unpublished photographs. They include locations from various periods of her life—the schools she attended as Norma Jeane, the ballroom where she danced with first husband Jim Dougherty, the street where Marilyn claimed she was attacked by an intruder, and candid shots of her on the sets of films.
Morgan has also interviewed every single person accessible who knew or was related to Marilyn in any way, including the main players in her life, as well as work colleagues, and more casual acquaintances. More than fifty interviewees are featured, many who've never gone on the record before, including contacts from her orphaned childhood and early years—details of which until now have remained mysterious. Documentary sources range from the private testimony of her gynecologist, to the previously undisclosed Laurence Olivier papers relating to Marilyn's time in England. Following a series of sensationalist biographies of Marilyn Monroe in recent years, this comprehensive, meticulously researched volume brings an important, fresh perspective to the many controversies in her life, and will serve as an essential sourcebook of documentary and photographic evidence.
70 black & white photographs.