20 mars 2012
*couturier pour la Twentieth Century Fox, créa les costumes (les plus connus) de huit films de Marilyn dès 1952.
On the surface, she was still a happy girl. But those who criticized her, never saw her as I did, crying as a baby because she often left herself so inadequate.
En surface, elle était encore une fille heureuse. Mais ceux qui la critiquaient ne l'ont jamais vue, comme moi, pleurer comme un bébé parce qu'elle se sentait souvent si peu à la hauteur.
Black Silk Leotard with lace-up back
body noir en soie à lacets, porté dans
Les hommes préfèrent les blondes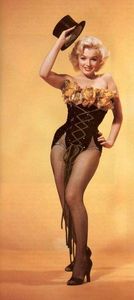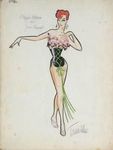 Ce justaucorps en soie noir fermé par un long lacet par le devant, a été conçu par le créateur et couturier de la 20th Century Fox, William "Billy" Travilla pour le film Gentlemen prefer blondes (Les hommes préfèrent les blondes) tourné en 1952. Il existe deux modèles de ce body car Marilyn Monroe et Jane Russell portent ensemble cette même tenue dans un numéro musical dans lequel elles chantent Four French Dances, mais qui a été coupé au montage final du film. Cependant, on distingue brièvement les actrices portant ce costume dans une scène très brève, où elles sortent de scène.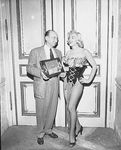 Sur le plateau de tournage du film Les hommes préfèrent les blondes, c'est vêtue de cette tenue que Marilyn Monroe reçoit le prix de "The Most Popular Actress of Arkansas" (l'actrice la plus populaire de l'Arkansas) le 26 janvier 1953 , des mains de Roscoe Ates, membre de l'Académie des propriétaires de théâtres indépendants d'Arkansas.
Le body en soie à strass à paillettes se porte sur des collants bas résille noir. Le justaucorps se personnalise, ici par un décolleté ajouté, formé de grosses fleurs jaunes, et d'une fleur pompom jaune au fessier, assorties au long lacet jaune. Il est accompagné d'un petit chapeau noir de style arlequin.
---
Les tenues furent sans doute remises au département des costumes de la Fox, et des actrices l'empruntèrent à leur tour, comme Sheree North qui porte le body lors d'un numéro musical pour la télévision américaine en 1955. Le body a subi plusieurs transformations:

>> Sheree North
-> body à lacet avec fleurs jaunes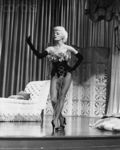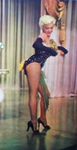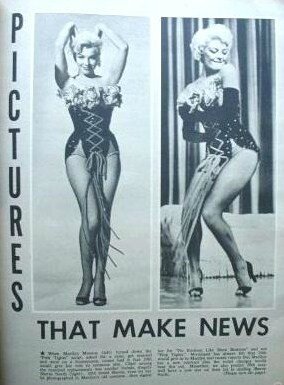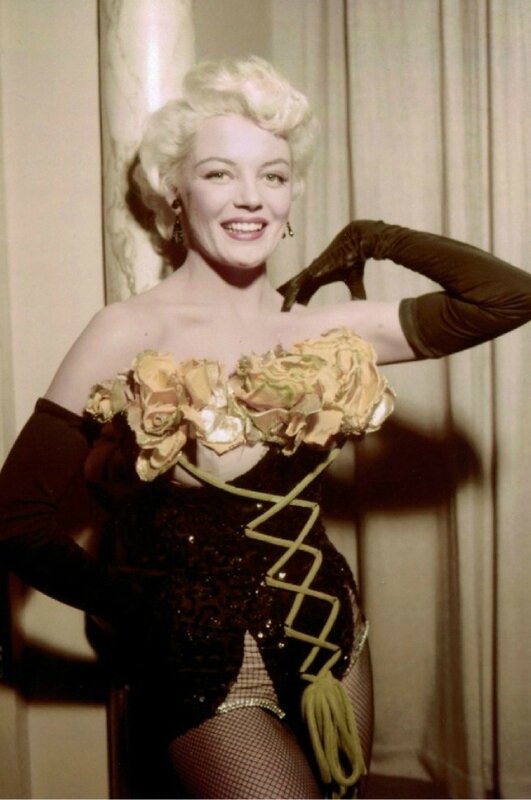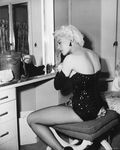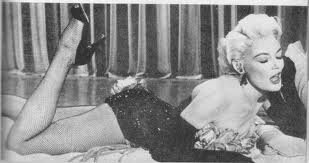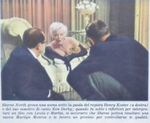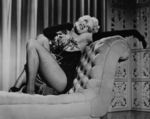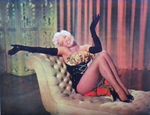 -> body transformé (absence de lacets, remplacés par un turban rosé)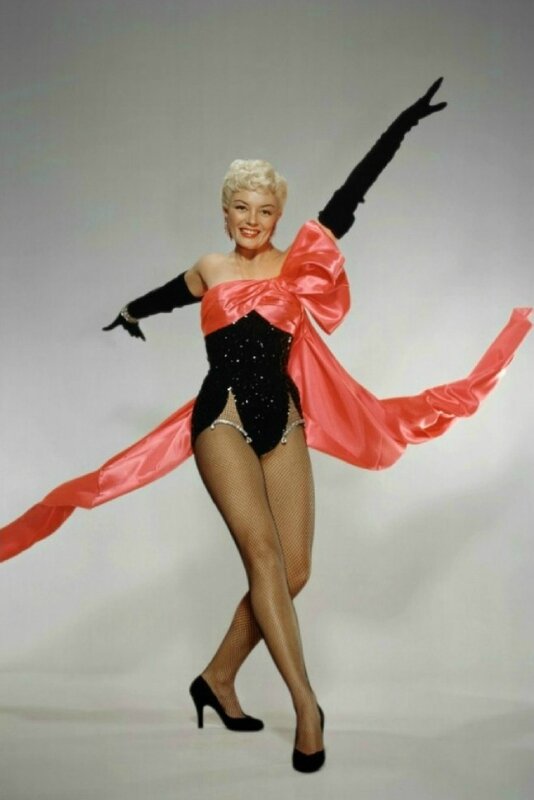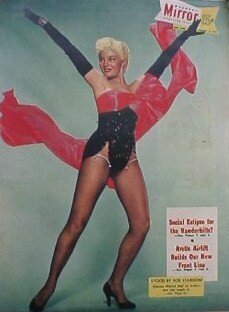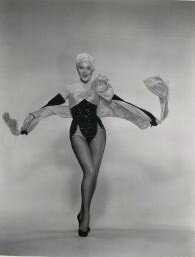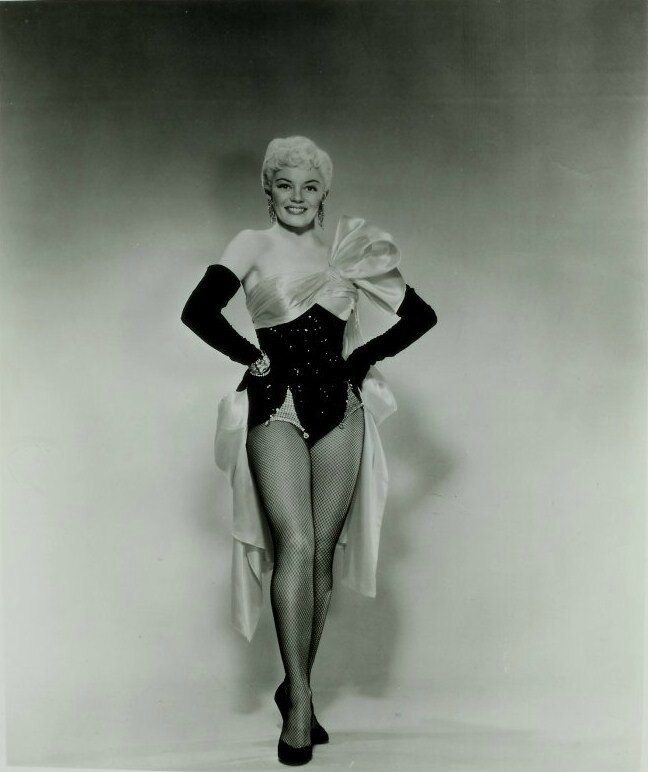 -> autre transformation (decolleté lanières de bijoux)
-Sheree North en compagnie de William Travilla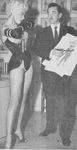 -avec le buste de couture de Marilyn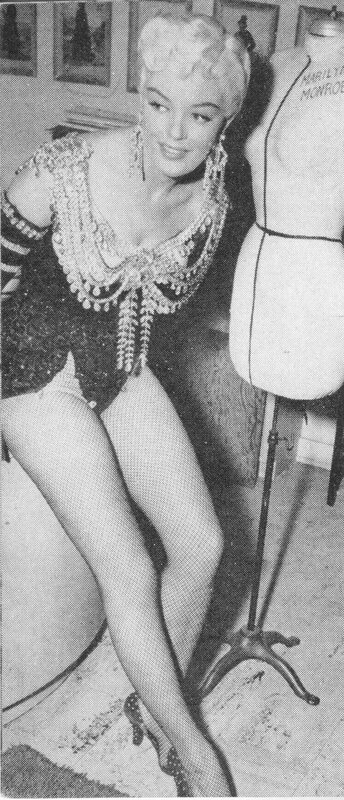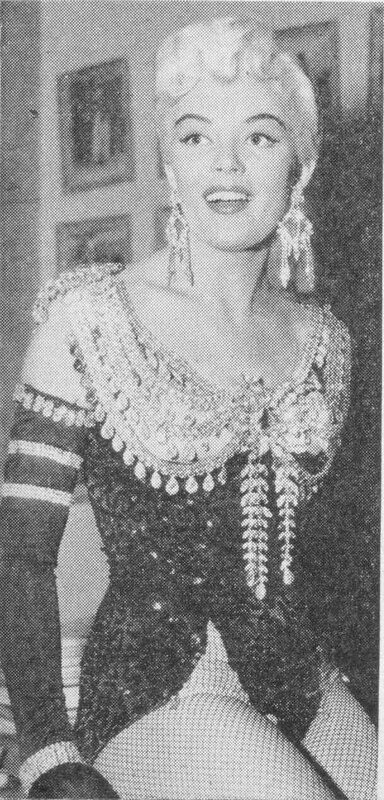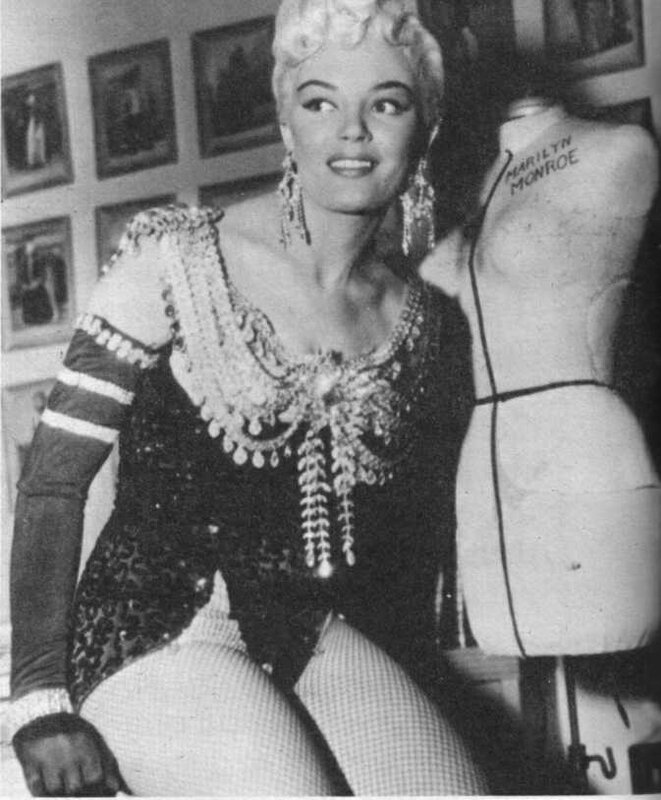 -avec le scénario de "How to be very Popular"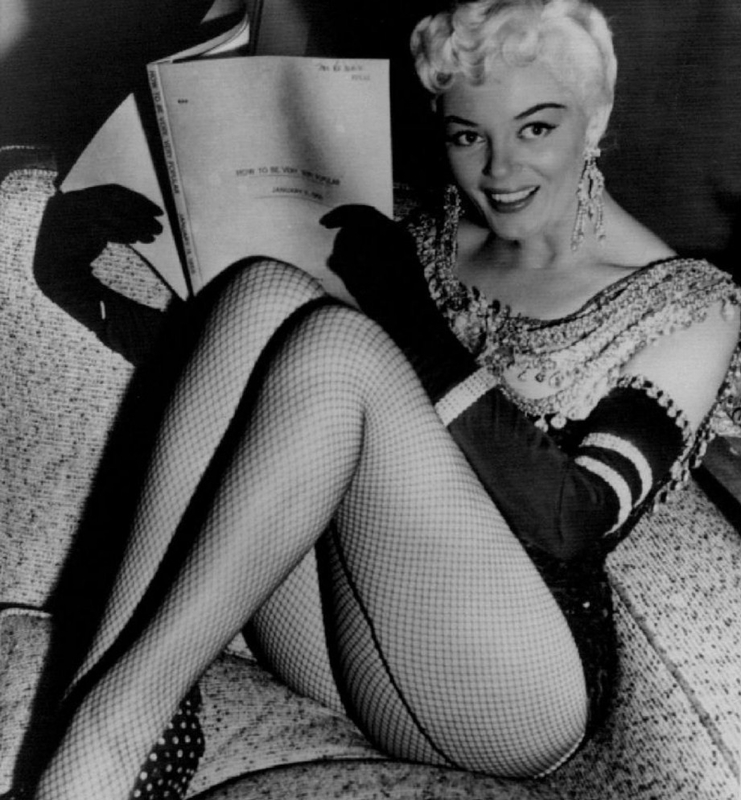 Ces deux costumes -celui de Jane et celui de Marilyn- ont été rachetés par l'actrice Debbie Reynolds, qui les a mis aux enchères en 2003 par la maison Juliens Auction.
L'un des body, celui porté par Marilyn, est aujourd'hui la propriété du fan et collectionneur de Marilyn, David Gainsborogh-Roberts, qui a notamment prêté la tenue à l'exposition qu'il avait organisé sur l'île de Jersey en 2009.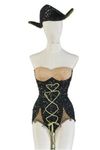 ---
> Source:
>> merci à Yvon pour les photographies extraites du magazine Epoca
---
© All images are copyright and protected by their respective owners, assignees or others.
copyright text by GinieLand.
Enregistrer