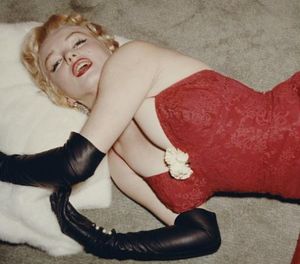 Du 5 mars au 23 mai 2012, une exposition est consacrée à Marilyn Monroe à Getty Images Gallery à EastCastle Street à Londres.
The Getty Images Gallery presents Marilyn, a collection of imagery and memorabilia to commemorate 50 years since the untimely death of Marilyn Monroe. Showcased in London for the first time, the exhibition will feature a number of original dresses and costumes worn by the Hollywood icon, alongside unique and iconic photographs.

Marilyn will include imagery from Monroe's early years as an aspiring actress through to her rise to international stardom. Accompanying the photographs will be original film costumes and dresses from the legendary collection of David Gainsborough Roberts, owner of one of the largest collections of Marilyn Monroe memorabilia in the world. Original video will also be shown ensuring Marilyn offers an unrivalled glimpse into the life of one of the world's most famous stars.

Louise Garczewska, Director, Getty Images Gallery says: "We are extremely excited to present our Marilyn exhibition, offering the public unparalleled and rare access to Marilyn's life through the iconic imagery from Getty Images' extensive archival collection. David Gainsborough Roberts has kindly loaned us Marilyn's dresses which the public can see in London for the first time ever, making this exhibition a perfect tribute to one of Hollywood's greats."

A smaller exhibition will also be on display at Getty Images Gallery in Westfield Stratford City at a slightly later date of 23 March to 3 June 2012.
---
Du 23 mars au 3 juin 2012, une exposition est consacrée à Marilyn Monroe à Getty Images Gallery à Westfield Strastford City à Londres.
Marilyn, a collection of unique and iconic photographs to commemorate 50 years since the untimely death of Marilyn Monroe, is a visual tribute to a woman so enchanting, she still cultivates adulation and affection the world over.

Accompanying the Marilyn show at our Eastcastle Street gallery, Marilyn at Westfield Stratford City features exhibition highlights and exclusive images, in the stunning setting of this prestigious gallery space.

Louise Garczewska, Director, Getty Images Gallery says: "We are extremely excited to present our Marilyn exhibition, offering the public unparalleled and rare access to Marilyn's life through the iconic imagery from Getty Images' extensive archival collection."

Open evenings and weekends, the gallery is located on The Street, Westfield's open-air thoroughfare, overlooking the Olympic Park.
www.gettyimagesgallery.com/contact.aspx