Cannes Film Festival 2012: Who will emulate Marilyn Monroe's stylish legacy?
Article publié le 4/04/2012
en ligne sur fashion.telegraph.co.uk
Chopard is designing a one-off piece of jewellery for a mystery star at the Cannes Film Festival in honour of the event's face, Marilyn Monroe.
There could hardly be a more glamorous plot: at the opening ceremony of this year's Cannes Film Festival, a starlet will debut a jewelled tribute to actress Marilyn Monroe created by Chopard, the event's sponsor.

The identity of the wearer will remain a secret until May 16, but as Monroe - the figurehead of the festival - sang about diamonds being a girl's best friend, we do a know little more about the one-off creation.

A necklace of cascading heart-shaped diamonds (of course) and briolettes designed by Chopard's co-president Caroline Scheufele has been conceived for "a glamorous woman as she glides up the famous red-carpeted staircase" according to a Chopard spokesperson.

Monroe, who died aged 36 in 1962, was announced as the face of the festival back in February, with an iconic image of her blowing out a candle from a birthday cake adorning the festival's promotional material.

During the 12-day festival, now in its 65th year, Chopard are also planning an exhibition of 25 unpublished photographs of the star taken by Milton Greene.

But if you can't make it to Cannes, don't fret as the exhibition is set to tour worldwide, and we will be rounding up the frocks and shocks from the red carpet daily.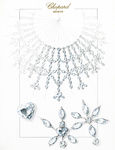 sketch of the bespoke Chopard necklace.
---
Festival de Cannes : La personnalité qui portera le collier Marilyn Monroe de Chopard connue le 16 mai
Article publié le 6/04/2012
en ligne sur ladepeche.fr
Marilyn Monroe sera l'égérie de la 65e édition du Festival de Cannes. Chopard, qui sponsorise l'événement, a donc imaginé une création hommage unique. Celle-ci sera portée par une heureuse élue, dont le nom ne sera révélé que le 16 mai.

Intemporelle icône hollywoodienne, Marilyn chantait que les diamants étaient les meilleurs amis des femmes. Pour lui rendre hommage, Caroline Scheufele, co-présidente de Chopard, a conçu un collier qui prendra la forme d'un coeur serti de diamants et de briolettes.

Un porte-parole de la maison a déclaré au Telegraph que le bijou serait porté par "une femme glamour pour la célèbre montée des marches" du Festival international du film de Cannes. Son identité sera révélée au premier jour de l'événement, qui se déroulera du 16 au 27 mai.

Lors de la précédente édition, Vahina Giocante en Jaeger-LeCoultre et le mannequin Karolina Kurkova en Cartier, avaient ébloui le public de Cannes. Mais Michelle Williams se pose en candidate logique puisqu'elle a incarné la star dans le biopic "My Week with Marilyn", cité aux Oscars.

Chopard prépare également une exposition de 25 clichés inédits de Marilyn Monroe réalisés par le photographe américain Milton Greene pendant le festival. Cette exposition sera amenée à voyager par la suite. De plus amples informations à ce sujet seront communiquées ultérieurement.