09 avril 2012
La petite robe noire de Marilyn
Article publié le 6/04/2012
en ligne sur gala.fr
Norma Jeane Baker, plus connue sous le pseudonyme de Marilyn Monroe, ne cesse de briller dans le ciel d'Hollywood comme l'étoile suprême du cinéma. Alors que Simon Curtis lui a consacré un émouvant film hommage, My Week With Marilyn, sorti le 4 avril, c'est avec émotion que nous lui dédions notre fashion flash-back du jour.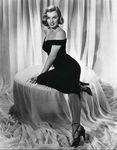 Pose de pin-up, brushing impeccable aux vagues rétro, robe au décolleté à la romaine, Marilyn Monroe sait sublimer une simple petite robe noire. Dans son studio photo au charme désuet, rideau plissé recouvrant une assise ronde de rigueur, aux volutes de tissus semblant mourir au sol sous le charme de la jeune femme, Marilyn Monroe pose, déterminée et plus sensuelle que jamais, prête à conquérir la planète cinéma.

Nous sommes en 1950, Marilyn a 24 ans, et brille par sa superbe et sa légèreté. Devant le flash des photographes, elle choisit la simplicité d'une robe noire, forcément ultramoulante pour mettre en lumière ses courbes voluptueuses. Plus connue pour sa robe lamée, ou encore sa cultissime robe blanche flottant dans les airs, Miss Monroe opte à ses débuts pour la sobriété, largement démocratisée par la petite robe noire de Coco Chanel. Seule exception: le décolleté à la romaine qui joue l'ostentation avec les épaules dénudées.


Avec son visage d'ange mais sa pose de guerrière séductrice, Marilyn mise tout sur le charme, son arme de séduction massive. Mais celle qui est sublimée à l'écran par Michelle Williams dans My Week With Marilyn n'est pas qu'une jolie poupée de papier glacé. Elle est aussi émouvante, drôle et fragile. Une vraie star de cinéma.
Seven Year Itch / Monroe Galaxy