08 mai 2012
Le 11 avril 1957, Marilyn Monroe et Arthur Miller participent au grand bal "April in Paris" au Waldorf Astoria à Manhattan, New York; un gala fêtant le 200ème anniversaire de la naissance de Lafayette. Pendant le dîner, Marilyn discute avec l'ancien ambassadeur de l'Angleterre Winthrop Aldrich, mais aussi avec la journaliste Elsa Maxwell. Les acteurs français Gérard Philipe et Jean Marais et l'actrice Françoise Arnoul viennent saluer Marilyn.
La duchesse de Windsor demande à Marilyn de tirer les tickets de tombola dont les deux lots étaient deux voitures (une Chrysler et une Citröen). Avant de partir, chaque invité reçoit des cadeaux en souvenirs: des échantillons de produits de luxe "made in France", comprenant eau de cologne, parfums, cravates Dior, moutarde de Dijon et des bonbons.
Marilyn portait une robe de Norman Norell.
Certaines photographies sont de Peter Stackpole et Bob Henriques.
> Avec Gérard Philipe, Françoise Arnoul et Jean Marais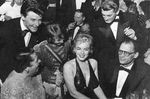 ---
- Le programme de la soirée -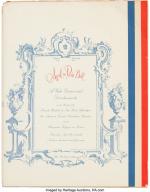 ---
>> vidéo

---
> Au club El Morocco, Manhattan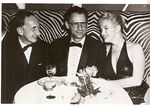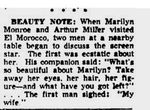 ---
On April 11, 1957, Marilyn Monroe and Arthur Miller participate to the great "April in Paris" bal at the Waldorf Astoria, Manhattan, New York City. The bal celebrate the 200th anniversary of Lafayette's birth. During the meal, Marilyn discuss with the ex envoy of Britain, Winthrop Aldrich, but also with the journalist Elsa Maxwell. The french actors Gerard Philipe, Françoise Arnoul and Jean Marais came to greet Marilyn.
Le 28 juin 1974, la chanteuse Dalida est l'invitée vedette de l'émission "Top à" (émission qui sera par la suite rebaptisée "Numéro Un" et "Formule Un"), diffusée en direct des studios de la Butte-Chaumons (Paris, France) sur TF1. Le show narre l'histoire une vieille directrice (interprétée par l'imitateur Claude Vega) qui a la charge de mettre en scène un spectacle qui s'intitule "Bijoux cailloux, c'est le clou" et dont la star est Dalida.
Parmi les autres invités de l'émission se trouvaient Adamo, Massimo Ranieri, Dany Saval, Pierre Péchin, Sylvie Joly et Jean-Jacques Debout. Vers la fin du spectacle, Dalida interprète la reprise en français de la chanson "Diamonds are gril's best friend" rebaptisée "Diamants", chanté presque 20 ans auparavant par Marilyn Monroe; Dalida dira en souriant: "Je n'ai pas besoin de dire le titre du film où elle la chante".
Enregistrer