11 mai 2012
Marilyn
Auteurs: Stefania Ricci, Sergio Risaliti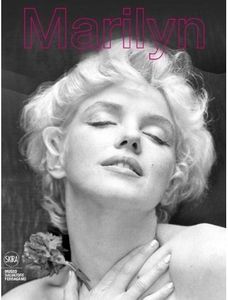 Prix éditeur: 43,85 Euros
Date de sortie: juillet 2012
Relié 320 pages
Editeur : Skira
Langue : anglais
ISBN-10: 8857214184
ISBN-13: 978-8857214184
Ou le trouver ? sur amazon.fr / 36,30 Euros frais de port compris sur bookdepository

Présentation: The Museo Ferragamo in Florence pays homage to Marilyn Monroe with a major exhibition and a catalog dedicated to her a half century after her death. Like many divas of the silver screen, Marilyn Monroe loved to wear Salvatore Ferragamo shoes. The exhibition and catalogue dedicated to her are the result of long research and preparatory work, presenting items from the actress's wardrobe worn on the set or in her private life, as well as important documents that reveal the actress's managerial side, her skill and determination in building and grooming her success. In this volume, the curators have sought to interpret a comprehensive collection of famous photographs taken in Marilyn's day-to-day life (by such notable photographers as Beaton, Stern, Barris, Greene) that portray Marilyn in "classic" poses by comparing them with famous works of art from the past that represent similar poses and expressions, from the balanced pathos of French painter Jean-Baptiste Greuze's Alessandro morente to Botticelli's Venus. The catalog gathers together all the photos of clothing and Ferragamo footwear, the documents in the exhibition, and a very large group of photographs and exceptional works of art from such prestigious institutions as the Museo Canova and the Warhol Foundation, and from private collections in Italy and abroad. The catalog also includes essays addressing such themes as classic and modern beauty, Marilyn's biography, and her relationship with other women, as well as an introduction by Stefania Ricci and Sergio Risaliti, exhibition curators.
---
Vous avez le livre ?
Apportez votre critique, votre avis ou votre note (/10)

Destins de légende: Marilyn Monroe
Auteurs: Jean-Marc Loubier, Henri-Jean Servat (préface)

Prix éditeur: 13,90 Euros
Date de sortie: mai 2012
Broché: 110 pages
Editeur : Hors Collection
Langue : français
ISBN-10: 2258095190
ISBN-13: 978-2258095199
Ou le trouver ? sur amazon.fr
Présentation de l'éditeur: Née de père inconnu, placée par sa mère alcoolique, de foyer en foyer, la jeune Norma Jean Baker se dit et se sent orpheline. Travaillant à l'usine, elle est vite repérée par un photographe en reportage. Marilyn Monroe est née. De ses premiers pas de mannequins à ses premiers contrats à la Fox ou à la Columbia, Marilyn réussit à tourner avec les plus grands et à devenir, au début des années 1950, un sex-symbol mondial. Bien loin d'être la jeune poupée stéréotypée, Marilyn, par sa fragilité, son caractère, et aussi son côté pulpeux, partage sa vie avec les plus grands intellectuels et politiciens, au grand scandale de leurs épouses... Talentueuse, belle et si triste à la fois, Marilyn nous laisse une oeuvre cinématographique de qualité : Les hommes préfèrent les blondes, Sept Ans de réflexion, Certains l'aiment chaud... Cet ouvrage revient sur le destin mythique de la plus glamour des stars hollywoodiennes au travers de plus de 100 photographies, qui la subliment.

/!/ Attention: il s'agit du même livre paru en octobre 2010, intitulé Marilyn, une vie de légende , vendu à l'époque 5,90 Euros, en kiosque avec le magazine Télé Star.
---
Vous avez le livre ?
Apportez votre critique, votre avis ou votre note (/10)
La rivière sans retour
Captures

3ème partie des captures du film
La rivière sans retour