19 juin 2012
La rivière sans retour
Photos scène 14
Duel entre Matt Calder (Robert Mitchum) et Harry Weston (Rory Calhoun):
Kay (Marilyn Monroe) s'interpose mais Harry la jette à terre;
Mark (Tommy Rettig) s'empare du fusil et tire sur Harry pour défendre son père;
Harry s'écroule, mortellement touché.
La rivière sans retour
Sur le tournage - scène 14
Marilyn Monroe , Robert Mitchum , Rory Calhoun, Otto Preminger

> Rory Calhoun

Film amateur en couleur de Marilyn Monroe qui joue au golf, filmée par Joe DiMaggio, vers 1954, peut être à Sherman Oaks (dans la vallée de San Fernando) , un quartier de Los Angeles, où le couple passait souvent des week-ends chez le couple Masi (Marguerite et son mari Victor "Chic Masi, un ami d'enfance de Joe, qui a joué parfois le rôle de manager non officiel de Marilyn).
C'est Dolores Hope Masi, la fille de Chic Masi, qui a connu Marilyn alors qu'elle était encore qu'une enfant, qui a retrouvé cette pellicule en 2003, telle qu'elle l'a raconté à l'émission de télévision américaine "Good Morning America" en 2006: "J'ai trouvé ce vieil appareil photo dans un coffre il y a environ trois ans. Je savais que la caméra était là, mais je ne savais pas qu'il y avait un film à l'intérieur. Et je l'ai fait développer. D'abord, c'était mon père qui filmait Joe et Marilyn près de la voiture. Et puis quand ils jouaient au golf, il a tendu la caméra à Joe, et c'est mon père qui apprend le golf à Marilyn et à ma mère."
Home movie in color of Marilyn Monroe playing golf, filmed by Joe DiMaggio, circa 1952, possibly in Sherman Oaks (in the San Fernando Valley), a neighborhood in Los Angeles, where the couple often spent weekends at the Masi's home (Marguerite and Victor 'Chic' Masi, a childhood friend of Joe, who sometimes played the role of Marilyn's unofficial manager).
It was Dolores Hope Masi, Chic Masi's daughter, who knew Marilyn when she was still a child, who found this film in 2003, as she told the american television show "Good Morning America" in 2006: "I found this old camera in a chest about three years ago. I knew the camera was there but I had no idea there was film inside. And I had it developed. First, it was my dad shooting Joe and Marilyn by the car. And then when they were playing golf, he handed Joe the camera, and it's my dad teaching Marilyn and my mom to golf."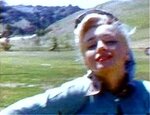 > video

---
source article "Old Friend Releases Marilyn Monroe Keepsakes" abcNews
---
© All images are copyright and protected by their respective owners, assignees or others.
copyright text by GinieLand.